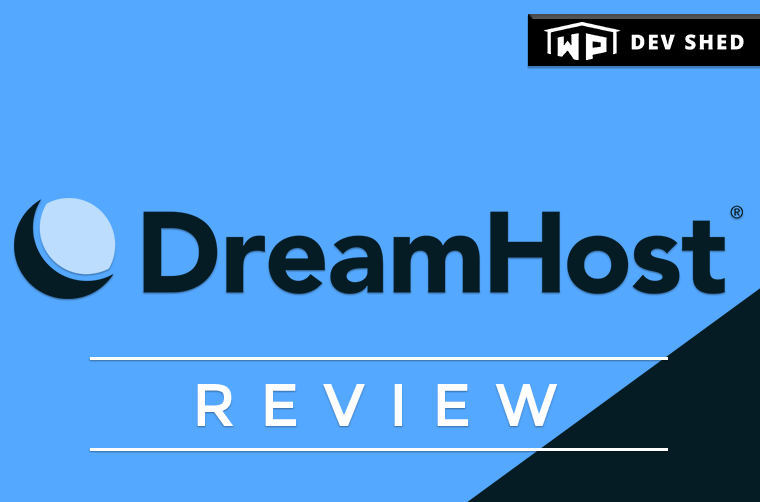 Unlimited Diskspace
Unlimited Bandwidth
Solid State Drives
1-click WordPress installer
Subversion Support
Free SSL Cert
97 Day Money Back Guarantee
From $7.95/mth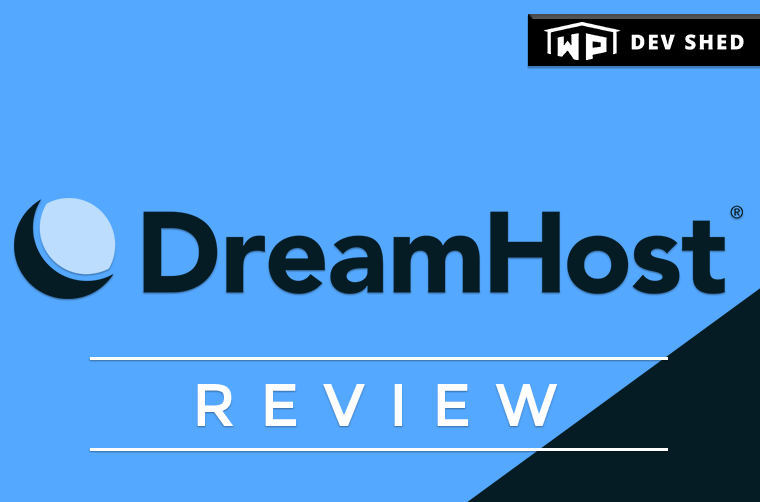 Founded in 1997 by four friends from their college dorm, DreamHost has been around from the very beginning and continues to thrive as one of the largest independents, serving upwards of 1.5M sites and applications online.
Dreamhost Review
For our DreamHost review we signed up for their cheap Shared Hosting Plan.
DreamHost Provisioning and Installation
DreamHost offers instant provisioning which we like, but doesn't use the commonly used Cpanel, instead providing their own control panel software.
If you are familiar with Cpanel this will require a bit of a learning curve, but it isn't complicated. DreamHost do provide an installer so getting WordPress setup was easy and painless.
DreamHost Systems and Support
DreamHost provides support 24/7 via live chat, email and Twitter. They do not provide phone based support, not that we have ever needed it (and we do use Dreamhost for some projects).
DreamHost Load Test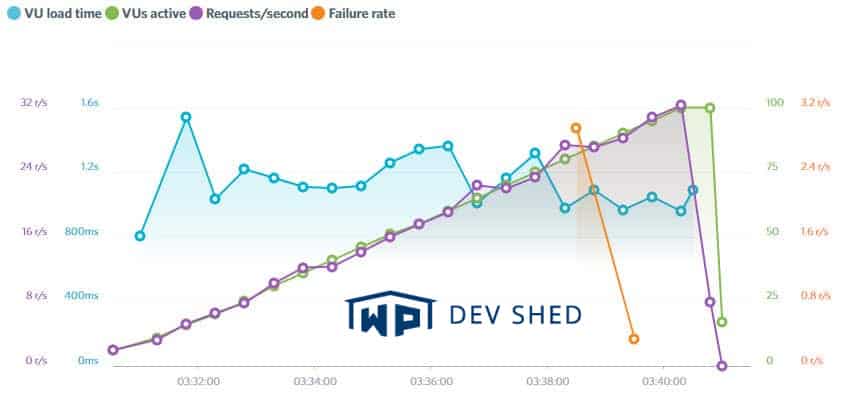 DreamHost's Load Impact performance results were unchanged in this latest round of testing (though worse on the Pingdom testing as below).
The average user load time for our DreamHost review site stayed consistent with an average of 1.1s for the duration of the test while the number of concurrent users increased to 100. They are not the fastest, but they are still amongst the best and most consistently well performing.
Unlike the last test however we did see some server request failures in this round of testing as reflected in the chart above. This is not ideal and we do dock some points for this in our WordPress hosting rankings.
DreamHost Speed Test
| DreamHost | Result |
| --- | --- |
| YSlow Score | 81 |
| West Coast Load Time | 1.91s |
| East Coast Load Time | 1.17s |
| Average Page Load Time | 1.54s |
| DreamHost Uptime | 99.93% |
DreamHost scored of 81 on the YSlow test. Their average Pingdom home page load time however got slower in this latest round of testing with an average of 1.54 seconds.
This is noticeably slower than the best performing competitors with average load times under 1 second (such as Siteground, Bluehost and GreenGeeks).
Our DreamHost test site has had 99.93% uptime in the previous period.
Best WordPress Hosting
1-click WordPress Install
10GB Storage
100GB Bandwidth
Free SSL Cert
Free Malware Removal
30 Day Money Back Guarantee
From $20.83/mth
1 WordPress Install
20GB Storage per/mth
WP Cloud Platform
30,000 Visits per/mth
Free Site Migrations
30 Day Money Back Guarantee
From $25.00/mth
Free WP Installation
10 GB Web Space
10,000 Visits Monthly
Free SSL Cert
Free WP Migrator
30 Day Money Back Guarantee
From $3.99/mth
About DreamHost
Dreamhost, a Los Angeles-based web hosting provider and domain name registrar, was founded in 1996, back when there were only a few thousand web pages total, so they've been around for a while.
They offer shared, VPS and dedicated hosting, cloud storage and other services for small businesses and developers who don't have an in-house IT department.
They host about a million sites. Dreamhost doesn't offer phone support, but you can pay to have them call you back for support, or chat live with staff when things aren't too busy for them. Live chat's always on for you if you paid for the callback option.
They're a popular choice for web design companies and developers since if you pick their shared hosting product you can host unlimited domains, get as many email accounts as you want and set up reseller accounts as well.
In addition to standard shared, dedicated, VPS and WordPress hosting they offer cloud storage packages.
If you're a bit more techie sophisticated they offer a self-managed open source cloud server option, where you can scale at will, you have full root access and you can choose your own OS (Dreamhost offers Ubuntu as their default option).
FAQ's
Does Dreamhost charge setup fees?
In the past, there were sign up fees associated with opening some select shared hosting plans. However, those fees have been discontinued. 
At this time, there are no longer any set up fees involved when opening up a new DreamHost account or hosting service.
Does Dreamhost offer discounts for charities?
Yes. To use DreamHost's charitable nonprofit discount program, read about it on their Non-profit Discount page. The discount applies only for a single shared hosting package per organization.
Hosting packages that are already discounted as the result of a sale or other special promotion are not eligible to receive this discount.
Does Dreamhost accept payment by check?
Yes they do, just bear in mind that it can take 4–5 weeks for a check payment to clear and be applied to your account.
So you'd have to mail in your check payment early to ensure that your account is not suspended while DreamHost waits for your financial institution to approve the funds. 
DreamHost uses a mailbox service that makes weekly deliveries of mail, so other mailed payments (such as money orders) can take up to two weeks to post to your account. Credit cards are probably a better idea.
Dreamhost is a popular and solid hosting company. They've added solid state drives (SSDs) to their shared hosting so pages now load 200% faster, making it pretty quick.
Their shared hosting plan supports any kind of site including blogs, portfolios, business sites, online stores and even complex database-driven sites.
What does "unlimited" disk storage and network transfer really mean, in practice?
It basically means you don't have to worry about disk storage or network transfer when your site gets popular.
You do still have to worry about if your site's well optimized and is causing issues for others on your shared server (either because it's pounding the CPU, hogging RAM, or doing tons of disk I/O), and in that case you may be asked to sign up for a DreamHost Private Server. Most all hosts do this.
What kind of sites are not allowed under the unlimited offer?
Any sites whose essential purpose is to use disk or bandwidth, such as:
* Copyrighted content to which you do not hold usage or distribution rights.
* File upload / sharing / archive / backup / mirroring / distribution sites.
* A site created primarily to drive traffic to another site.
* Making your account resources available (whether for free or pay) to the general public.
If you're just running a legit site, you don't need to worry.
Can I get a custom email address with my hosting?
Yes. Go ahead and create and manage as many email addresses as you'd like with unlimited POP/IMAP/SMTP accounts, plus unlimited auto-responders.
Is Dreamhost support good?
Yes. All of their hosting plans are backed by an in-house customer support team. They're there for you 24/7/365 via live chat, email, and Twitter.
Dreamhost Comparison & Alternatives
Disclosure
This page contains affiliate links which means we earn a commission if you click through and signup. This is at no extra cost to you and helps us maintain this resource for all webmasters' benefit. We own and pay for all the hosting accounts we use in our reviews and performance testing. Read our full disclosure statement here. Thanks for your support.
Real Dreamhost Customer Reviews