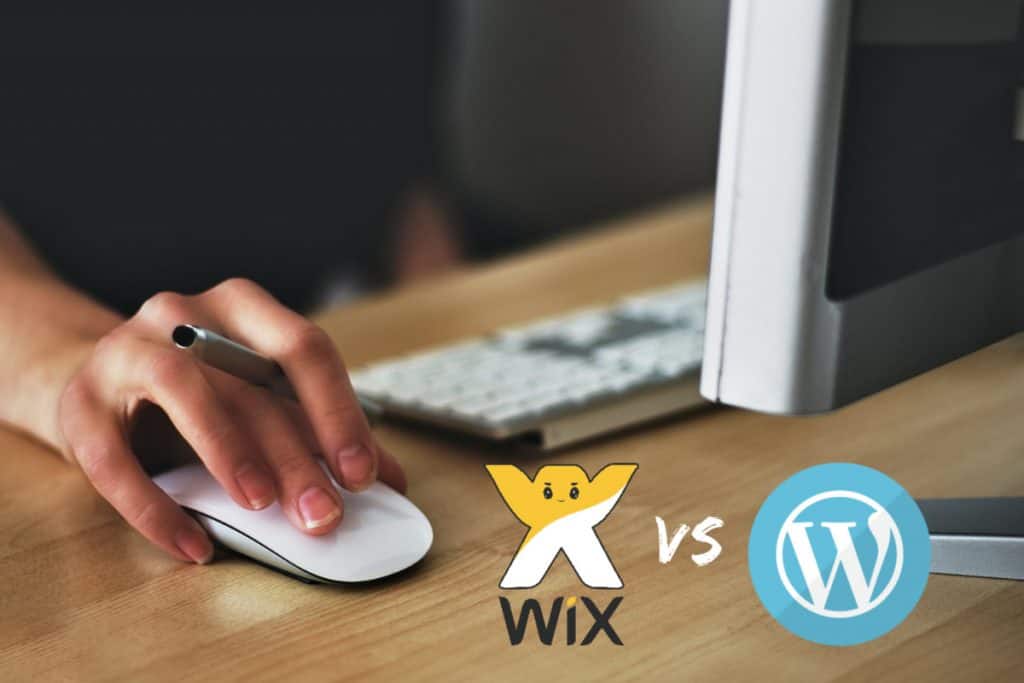 Although Wix and WordPress are both used to build websites, they offer different features and capabilities and are targeted at different types of users. For starters, while Wix is a website builder, WordPress is a fully fledged content management system (CMS).
That said, both enable you to build a professional-looking, functional website. The only question is, which tool is right for you?
In this article we'll contrast the standout features on offer with WordPress and Wix to help you decide which platform is right for your specific needs. If you are also considering Weebly then check out our Weebly vs WordPress post.
Key comparisons between Wix and WordPress:
Wix vs WordPress: Feature Comparison
The biggest difference between WordPress and Wix is that WordPress is standalone software that needs to be installed on a server. In other words, it's self-hosted. Wix, on the other hand, is a hosted solution which means that you don't need to install it on a server to use it. Instead, you can simply create an account with Wix and begin building your website right away.
Beyond that though there are a number of other important differences…
What is Wix
Wix is a popular site building platform that features an intuitive drag-and-drop interface making it easy for users to create all kinds of websites. It's a hosted solution which means you can get started in just a few clicks.
Wix comes with a number of powerful (and easy-to-use) features out of the box that are great for both beginners and advanced users. With Wix, you can create just about any kind of website such as an online store, blog, business site, or portfolio site.
One of the major benefits on offer with Wix is that you can get started for free with a URL that follows the format: username.wixsite.com/siteaddress. In addition to this, you don't have to worry about the technical side of things such as finding a hosting provider, site maintenance, or taking backups.
What is WordPress
WordPress is an open-source CMS that you can download and install on a web server. Self-hosting your WordPress website allows you to customize it in any way you want.
This also means that you own all of the data and have complete control over your website.
WordPress is a robust and flexible platform that allows developers to create bespoke websites using themes, plugins, and custom code. With a self-hosted WordPress website, you get a custom domain which means your website's URL will be something like examplesite.com.
One of the standout features on offer with WordPress is that you get access to a full-fledged CMS.
This is incredibly useful for anyone who's looking to launch a blog or create an online magazine. It also allows website owners to create and assign user roles such as administrator, editor, author, and subscriber.
Which Is Faster to Get Started With?
Between Wix and WordPress, Wix is faster to get started with since it's a hosted solution.
While it doesn't offer as much flexibility as WordPress, it makes up for this by letting you build a simple yet professional website in just a few clicks.
With Wix, you can simply sign up for an account and select the type of website you want to create.
Next, you can pick from a number of pre-built templates based on what sort of website you're looking to create. The Wix Editor lets you add text, images, and other elements to your site.
Once you're all done, you can simply click the Publish button to take your site live.
With WordPress, however, you'll have a few extra steps to go through before you can begin setting up your website. To get started, you'll have to find a hosting provider and register your own domain name. After installing WordPress software on your server, you'll have to select a theme to modify the look and feel of your site.
This means that to build a WordPress site you'll have to:
Register your domain name (you'll also need to do this for a Wix powered site to be fair)
Download and install the WordPress software
Find a theme for your site
Add plugins to your site to add specific features
Winner: Wix is the clear winner here since it's self-hosted which means you don't have to find a hosting provider and can get started simply by creating an account.
Is Wix or WordPress Easier to Use?
When you're in the market for a website builder, it's also important to consider how easy the platform is to use.
Wix is incredibly easy and intuitive making it the right choice for users who aren't particularly tech savvy. Adding features and functionality to your website is as simple as dragging and dropping widgets into place, installing extensions, and configuring options.
Although WordPress is widely regarded as a user-friendly CMS, it's not as easy to use as Wix. One of the reasons behind this is that it gives you a lot more flexibility. For instance, if you wanted to add a contact form to your website, you could select a theme that comes with one, use a plugin or page builder, or write custom code.
The options available to you with WordPress are seemingly endless. While it's not as easy to use as Wix, the learning curve you get with WordPress is certainly worth it for anyone who wants to create a bespoke, feature-rich website.
Winner: Wix is easier for everyone to use as it has less features.
Which Has Better Designs?
Wix comes with hundreds of pre-built site templates that allow users to get started with professional-looking websites from the get-go. Once you've selected a template, you can modify it through the Wix Editor to give your website a custom look and feel which is important for branding.
The WordPress Theme Directory has thousands of free themes that you can install to your site and modify however you'd like. In addition to this, you can also go with one of the thousands of premium third-party WordPress themes that you can get from individual theme vendors or marketplaces like ThemeForest.
You can also choose to use a page builder to design your entire WordPress website which gives you the option to create a custom layout.
Winner: WordPress allows users to install themes and page builders or use custom code to create any kind of design they want.
Which Is More Flexible and Extendable?
The Wix App Market contains 319 apps – free and paid – that allow users to add advanced features to their websites. These apps are divided into 19 categories including analytics, blog, bookings, business tools, and marketing tools.
This makes it easy for users to add neat features to their site such as forums, galleries, forms, event calendars, and much more. The best part is that you can install them directly from the Wix Editor.
While some of these apps are developed by Wix, you can also use third-party extensions to enhance your site's functionality.
In addition to this, Wix Code enables developers to implement individual feature sets into their Wix-based sites:
Databases can be used to import content for individual site sections and actions.
Interactive elements can be set up by specifying what they should do upon user interactions (such as on mouse hover or double click).
Dynamic pages can be used for displaying content from a connected database.
Although WordPress started out as a blogging platform, it has turned into a robust CMS with site building functionality that allows users to use themes, page builders, plugins, and custom code to create any type of website.
Aside from the inherent flexibility you get with the option to access back-end files and add custom code, the WordPress Plugin Directory offers over 55,000 free plugins. In addition to this, you can also purchase premium plugins from third-party plugin vendors and marketplaces such as CodeCanyon.
The level of flexibility and extensibility you're looking for will decide which option is right for you. If you want a combination of flexibility and ease-of-use, Wix may just be the best choice but if you want access to thousands of plugins with complete control over the design, layout, and functionality of your site, we'd recommend going with WordPress.
Winner: WordPress is the clear winner here.
Which Is Better for SEO?
While some people say Wix is better in the SEO department, others argue in favor of WordPress. However, if you take a closer look, you'll find that both are pretty similar in terms of on-page SEO. Here's a quick breakdown of their SEO capabilities:
Both let you generate sitemaps for easier (and faster) crawling.
You can change the page titles, H1-H6 tags, and meta descriptions on both platforms.
They let you add alt tags to images.
Both are mobile-friendly out of the box and generate short URLs.
However, compared to Wix, WordPress gives you more control over the speed of your website and advanced features (such as crawling and indexing) that affect your site's search engine rankings.
According to a recent Ahrefs study that took a sample size of 6.4 million websites (half of which were Wix websites while the other half were WordPress-based) shows that a whopping 46.1% of WordPress websites got organic traffic whereas only 1.4% of the Wix sites got some organic traffic.
It's also important to keep in mind that Wix doesn't support the hreflang tag which means its multilingual SEO capabilities aren't on-par with WordPress'.
Wix also doesn't let users modify their robots.txt file or htaccess file which is important for larger websites. And, since Wix relies on client-side JavaScript to show content, it causes quite a bit of code bloat which slows down your site and can negatively impact SEO.
If you ever need help with technical SEO, such as the implementation of hreflang or optimizing JavaScript web apps then an SEO agency like Relevance & Intent can help, and to this end they will absolutely tell you that WordPress is the preferred platform for SEO reasons.
Winner: WordPress is the clear winner in the SEO department.
So Which Is the Better Website Builder, Wix or WordPress?
Ultimately, the platform you choose to build your site on will depend on your specific needs.
If you're looking for a simple and easy way to create a website and can work with limited flexibility and customization options, Wix is the way to go.
It's incredibly easy to get started with and you'll be able to add all sorts of features to your website.
That said, it's worth mentioning that if your requirements change in the future, migrating from Wix to a different platform is going to be difficult.
On the flip side, if you want access to tens of thousands of plugins and themes, more flexibility, and complete control of your website, WordPress is hands down the right option for you.
Although the learning curve is steeper with WordPress, it's definitely worth the effort for users who value flexibility, extendability, and scalability.
Conclusion
Whether you're looking to build a website for your business, set up an online store, or launch a blog, both Wix and WordPress are viable options for creating and managing a website.
We compared and contrasted the standout features on offer with Wix and WordPress and, hopefully, you're in a good position to take the next steps.
Between Wix and WordPress, which site building platform are you leaning towards and why? We'd love to hear from you so let us know by commenting below.