Social media managers have a lot on their plate in terms of monitoring and customizing content in all possible ways to ensure increased engagement and monitor growth; therefore, they need to have the requisite tool for monitoring content performance. One such tool is the Automation tool.
Automation is a critical component of digital transformation. It plays a central role in generating and implementing practical ideas using artificial intelligence techniques for IT management (AIOps).
Using automation on Twitter makes it easy to use the platform and helps create better results. Thus, In this article, you'll learn all you need to know about the best Twitter automation tools.
Why Twitter Automation Tool?
Twitter is one of the most popular social media platforms globally, with approximately 200 million monthly active users by 2021.
Although it does not reach the heights of Instagram, Facebook, or YouTube, it is still a fundamental way to attract people's attention whenever you want to get a large audience.
This is especially beneficial for those who want a robust opposition platform and communicate directly with their followers. This is a powerful marketing tool that is undoubtedly still worth using.
That said, managing Twitter can be challenging. With so many different social media platforms, in addition to content creation and other business investments, how do you spare time to manage Twitter?
Many things are related to managing this platform, especially viewing preferences, comments, retweets, and other appointments; you also need to work hard to build a community of valuable followers and know who you follow and execute tweets.
Tweeting on time is also tricky and will affect the performance of your Twitter profile. Although many things can be difficult, the good news is that many Twitter management tools can help you in this regard.
What Makes Twitter Followers Important?
Utilizing social networks such as Twitter is very important because it not only provides legitimacy for services or businesses but is also one of the best ways to expand customer base and brands to expand their online influence.
For all influential people, Twitter is a great platform to grow your audience and make money from your online presence. But why are followers so important?
Well, followers are your primary audience, so as your followers expand, the engagement you get from tweets will increase.
As your followers increase, Twitter will promote your content to a broader audience.
This means that when you can increase your followers, you can also increase the growth rate of your overall Twitter profile.
Twitter Automation Rules
Ultimately, you are responsible for actions that are taken using your account or programs associated with it.
Before authorizing a third-party application to access or use your account, make sure you thoroughly research the application and understand its purpose.
If automated activity on your account violates the Twitter rules or these automated rules, Twitter may take action against your account, including filtering your tweets from search results or suspending your account.
Make sure your app provides a good user experience and works well, and confirm that it will continue over time. Start creative activities and automatically respond to users participating in your content.
Create solutions that automatically respond to users in instant messages. Try to help people with new things (and follow our rules).
Create solutions that automatically convey helpful information in tweets. Don't abuse the Twitter API or try to bypass rate limits. Do not use non-API-based automated forms, such as scripts, on the Twitter site.
If you use these technologies, your account may be permanently suspended. Don't send spam or annoy users, and don't send unsolicited messages.
Top Twitter Automation Tools
There are numerous Twitter automation tools, but not all are worth using. Therefore, It is safer to opt for the best among these tools, and they include:
If there is a number 1 tool for Twitter automation, it has to be Twesocial. Twesocial is known for its ever-growing online Twitter service, and it can help customers grow with real fans on Twitter by manually communicating and using similar accounts.
They take full advantage of custom account managers and advanced targeting, including username, location, and hashtags. They do this to attract relevant users to their profiles.
Twesocial promises to provide fully managed services, as well as authentic and targeted follower and email support.
They now have more than 10,000 customers using their services and have been doing business since 2016.
Their website has a lot of information about how and what they do, so you can get a good idea of ??what you want to do.
To start using Twesocial, you need to visit their website via a browser, choose the plan that best suits your needs, and click "Start."
They will ask for your email and Twitter username, and then you can make a payment through their payment system.
They will also ask you to choose your target audience, and they will select through a series of questions.
Twesocial provides a relatively simple list of features, and as we mentioned, they have a personal account manager and a way to find people who fit your target audience.
We imagined that we achieved this through organic growth services, and because they assigned an account manager to everyone, they matched their growth to their Twitter profile goals.
In terms of price and bundling, this is very simple again, so it all depends on how much growth and exposure you are willing and willing to get.
Their most basic package provides the least amount, which is excellent if you start using Twitter and still don't want to go crazy.
With your most advanced package, you will undoubtedly get more positive growth, but we are sure that you will comply with Twitter's terms and conditions.
If you've been there recently, you may find that the marketing industry on social media has changed a lot lately, which means you need to be more vigilant to determine which Twitter services are growing.
If you still don't know where to start using Twitter, then Twesocial is your best choice.
Therefore, Twesocial is one of the most trusted and respected Twitter growth businesses on Twitter today.
They only promise to provide customers with organic growth and prioritize factors that attract large audiences, such as security and accessibility.
You can use Twesocial to expand your Twitter account because the world is highly competitive.
Now that so many people and brands are using Twitter to move forward, it is easy to make people feel that you are submerged in a sea of ??content.
Whether you have been playing the game for a long time or a novice like me, sometimes it is challenging to keep up with the development of Twitter.
With Twesocial, you can deliver in total, so you have more time to focus on your content.
This is because Twesocial has a personal account manager who can track everything. Twesocial works by providing customers with an organic commitment.
Although I heard you say okay, after sitting down with your team members and discussing what you want regarding your target audience and Twitter engagement strategy, they can start to follow suit for you.
You need to be as specific as possible to your target audience-the more specific the feature, the easier it will be for Twesocial to target them.
It may take a while to complete this initial stage, but when it is completed, it is complete, and they will do the rest.
Twesocial provides excellent information about its team on its website, which is an integral part of running and operating this growth service.
The more you know about this type of business before signing something, the better. After all, it means you can sign the contract with confidence because it will consider your best interest.
You don't want to sign with a vague company on its website and are not ready to provide you with information before signing anything.
Otherwise, they can easily take advantage of you and find ways to charge more in the future.
Similarly, Twesocial initially seemed willing to be honest with its customers, and they only spoke good things.
Twesocial has two prominent awards. Your regular account spends $15 a week, including your account manager and real Twitter followers.
Their professional account charges $25 a week, which can help you grow your account twice as fast, so they can double the job of taking you where you want to go.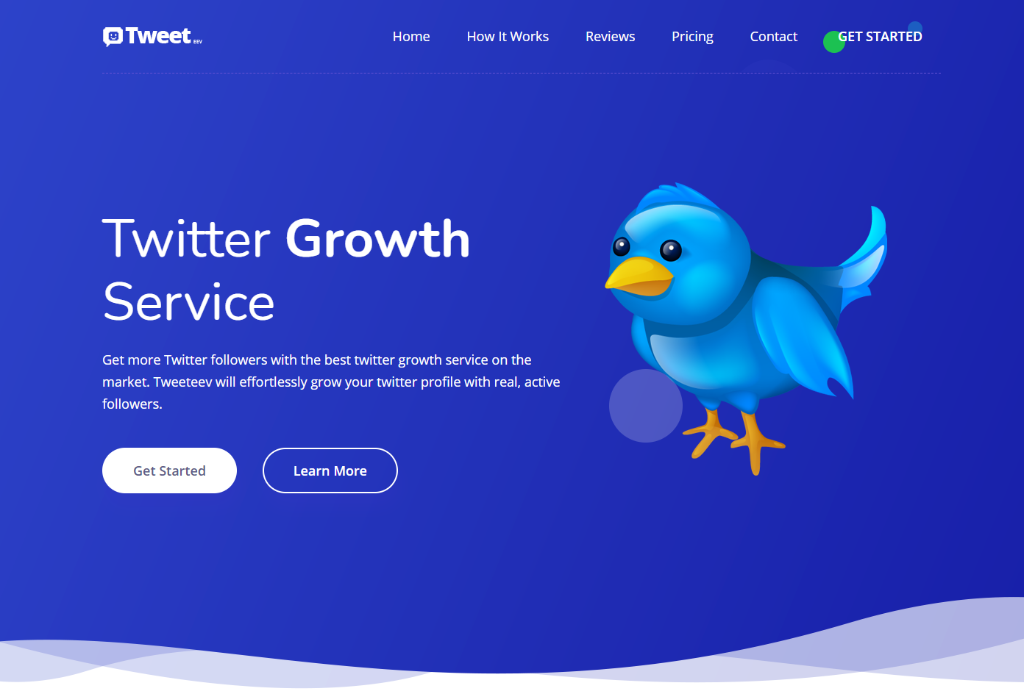 Tweeteev is a company that values customers and takes growth very seriously and ensures that you have everything you need to buy faithful Twitter followers securely.
The more active and sincere your followers are on Twitter, the better you will do, and like all other quality services in the industry, they promise purposeful followers and organic growth.
They also promise that it's easy, so you don't have to worry about creating a Twitter profile for yourself.
If you need an effective and efficient automated Twitter growth without slowing you down like other businesses, we recommend that you check Tweeteev.
If you want to get more Twitter followers and get the best Twitter growth in the market, choose Tweeteev. It can help you quickly increase your profile with active and real fans.
One thing we like about these people is that their followers are purposeful, which means they are explicitly designed for their profile.
Only the right people, who might be interested in seeing your content, will see it, which of course, will increase your chances of being followed for a long time in the future.
They also promised only organic growth, which is the most sustainable option. In the end, they are entirely safe, so your account reputation will not be at risk.
Tweeteev is a simple and effective Twitter growth tool. This is ideal if you are running an established business, launching a new business, or wanting to make an impact.
Don't be fooled by the superficial appearance of this service, because it is more practical and effective than you think.
Due to the fast-paced nature of Twitter, its growth can be challenging, which is why Tweeteev provides various features to help you expand your account quickly and efficiently.
The key here is simple but effective. Many other businesses go hand in hand with this, but this is too much. It becomes overwhelming, and if you don't have much experience in technology, you can easily get lost.
The developers of Tweeteev decided to invest more effort in creating advanced features to improve their Twitter engagement strategy rather than building a complex system.
So if you think it's a good idea to skip this point, then you need to learn more, and that's exactly what we're trying to do in this review. This is why Tweeteev is so popular-they sort it by function, but it's simple.
The purpose of Tweeteev is to help others see your tweets by finding like-minded people who are interested in your brand or niche and then interacting with you.
This is called positioning, and it generates relevant likes, comments, and reposts and attracts your followers.
Tweeteev is as specific as possible about your participation, so you will develop stakeholders and people who are seriously looking for your content.
They talk to customers before registering to understand how their audience is. This way, they can get a good understanding of your niche market and target you in a way you never thought possible.
Tweeteev is one of the best ways to develop your Twitter account because it is specific and will provide the correct results.
Appropriate participation of your target audience will increase your brand awareness.
With advanced targeting methods, Tweeteev can reach your demographic and audience. People were looking for content in your niche.
Not only does it help to promote your content, but because it attracts your target audience, you will get more likes, comments, reposts, and followers organically and naturally.
Relevant participation will increase your position on the platform, increase your presence, increase your credibility, and usually provide active followers.
By actively following people, you can become a loyal customer base, generating more revenue for your business.
If your goal is to create content based on your niche, and you want people to want the content you provide, then you need a specific, active audience to participate in your content.
Tweeteev provides easy growth-not likes, comments, followings, reposts, etc. Tweeteev experts will do this for you while you are in business, as usual.
This way, you have more time to process your content. Only organic growth-no conflicts will be found here. Fake accounts will not be part of your growth. Only faithful organic followers are for you.
The system can be used safely with your Twitter account. There are two economic plans available on the website. The standard plan is $15 per week and provides organic growth, no false followers, security, and fully managed services.
The Turbo plan costs $25 per week and includes standard tools and dual development and priority support. We think these two prices are pretty reasonable.
They are neither cheap nor too expensive either. They are in the middle, which is suitable for most people's budgets. It also means that you will get what you paid for, pay a little more for something like Tweeteev, and watch it bloom and bear fruit indefinitely.
Tweeteev has taken reasonable steps and precautions to protect you and ensure the security of your account. The Tweeteev registration process is straightforward.
They use advanced segmentation, a secure HTTPS site, visible pricing, excellent customer service, accountable email, and payment systems.
The only downside we can see is that it only works on Twitter and no other social media platforms. However, some people may think this is an advantage.
Not many legitimate companies like this are willing to devote all their time and energy to one platform. It promises to be good and promises that you will not experience any other place.
Compared to other Twitter bots online today, Twitter's Tweeteev is one of the most effective, efficient, reliable, and valuable options available.
If you are considering outsourcing your Twitter participation through these services, we recommend that you visit Tweeteev.
3. Circleboom
Circleboom is a Twitter management tool that helps you create a consistent tweet schedule, analyze your followers and target audience, and delete tweets/retweets instead of viewing tweets and analysis.
Log in to Circleboom with your Twitter account and follow the easy-to-use control panel to act on your choice.
Circleboom makes your automation secure as it provides a secure website that uses SSL encryption and will not share your details or contact information without your prior permission.
They also have security payment loopholes and will not take actions that might cause problems with your Twitter account.
Circleboom offers a free plan; however, it is limited and does not provide all the features that Circleboom advertises on its website.
Unfortunately, Circleboom no longer has a discontinued function. It disappointed many customers and deleted a large part of its initial functionality.
This is a big problem for many users because a vital element of Twitter is to ensure that you have a strong and highly engaged community.
Other platforms can help you do this, which may make them more effective in some ways.
Without seeing false profiles or bots, Twesocial provides the necessary growth for your Twitter account to ensure a thriving community and a good Twitter reputation.
One popular in recent years is Circleboom. Since many different companies offer social media tools, we want to see if they live up to the hype.
Circleboom describes itself as a tool that "allows users, brands, and SMEs to develop and strengthen their Twitter accounts."
Although it is not very detailed, let's explain it here. Circleboom provides its customers with a different set of easy-to-use user tools to help customers optimize their Twitter tweets, engagement, and general audience.
These tools focus on many other elements of a successful Twitter profile, including followers, tweets, schedules, etc.
Circleboom was created in 2017 and continues to change and expand its tools. It is known for its ability to delete all tweets and retweets.
When they were first released, they were known to track different Twitter accounts, but they no longer provide these features.
Let's take a look at the various components that Circleboom currently offers to its customers.
Circleboom offers her customers a publishing tool created specifically for those who find their time and workflow too limited. You can add your content to your drive and automate it.
This will make it easy to get a lot of money without spending a lot of time. Using the mail tool, you can also send tweets from any RSS feed to keep your content up to date. It can also be done automatically.
Generally speaking, Circleboom Publish tools provide valuable content automation, especially for those who don't have much time to focus on publishing content.
Although it can be actively used, you want to choose your content carefully and know that it will bring quality to your feed without damaging your reputation.
Finding the right content in Circleboom's publishing tools can completely change the way you set up Twitter content.
4. Tweet Attacks Pro
To generate many followers on Twitter and social media, you don't need to put too much effort into things you can automate easily.
Twitter users feel the pressure of their followers, sometimes even desperate, because it is essential to growing their followers. This despair often leads to unreliable methods for Twitter's growth.
Because of these black hat methods, Twitter and other social media have made plans to remove accounts from fake profiles and search for robot users.
If you have fake followers or use robot software to build your Twitter, your report will be at risk. You must understand the difference between a company that uses honest participation methods and a company that uses unethical practices.
Tweet Attacks Pro promotes itself as a growing Twitter service. It is designed to manage thousands of Twitter accounts from the same control panel 24 hours a day, seven days a week.
Provide you with all automatic Twitter actions. Tweet Attacks Pro can manage thousands of Twitter accounts simultaneously 24 hours a day, seven days a week.
You can also add items to the list and send messages to new followers. They said that everything happened without Twitter doubting their account, which is incorrect because there are reports that Twitter users on their TrustPilot page have been suspended.
They plan to meet everyone's needs and are not restricted by the Twitter API because they don't use it. Here is the whole package.
They also offer plans for five and ten banknotes, ranging from $146 to $284 per sheet.
You can also try the $7 3-day plan to manage unlimited accounts. Although services like Tweet Attacks Pro are attractive, they are a robotic automation service known for banning accounts.
This tool can manage all your Twitter resources and can even write and post tweets for you! Tweet Attacks Pro helps you develop your Twitter account by constantly tweeting you and communicating with others online.
This tool enables you to grow your account by keeping track of your accounts, stopping tracking them if they are irrelevant or impossible to follow, and interact with users.
You can set up automatic instant messages to connect with new followers, such as uploading and repeating tweets based on keywords you choose.
You can determine who and how often the service will be returned to you so that you can select your feed according to your preferences.
Tweet Attacks Pro has a robust search function to find tweets and users related to your brand. You can manage your entire account from the control panel.
The tool can easily create and arrange tweets while interacting with others, and you can even rotate tweets to share the same information in different formats.
Tweet Attacks Pro is advanced software with many useful and unique features. This is a great tool to get rid of Twitter management, but it is difficult for beginners to navigate.
This tool is a popular online platform that provides top-notch service delivery for its users. It is the desired tool for experts.
It allows you to become an immediate pro in marketing for your agencies that will enable you to grow your marketing reach exponentially.
This fantastic platform provides exclusive and genuine services to your account, such as a growing follower base, by improving views and likes, all of which could be accessed for affordable fees that would guarantee you are improving your marketing capabilities at a low cost.
This tool has been employed by numerous celebrities and big companies who intend to grow their brand exponentially through constant content creation and automation.
The significant features of this tool are its instant delivery service; the company understands that your time is valuable and, as such, delivers its services to users promptly when compared to other companies in its field of operation.
SocialViral also has the additional advantage of having significant outreach, thus helping you use the tool to promote your brand.
Employing the service of SocialViral can be attained through the use of safe payment platforms such as PayPal, which ensures that your credentials are secured.
It also provides comprehensive technical support and is user-friendly. The payment for services ranges from $2.99 to $15.99, depending on your intended purpose.
SocialViral is acclaimed as one of the best tools of social media marketing as it targets a genuine audience and assures fast delivery.
6. SocialPilot
SocialPilot is a multifunctional tool, and you can start using it now. This will help those who want to write all tweets at once but don't want to post everything at once. How does it work?
Just enter the time and date of the tweet, create the tweets and add them to the application queue.
When the specified time arrives, the tweet will be sent automatically. With SocialPilot, you can also manage multiple Twitter profiles.
SocialPilot is an easy-to-use all-in-one social media management tool that can be used to generate Twitter profiles automatically.
If you want to start a critical Facebook event or promote an event on Instagram, you can start using this simple tool right away.
For Twitter marketing, SocialPilot also provides some great features. For instance, if you have small content but don't want to post all tweets simultaneously, you can align it using the "queue" feature.
Select the time on your dashboard, and these posts will be automatically sent to your Twitter account.
With this Twitter automation tool, you can create custom Twitter posts without worrying about Twitter's character restrictions.
With SocialPilot, you can also attach GIFs, videos, and different images to your copy to increase engagement.
The platform also helps you discover and share the most popular content on Twitter while considering your target audience.
This Twitter automated tool will assist in generating a compiled list of the latest content and trends in your selected niche, which you can share with your Twitter followers for optimum gain on performance.
Another great feature provided by SocialPilot is the social inbox. Use this powerful feature provided by SocialPilot to participate in discussions in real-time, chat with critical people, and encourage active brand building.
Understand the growth trend of your followers, determine the best time to post a tweet, schedule the time accordingly, and more. When it comes to Twitter analytics, SocialPilot is a tool for analyzing numbers.
In addition to determining overall trends in engagement, audience reach, etc., you can also learn more about the performance of each tweet. Identify the most repeated and favorite tweets.
You can also categorize your analysis to see the number of posts you publish weekly, daily, or monthly.
Maintaining a regular release schedule on these networks can be a tedious and time-consuming task, and you don't always have the time to do it every day.
You may find that you do not log in and post on social media every two hours. With SocialPilot, you can set up your Twitter account and post in advance.
It currently allows you to connect to Facebook, Twitter, and LinkedIn. Provided as a web application and a Chrome extension, SocialPilot can be accessed from any browser. You can join five social media profiles using the free plan or add more profiles by upgrading to a professional account.
After logging into your SocialPilot account, you must first link your social profile. To do this, click "Link Account" in the left pane under "Social Accounts."
Here, you can add unlimited profiles for Twitter, Google plus (pages, shapes, and favorites), Facebook (profiles or pages), and LinkedIn (profiles, pages, or groups).
After linking your profile, you should now be able to set a timeline for your posts. Note that the default time zone applies to the United States, so please change it as needed.
Click the "Edit" button and select the desired time zone on the next page. Click Manage Account in the left pane to reset the plan. Click "Edit" for the account. You are now ready to add a timeline to your social profile.
In "Select time," you can specify the time to be added to the release schedule. You can then choose the days of the week you want the program to run. When finished, click the "Add Time" button.
You can do this for other social profiles you may have connected to. When you create a post for each social profile, the timeline is now in effect.
Please note that a different schedule is set for each social account, but if you want your content to be posted simultaneously, you can select the same plan for everyone.
Click "Create Post" in the left pane to add the post to your calendar. Then you can start writing posts and add links.
If you don't like manually adding links and entering text to create posts, you can install the Chrome SocialPilot extension. In this way, you only need to click the SocialPilot icon to share your current page.
After publishing, there are three options in the menu: Add Row, Share Now and Share Next. If added to the queue, this post will be added to the dispatch queue.
If you want to share content immediately, click Share now. You can use SocialPilot's content discovery to discover interesting stories that you can share on the web.
This way, there will always be something interesting on your social media channels.
SocialPilot is not the only publishing service. They are much taller than him. Compared with other options, the price of SocialPilot is the minimum is $10 per month.
Conclusion
Twitter automation tools are software programs that are written to perform automated, repetitive, predefined tasks. These tools are designed to imitate or replace human user actions.
Conducting the role of a social media manager with its many demands tends to be tasking. Hence, the need to get the best automation tool in the market can guarantee the replicated functions to grow your brand.
Automation tool companies are expected to ensure that you get your money's worth at a reasonable price.
Therefore, there is a need to select a Bot company that guarantees prompt and efficient delivery while ensuring that you are not caught by the spam detectors when interacting on your behalf.
You need to ensure that you are selecting the best possible tool to assist you in engaging and interacting with your growing client base without making it seem like they aren't communicating directly with you.
Thus, you may opt for any of the best Twitter automation tools mentioned above to get the best result.