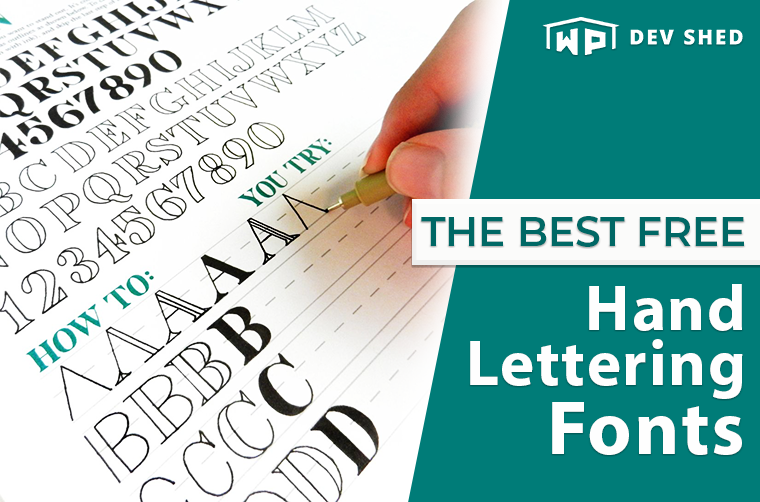 It's hard to beat a handwritten letter. You get it in the mail, open it up and smell the paper as you read the words between each blue line.
But…who writes letters anymore?
It's the digital age – a time when everyone texts, emails and voice chats on their phones and computers. Not many people take the time to pick up a pen and write letters to one another.
If you miss the days when handwriting was the cool thing, don't give up just yet. There's still a way to enjoy the look of hand lettering without having to use a pen. Let's look at hand lettering fonts.
Contents
Whether you're drafting a letter to a friend or developing a unique website, there are many different fonts available to help you recreate the look of handwriting. It's not ink on paper, but it's the next best thing.
Why Use Hand Lettering Fonts?
Anyone can use Arial and Times New Roman. It's easy to pick Helvetica. You can always be the cool kid and go with Roboto.
But these fonts are all missing something. Do you know what it is?
Personality. Style.
Handwritten fonts breathe life into your digital notes and web creations, turning blank pages into a unique flow of letters with swoops, dips and curves. They transform a simple letter into something extraordinary – a bland product description into something exciting.
Hand lettering fonts are made to mimic the style of handwritten text. Some have the carefree spirit of a child; others look like the work of a professional typographer. They're like any traditional font on your computer. You can make them italic and bold, brighten them with different colors or leave them at their regular font-weight.
Want to hear the best thing about these fonts?
They're all released under open-source licenses, meaning you can use them in any capacity without the need to pay a dime or to get permission from someone.
They're all free for personal and commercial use. You can thank Google for that.
Hand Lettering and Calligraphy: The Differences
Hand lettering and calligraphy are both subsets of lettering, which is the art of drawing letters in an illustrative way.
With lettering, each letter is drawn by hand and can vary slightly in size and shape.
Calligraphy is an art and the way in which the letters are drawn.
Typography refers to the way that you use the letters.
Fonts are containers of typography, the letters that you see on the screen. Each letter will have a distinct style, but it will never change in the text. There are no variations.
For example, a Google Font with the lowercase letter "R" will always look the same no matter what word it's in. That's because the letters are in a repeatable system, making them easy to use in fonts.
Calligraphy is an art form and created with nibs and inks. Each letter varies in width based on the hand's upstrokes and downstrokes. It's often used in long written works and rarely has two letters that look the same.
It's harder to achieve these variations in digital form since most fonts contain a repeatable system of letters to create a typeface. Some creators write the letters on paper and scan them to the computer; others use digital software to design the typography.
In fact, most hand lettering fonts are created by hand and then placed in a repeatable system for easy typing on the computer. Hundreds of fonts are available for free online, many of them in a handwritten style, and they're used for making the content stand out in both physical and digital media.
The Best Free Hand Lettering Fonts
If you want a cool font for your commercial project or just to make your blogging site stand out, these hand lettering fonts will turn your creations into something fresh for your audience.
Mali
Mali has a certain friendliness in its design. This hand lettering font is inspired by a 6th grader's handwriting, and it shows. The lines move with a purpose but don't have any rigidity. It's this sort of carefree styling that makes Mali a fun and interesting font to use for handwritten text.
Indie Flower
Indie Flower is another airy and carefree hand lettering font. It has bubbly, rounded edges and includes all the standard letters, numbers and symbols. It's the perfect handwritten font to use when typing a quick note or writing a story with handwritten styling.
Pacifico
Pacifico is a bold, rounded font that was inspired by the surf culture of the 1950s. If you're going for cursive text, this is the ideal font to use. Each letter curves perfectly into the next and is so seamless that it looks as though it were written by hand.
Amatic SC
Amatic SC is an interesting font in that it's displayed in all uppercase lettering. It has both regular and bold styles and includes Latin and Hebrew alphabets. It's perfect for use for titles and even small lines of text on a website.
Caveat
Caveat is a lot like Indie Flower and has a similar look with rounded edges. However, there is a difference. Each letter can have slight variations depending on where it's at in the word. Therefore, you'll have a more natural, handwritten look and feel.
Kalam
Kalam comes in light, regular and bold styles and has steep slants in each letter. They were created to resemble the look of handwritten text with a felt-tip or a ballpoint pen. This hand lettering font was designed to make it appear as though the text was quickly written by hand.
Patrick Hand
Patrick Hand was designed by Patrick Wagesreiter to mimic his own handwriting. This font has a vertical stance, meaning that it has no slants in the lettering. It's a fresh, clean font and includes many different glyphs to go along with all the standard letters, numbers and symbols.
Gochi Hand
Gochi Hand is a bold font and produces a fresh take on a teenage girl's handwriting. It's bubbly in its design and has sweeping curves without venturing into cursive territory. Each letter has a distinctive look and fits together nicely when forming any word.
Handlee
Handlee is a clean, sophisticated font based on the creator, Joe Prince. Each letter has varying ascenders and descenders for a more natural handwritten appearance. A nice thing about this hand lettering font is that it still maintains its quality and legibility even at very small font sizes.
Homemade Apple
Homemade Apple is a delicious font that would look good on any food and recipe blog. It's a cursive font with tiny irregularities in the letters, giving it both a natural and a stylistic look. Use this hand lettering font on a blog or when printing recipe cards to keep on the kitchen counter.
Coming Soon
Coming Soon is a heartfelt hand lettering font that was inspired by the creator's mom. It's her handwriting from the 6th grade and looks clean, balanced and vertical with each letter. If only every kid's handwriting was this neat and easy to read.
Cedarville Cursive

Cedarville Cursive is an easy-to-read, nice-to-look-at font with clean lines and simple curves. It's subtle in its design and has some irregularities for a natural look. Some of the connectors fail to connect, making it look even more realistic.
The Best Free Cursive Fonts
Is your cursive unreadable? Don't worry. Fake it with a cursive font. There are numerous fonts to choose from, each with its own unique styling. Whether you want something elegant or more carefree, check out this list of the best cursive fonts for the web.
Kaushan Script
Kaushan Script does cursive in a more natural way. The letters fail to connect with each other, making it less formal and more easy and carefree. It has little variation in the strokes but slight differences in the base, creating energy and movement with each word.
Great Vibes
Great Vibes is an elegant font with beautiful loops and precise connectors. It's formal in its appearance with perfectly placed letters and an easy slant to give it movement and form. This font is ideal for formal prints such as wedding invitations and designer flyers.
Allura
Allura takes a stylized approach to handwriting. Sometimes letters connect; other times they don't. It's a dreamy font with soft loops and subtle ascenders and descenders. It mixes classic and modern for a new take on cursive handwriting.
Miss Fajardose
Miss Fajardose reintroduces the elegant typography of the past and places it at your fingertips. It has an authentic typeface style with swooping curve details and a precision with its connections. It also has a steep slant to the right with every letter, making your eyes move quickly forward to discover each word in the sentence.
Pinyon Script
Pinyon Script is a refined cursive font with long loops and introductory swashes. Though it's an elegant font, it has characteristics of the American Old West. This slanted font gives character to the words and looks good at small and large sizes whether it's printed or displayed on the screen.
Mr. De Haviland
Mr. De Haviland belongs to the same Charles Bluemlein Script Collection as Miss Fajardose, yet it's toned down in its sweeps and loops. It's an elegant font with stylistic curves and swashes and has purposeful connections to give it a natural handwritten appearance. It's a masterful representation of early typography and looks good scaled up or down.
Mrs. Saint Delafield
Continuing with the Charles Bluemlein Script Collection, Mrs. Saint Delafield is a classic take on handwritten text. It's more subdued and subtle than the previous two fonts in the collection. It has a low vertical ceiling and a modest slant to lead the eyes from left to right.
Meie Script
Meie Script was created to mimic the styling of the Estonian handwriting standard of 1910. It's neat in its design with generous spacing between the letters to make it very legible. It's a mixture of German and Russian handwriting styles and would look good in small runs of text or as titles on web pages and in print.
Monsieur La Doulaise
Monsieur La Doulaise belongs to the Charles Bluemlein Script Collection and is grand in its swashes, loops and curves. The intense slant and narrow lettering gives this font energy, yet it has a certain precision with the way that it's aligned and connected.
Engagement
Engagement is a semi-formal font with tightly connected lettering and purposeful movement. It borders on vintage yet has a modern styling to make it perfect for use in today's web design. It's easy to read and has a slow movement thanks to its mostly vertical typeface.
Euphoria Script
Euphoria Script takes an informal approach to cursive fonts. It has a subtle angle and fast curves to make it easy to read but is also fun and lively. It's a casual font that would look good in titles, branding phrases and other text online.
The Prettiest Cursive Font?
This is somewhat subjective, but we think Italianno is the prettiest cursive Google font. It's both elegant and casual, blending classic forms with clean connectors. The spacing is just right, and the swoops are subtle enough not to get in the way. Italianno is clean and easy to read, making it the perfect font for invitations and other semi-formal and formal prints.
The Best Calligraphy Font?
Meddon is the best calligraphy font for use in print and design. It was created from an actual 18th-century legal document and has a style that's uniquely its own. The swashes are quite subtle but stylistic enough to catch your eye. The connectors are smooth and flowing, giving each word movement in the sentence.
How to Use Google Fonts on Your WordPress Site
One of the best things about WordPress is that you don't have to mess with a bunch of style sheets. You don't have to worry about opening HTML and CSS files and pasting in a bunch of links and code. The massive amount of plugins gives WordPress an advantage over other content management systems out there.
We have previously written in detail about how to use Google fonts with WordPress, but in short it's easy to do with WordPress and the plugin Google Fonts Typography.
This plugin gives you instant access to all the fonts in the Google library. We're talking close to 1,000 fonts. Even better, the plugin is free and open source. There's an option to upgrade to a pro version if you want to unlock more features such as font size and color, optimized page loading and custom elements.
Just download the free plugin, and pick different fonts to enhance your site. It comes with a live preview to let you see how the fonts will look with your content. It also works with any WordPress theme and offers one-click updates, making it easy to keep the plugin and your site secure.
Transform Your Website With Google Fonts
You can set your site apart from all the others on the web simply by changing the font. You may want to try a hand lettering font, or a different font. Sometimes all it takes to get more visitors interested in your content is how you display it to them. Pick a couple fonts to change things up on your site. Select a specific font for the main headers and subheadings and another font for the content.
Make it interesting, and you'll see a big difference in how you and others out there view your content.