The truth is that starting a travel blog is actually less about the technical setting up of the blog, and much more about the content and promotion.
We've written extensively before about setting up a blog, but in this article, we dive deep into all the real challenges you'll have when it comes to starting a travel blog specifically. Read on intrepid blogger…
How to Start a Travel Blog
Creating a blog is the easy part. If you are new to WordPress and webmastering then you can check out our extensive article all about how to start a blog.
That will explain everything you need to know about getting a domain name, setting up hosting, installing WordPress, and choosing a travel blog theme. Honestly, even if you are not very technical the whole process of setting up a WordPress-powered blog these days is pretty easy.
The hardest part of the setup phase is probably choosing a really good name for your travel blog. You want something catchy, easy to remember, easy to spell, and meaningful.
Don't rush this because if you are successful then you'll be living with this for a while. We've previously written about domain name generators.
So if setting up your new travel blog is the easy part, what is the hard part of starting a travel blog?
Well, travel blogging is all about sharing inspirational stories, images, and videos from beautiful, interesting, and far-flung places around the world…the hard part is actually getting out there, capturing that content, and sharing it in a compelling and accessible way.
This is what we think is the important part of starting a travel blog…
Writing Travel Content that Inspires
Anyone can write about travel – but it's generally only those bloggers who write in a way that engages that can cultivate a following of thousands. Here are our top tips for writing inspiring destination content to set your blog apart from the rest.
Show, Don't Tell
One of the crucial lessons any writer can learn is that it's more important to make your readers 'see' than to simply tell them.
This doesn't mean filling your posts with photos – it means writing in a way that allows your audience to build a picture in their own minds, as though they are experiencing what you're describing for themselves through senses, actions, and feelings.
You don't need to go overboard with adjectives and long-winded descriptions to achieve this. You can make your readers 'see' by using sensory language and being specific about details.
It can take practice, but once you master the art of showing your audience the story you'll find your readers are a lot more connected and engaged.
Consider Your Reader
You've been on the trip of a lifetime, and you're excited to chronicle every delicious detail. If you want to inspire and engage your audience, it's vital as you tell your story to think beyond simply the what/ where/ when of what you did and consider what your readers are most interested in.
Are you writing for hip young professionals who are looking for information on luxury escapes, or families looking to squeeze the most adventure out of their shoestring budget? Angle your tales of travel around what your readers are most interested in reading about and you'll win over an engaged fan base who keep coming back for more.
Be Approachable
Want to connect with your readers and build a relationship that has them obsessed with your stories?
Be yourself.
Be approachable, write like you talk, and imagine you're writing posts for your friends to cultivate your most authentic and engaging voice.
Being human is a great way to create a meaningful connection with your fans, and being yourself means you'll engage in a style that's all your own, and in a voice that you can sustain for many adventures to come.
Tell the Untold Story
The world is a big place, and while there are almost countless cities, towns, and remote destinations a blogger can write about, it's often the major travel hotspots that are rehashed time and time again.
The trick to inspiring your readers is to take them on a journey they haven't yet experienced or read about elsewhere. You can, of course, achieve this by writing about the further-most corners of the globe – but if that's not practical, you can always take them on an entirely new journey by finding and telling the untold story.
Think about an angle that hasn't already been explored. Bring your own unique experience and point of view into your writing. Give your readers an unexpected twist that will excite them, engage them, and inspire them to continue exploring your content.
15 Travel Photography Tips for Better Content
No inspiring travel blog is complete without engaging images, which is why every successful travel blogger always has their camera at the ready. Whether you're shooting a photo story, adding visual context to your content or looking to increase your following on social media, check out our top 15 tips to get the best shots at your next location.
Before you embark on your destination, get travel insurance and ensure both you and your equipment are covered. Remember to always take your camera and small equipment such as lenses as carry-on luggage. You never know when a checked bag might become lost in transit.
Carry your memory cards in a card wallet instead of carrying them loose to avoid losing or damaging them. Backup any photos you take with your smartphone to a cloud system such as Dropbox as often as you can or email them to yourself. This will allow you to delete as you go and avoid running out of space, and ensure your pics are lost if your phone gets damaged or lost.
Make the most of the 'magic hours' at sunrise and sunset. Not only do these times offer beautiful light, but there will also be fewer people about to get in the way of your shots, especially in the early morning.
Get creative with composition to make your photos more visually interesting and appealing. Try employing the 'rule of thirds', where you place your subject within one-third of the frame, to shoot a striking image. If you're shooting with a smartphone, enable the grid feature to help you compose your shots.
Plan for the unexpected and always have some camera on you during your journey. You might need to leave your DSLR at the hotel on days that you need to travel light, but be sure to have an alternative compact camera or smart phone on you just in case. You never know when a great photo op may present itself.
When it comes to angles, don't be afraid to mix things up. Moving your camera higher or lower than eye-level, or even trying to find a bird's eye view, can take your pics to the next level.
When using your DSLR, it's best to use Aperture Priority mode when photographing landscapes. This will help you achieve a maximum depth of field so both the foreground and the background of your scene is sharp.
If you're traveling to a location with opportunities for water shots, invest in a waterproof phone case or camera housing unit such as an Aquapac. This will offer good protection and even allow you to take underwater photos.
When using your smartphone, always shoot your original photos in portrait or landscape mode – even if you plan on Instagramming your pics later. Setting your phone to shoot in the preset square means you're stuck with that crop. Cropping after the photo has been taken allows more opportunity to play with composition.
Don't miss out on a great image. Capture fleeting quickly moments by knowing your phone's camera shortcuts.
When using your smartphone, tap the screen of your camera view to change focus and adjust the lighting.
Invest in wide-angle and telescopic lenses to up the ante on your travel photography. You can pick up clip-on lenses for smartphones relatively cheaply. Grab an external wide-angle lens to get an amazing close-up. If you're shooting on DSLR, use a telephoto lens to capture great portraits of locals while blurring out distracting backgrounds.
Clean your lenses regularly. Salt-spray from coastlines and dust from urban areas can cloud your lens and lead to blurry pics.
Shoot panoramas of scenic viewpoints, rather than in wide-angle mode, which can make everything appear small. Your smartphone likely has a preset panorama mode, so make use of it! You can create your own panoramic shots with a DSLR by shooting several images of a scene and then stitching them together in photo editing software when you get back home.
Landscapes and monuments are fantastic subjects for travel photos – but don't forget to include people in your shots! People respond more strongly to photos with people in them, and candid shots of locals are a great way to give context to your images and tell a better story about your destination. Including people in your pics can also help to give a sense of scale to surroundings.
Uncovering Hidden Gems For The Best Blogs
The 'hidden gem' is content gold for travel bloggers. Not only because offers you the chance to experience and write about something unique – but also because it can help your content stand out, and increase your blogger cred and following.
Any blogger can write about and rehash the top three activities listed on Trip Advisor… it's those who go the extra mile to discover something extraordinary and unknown who build a truly loyal fan base.
Uncovering hidden gems isn't always easy – which is why we've put together our top suggestions for getting the scoop on the road less travelled.
Keep an Eye on the Local News
Most towns and cities have some online equivalent of their community newspaper, so do a little browsing during your pre-journey research, then pick up the print paper when you hit town.
Look for stories about local business, opinion pieces, and columns from local writers, puff pieces about where the local school went on their recent field trip, and even advertisements. Anything that's important to the community can offer a clue to gems other travelers may overlook.
Ask Your Social Networks
If you've already built a network on social media, put the word out to fans and followers that you're about to visit a new location and ask them what spots they'd recommend checking out while you're there.
If your readers enjoy your content, they'll be more than happy to contribute ideas – and by engaging them for pointers they'll be even more excited to read your posts when you write about your journey.
Still building your following? Reach out to locals already talking about your next destination via Twitter and ask them if they have any recommendations. Chances are, if they live in the city you're about to visit, they'll have the inside scoop on new and little-known hotspots not covered anywhere else.
Ask Your Accommodation Provider
Similarly, don't be afraid to ask the staff working at the hotel, hostel, or bed and breakfast you're staying at what their favorite off-the-beaten-path sights, attractions, eateries, and markets are.
They're well versed in giving tourists the skinny on the most popular spots to visit, but taking an interest in what they like to do as locals can uncover a gem no one else has written about.
Leave Room to Explore
Pre-planning your itinerary can help you cram as many experiences as possible into your trip, but leave a little time – be it an hour, an afternoon or an entire day – to explore part of the city on foot.
Just wandering around a new place with no predetermined destination can offer a new perspective. It can also present great opportunities for discovering gems not mentioned in your guidebook. Enjoy a leisurely pace, keep your eyes peeled, and don't neglect the unassuming.
That little coffee shop or vintage store or community museum that every other backpack-wearing traveller is walking past could be jammed with stories waiting to be told.
Increasing Your Reach On Social Media
Want to get more eyes on your blog, increase your readership and influence, and create a loyal platform that you can leverage when monetizing your content?
Social media is a great space to gain exposure and get in touch with the right people. Here are the basics of increasing your reach online and building a devoted fan base.
Be Findable
Make it easy for your fans to find you and link to your social accounts – everywhere. From within the content of your blog posts, from your blog navigation, in your blog's footer, in your email signature… you get the idea.
The more opportunities you create for your existing readers to stumble across your Facebook page, your Twitter account or your Instagram feed, the greater your following in social spaces will become.
We've also written recently about the advantages of starting a YouTube channel to accompany your blog, and this makes especially good sense for travel bloggers considering the visual and inspiring nature of the content you are sharing.
Join the Conversation
Social media is exactly that – social! Which means it's crucial to join the conversation online and be active in that community.
No SM influencer exists in a vacuum, so take some time away from your WordPress dashboard to chat with like-minded users on your favorite social networks.
Follow those already talking about travel – including fellow adventurers, tourism operators, and even other travel bloggers – and add to the online discussion with your own thoughts, tales, and recommendations.
Hashtags are a great way to reach your target audience, so don't be afraid to use 'em.
Think of tags as a means of highlighting what your social content is about, so keep them highly relevant, and don't overdo it with too many. You can also expand your reach by posting content relevant to popular hashtags – such as #TBT – to expose your brand to people who haven't yet read your blog.
Be Searchable
Users of social media are looking for interesting people to follow, so ensure your profile content is peppered with relevant keywords to allow them to find you.
Like Search Engine Optimization (SEO) works to help your blog content appear in search engine results, optimizing your social media profile copy will help people to find you when they search for travel bloggers on Twitter and Instagram.
Consider SMM
Social media marketing has become increasingly popular among brands that understand the power of social spaces, and want to enhance their chances of reaching relevant SM users.
Like other digital advertising platforms (such as Google AdWords), the beauty of social media marketing is twofold. The first key benefit is that you only pay for measurable exposure and/or clicks, meaning your advertising budget is stretches further.
Secondly, when setting up your social media marketing campaign on Facebook, Twitter, or Instagram, you set the parameters of the users you want to target – meaning that your brand is only exposed to those people most likely to be interested in what you have to offer.
Be Active
It's impossible to build a social media following if you sign up for an account and fail to use it. To increase your reach it's vital that you're actually active in those spaces, posting, tweeting and 'gramming' frequently while liking and responding to the comments of others.
Monetizing Your Travel Blog
Whether you're looking to make a little extra money from your blog to fund more adventures, or your dream is to make your blog a full-time paid gig, there are five key means of monetizing your travel blog or website.
1. Donations
If you have a substantial following of engaged fans, you may be surprised how many would be happy to make a small donation towards your travel fund.
Adding a donation plugin to your website or blog is simple – you can even include a donation goal to encourage your readers to contribute to your next big adventure. Patreon is an increasingly popular means for enabling donations and building community.
2. eBooks and Courses
Has your experience travelling the globe given you expert insights your readers could benefit from? Why not write premium content that you can sell alongside your blog posts?
You could write a comprehensive eBook on how to travel the world on a shoestring budget (or a different angle that aligns with your niche), a selection of affordable city guides, or a downloadable course that offers step-by-step instructions on how other wannabe bloggers can turn their passion into a fulltime job.
The key with premium and paid content is to offer it at the right price point and to make online purchasing as easy for your audience as possible with a plugin such as Sell Downloads or Payship.
3. Sponsored Content
Sponsored posts are a great means of generating income on your blog – particularly if you have a large readership and social following and you know your fans are following links to third-party websites and recommended products (a quick skim over your Google Analytics data will reveal this).
Content marketing has become increasingly popular among brands looking to engage with potential customers and guests, so leveraging your existing platform to generate revenue can be a game-changer.
You could approach accommodation providers, tourism operators, and adventure and travel retailers about sponsored advertorial posts – just be sure to include a disclaimer on your sponsored content to maintain your credibility.
4. Affiliate Links
Already reviewing products, posting Top 10 lists of travel essentials or linking to accommodation options?
You could be monetizing this content through affiliate programs – designed to give you a fee or percentage of revenue generated through your traffic.
There are many businesses now offering their own affiliate programs, including:
Amazon
Bookit.com
Booking.com
ebay
Expedia
Hotels.com
iTunes
STA Travel
TripAdvisor
Wotif
If you are including affiliate links within your content, it's good practice to declare this somewhere on your site – usually on your About, FAQs or Terms page.
5. Advertising
Including ad space on your site is one of the simplest ways to generate income from your travel blog, and there are many easy-to-use plugins available to help you manage your advertising. Check out examples such as Advanced Ads, Ad Inserter, and Simple Ads Manager.
Alternatively, try a service such as Google AdSense to take the hassle out of adding advertising to your site. With AdSense, you determine the format of ads you want to be displayed, choose where you want ads displayed on your site, and then automatically earn money when your readers view or click through on ads displayed.
We recently published a more in-depth article on blog monetization if you are interested.
Keeping Your Blog Updated Between Trips
Going silent for even a few weeks can spell death for your loyal following – but no blogger can be expected to travel 365 days a year to keep their content fresh. Wondering how you can keep your site up to date and continue encouraging readers to check back between journeys? Here are our top 4 tips…
Feature Previously Posted Content
Don't be afraid to recycle content and feature older posts that newer readers might have missed, or loyal readers may have forgotten about. You can do this one of two ways, depending on how your blog is set up and your preferences:
Automate with a featured post plugin that will push your old post back up to the top of your content list for a set number of days
Create a new post with a new intro and key image, linking back to the old post. Your intro could explain why the old post is timely, or offer new and updated information.
Top 10 Lists
The reason so many bloggers write Top 10 (or Top 3, or Top 5, or Top 50) lists is that they're popular. When you kick off your post with a clear indicator of how many points you'll be covering, readers know what they can expect before skimming a single paragraph. They also know your points are going to be broken up into easily digestible bites, which encourages them to click through if the subject of your list appeals to them.
You can write a Top 10 list about pretty much anything – and its simple structure can make it easier to knock the content out when you're short on time or waiting for the muse to strike. For example:
Top 10 Destinations for Adrenaline Junkies
Top 10 Things I've Learned About Frequent Flyer Miles
Top 10 Local Delicacies I've Sampled on the Road
Top 10 Things I Wish I'd Known Before Visiting [Country/City/Town]
Top 10 Places to Party When You're Travelling with Your BFF
Top 10 Dive Bars to Grab a Beer
Top 10 Destinations Every Muso Must Visit
Top 10 Pointers for Getting By When You Don't Speak the Language
Top 10 Ways to Get More Sleep on the Plane
Top 10 Locations to Propose to Your Girlfriend
Travel Tips and How To Guides
Like Top 10 lists, How To and instructional/ insider tips posts are extremely popular – not just because your readers want the skinny on how they can make the most of the travel dollar etc, but also because 'how to' do a specific thing is frequently typed into search engines – making these types of posts gold for SEO if you're writing about something few other sites have covered.
In terms of structure, you can offer a specific number of tips, or take readers through a step-by-step process. In terms of content, you can create a How-To or tips-style post out of almost any idea:
How To Pack One Suitcase for an All-Weather Journey
How To Hitchhike on Your Next Trip (Without Getting Murdered)
How To Take a Stress-Free Road Trip with Your Family
5 Tips to Save Money on Hotels in [City]
My Best Tips to Plan an Itinerary in Less Than One Week
Write About Your Life at Home
When you're used to writing about your adventures skipping the globe and exploring far-flung locations, blogging about life at home can seem pretty uneventful. The thing is, when you give your readers a glimpse behind the velvet rope, you make yourself even more engaging, endearing and likeable than you already are.
You don't have to write a 600-word missive on how your recent trip to the supermarket was more perilous than that time you went white water rafting in New Zealand's South Island.
But you could look to build an even greater rapport with your fans by sharing insights into your current plans and research, things you're doing to save for your next trip, and inviting comments from readers about places they've loved visiting or would like to read about.
Super Useful Resources All Travel Bloggers Need
Whether you're just getting started with travel blogging or you're looking to lift your existing blog and grow your following, having the best resources on hand can help you research more effectively, make the most of your travel budget, and take your blog from hobby to pro.
Cheap Fare Tracking
Get immediate updates when airfares change with these five popular airfare tracking and comparison websites. Simply enter which cities you'd like to track flights to, to receive email alerts when a cheap flight comes up.
Maximize Air Miles
Learn how to maximize your air miles with The Points Guy – a site dedicated to helping frequent flyers use their hard-earned loyalty points and airline miles to fly first class and stay at luxury hotels for "less than the cost of a coach ticket and a hostel bed".
Choosing/ Booking Accommodation
Finding the right accommodation option can be time-consuming, but these sites are designed to help you quickly and easily compare prices and user ratings and reviews to make the best choice for your next trip.
Travel Insurance
Looking for a trusted global provider of travel insurance? World Nomads covers people from more than 150 countries, offering medical and evacuation cover, 24-hour emergency assistance, and cover for a large range of adventure activities. They also offer travel scholarships every year for people looking to further their experience in travel photography, travel film, and writing.
Travel Writing and Blogging Courses
Learn how to create and maintain a successful and lucrative travel blog with Travel Blog Success, which covers topics such as telling effective stories, leveraging social media, writing and publishing an ebook, and creating pitch letters.
If you want to create a sustainable business, check out Nomadic Matt's The Business of Travel Blogging Course, which is written by a best-selling author and successful blogger for wannabe adventurers. Learn how to create a strong brand, create content that people actually want to read, sell affiliate products and avoid common mistakes.
MatadorU teaches beginner through advanced-level students how to produce travel media through writing, photography, and filmmaking. Their courses include the fundamentals of travel writing and photography, film making, advanced travel writing, and more.
List of Official Tourism Sites
The websites of official tourism boards can be goldmines for bloggers – particularly if you're considering travel to a country you don't know much about, or you're looking for visa and visitor information.
The below isn't a definitive list of all destinations you may be interested in, but it offers a good starting point with 50 popular options.
How To Approach Tourism Operators for Partnerships and Sponsored Posts
Wouldn't it be great to travel the world and write about your experiences without the worry of covering airfares and expenses?
For some travel bloggers, the dream has become a reality – and you too could find your adventures funded (at least in part) by a brand or travel organization in exchange for sponsored content or a shout-out to your fans.
Not sure where to start? These are the basic steps you'll need to take to open those lines of communication and sell your brand.
Get clear on what you want
Before contacting anyone, you should think about what you want to achieve by working with a tourism operator. Do you hope to:
Generate revenue by being paid to promote their offering with sponsored content?
Gain free access to tours, attractions and activities to supplement your existing travel budget?
Create opportunities for expenses-paid travel to their destination?
You may be flexible in what you're willing to accept in exchange for your time and content exposure, but at the very least take some time to think about best and worst-case scenarios.
Consider what you can offer them
Tourism operators are frequently approached by bloggers and travel writers, so it's important you think about your point of difference, or niche – or Unique Selling Proposition, in marketing speak – before you make contact.
Why would this particular tourism operator want to work with you over 10 other writers who have contacted them recently?
Who is your audience, and how are those fans relevant to the market this particular tourism operator is looking to engage?
What other campaigns, if any, have you successfully collaborated on with another operator, and what were the outcomes? Can you give an example of one of your posts directly resulting in an increase in traffic or bookings for someone else?
To convince any operator to work with you, you'll need to sell them in a way that makes their needs the priority and focus, rather than your own.
Create a media kit
Nothing demonstrates professionalism quite like a slick and finely tuned media kit – and you can build your own quickly and easily with little more than a Word document, some great images, and the ability to create a PDF.
A media kit should be designed to give prospective partners all the information they need to know about you – and working with you – in a snapshot, and it doesn't have to be anything fancy to do the trick. Include:
A brief introduction and About section
Information about your stats, such as website traffic and user engagement levels, social media following, and email database
Information about your fans and audience, including demographic and geo-locational data
A success story or testimonial, if you've worked with brands previously
A call to action, inviting them to contact you to discuss partnership opportunities further
Do your research
Figure out who you want to work with, then research that operator or brand to get a good understanding of how you can appeal to their needs.
If you can, tailor a version of your media kit to reflect this – marking specific reference to their brand – which will illustrate that you're interested in working with them, rather than sending out the same stock-standard email to every contact you could get your hands on.
While researching the who, try to find the best possible person within the organization to make initial contact with. You may be able to find these details via their website, though in some cases you'll need to send a general request or give their offices a call for the correct contact details.
Reach out
Once you have the appropriate contact, reach out via email or over the phone. Introduce yourself, explain your reason for contacting them, include a link to your website and any relevant social channels, attach your media kit, and express a desire to discuss a potential partnership with them further, at their earliest convenience.
Aim to keep your tone warm and genuine, while still retaining a sense of professionalism, and don't hesitate to follow up with a quick phone call if you haven't received a response within a couple of weeks.
How to Save Money on Your Journey
While it will leave you rich in experience, there's no denying the fact that travel can be an expensive passion to pursue. If you want to save money on your journey – and ultimately travel more – check out our favorite 5 tips for stretching your budget further.
Leverage Your Platform
If you already have a strong platform, try reaching out to tourism operators in the areas you're looking to travel as we've described above. You may be able to arrange a partnership where they provide free or discounted accommodation, experiences, tour guides or even flights in exchange for posts and exposure about their region.
Save Money in Your Sleep
Accommodation and transport costs can quickly eat into your travel allowance, so kill two birds with one stone and save a fistful of cash by opting for overnight flights, trains, and buses when you can.
Not only will you get where you're going and have more daylight hours to see the sights, you'll also save money on accommodation by catching your Zs while you travel, rather than arriving at your destination and then paying for a room for the night.
If you're a light sleeper, invest in some cheap noise-canceling headphones and download a white noise or sleep machine app on your smartphone.
Shop Smarter for Air Fares
Whether you're traveling internationally or domestically, the cost of your flights are likely going to take a significant bite out of your travel budget. Being flexible with your plans and keeping your eye on the best deals can save you a ton of money, so aim to embrace your spirit of adventure as much as possible when planning your next trip.
The Globe Getter's Tausha Cowan employs one simple philosophy when it comes to maximizing her budget through flexibility:
"If you want to travel to a certain place, be flexible about the timing. If you want to travel at a certain time, be flexible about the location. Choose one — not both."
Tap into cheap fare trackers and air miles programs to further stretch your travel dollar.
Be Rewarded for Your Spend
Joining frequent flyer programs is a given – but have you considered switching your credit card to one that rewards you with additional air points or hotel credit?
Nomadic Matt advises that travel credit cards offer great opportunities to earn free points that can be redeemed for airfares, hotels or even cash in his popular post, Picking a Travel Credit Card.
"In the race to get customers, credit card issuing companies partner with various travel brands… By milking the system, you can get tons of free air tickets, hotel rooms, vacations, and even cashback."
It makes sense. If you're using a credit card to make everyday purchases or to book your travel expenses, you might as well take two bites of the cherry and be rewarded for each dollar you spend.
Take Advantage of What's FREE
It might seem obvious, but you'd be surprised how many people forget to make the most of free experiences and benefits.
Fill up on the free breakfast provided by your hotel to get you through until dinnertime. See the sights at a slower and more relaxed pace by walking as much as possible. Research local museums and tourist sites before your adventure to get the skinny on their free and open days. Focus on free attractions and sights, such as historic monuments and wonders of nature.
6 of The Best Travel Blogs for Inspiration
Looking for inspiration from some of the most popular and successful travel blogs currently sweeping readers away on tales of adventure? Reading travel blogs can help make you a better writer by exposing you to new ideas and styles, so we've rounded up 6 of the best to add to your own online reading list.
Lost Boy Memoirs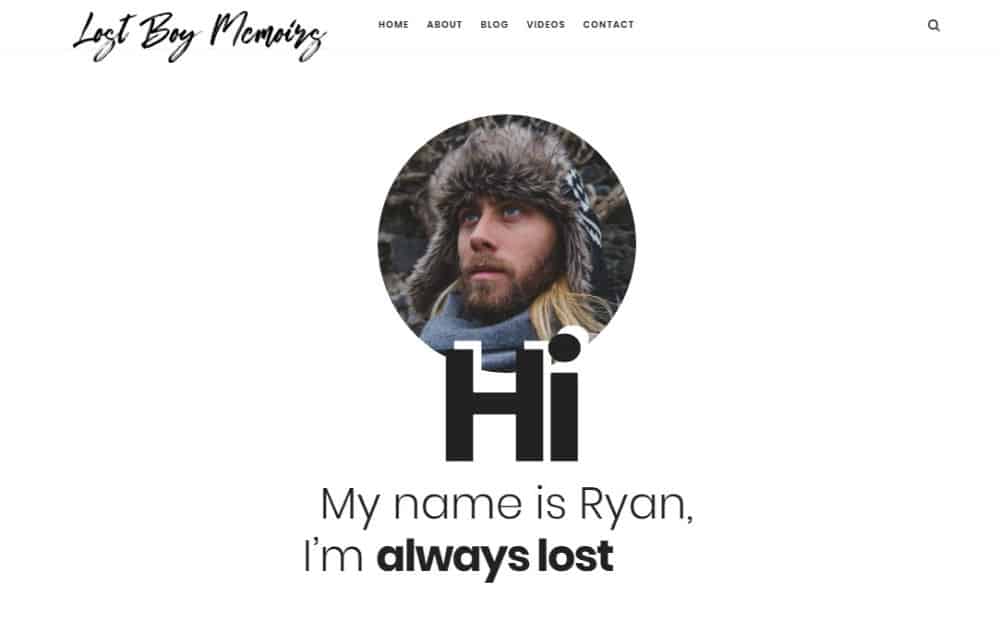 Lost Boy Memoirs is one self-proclaimed corporate escape artist's collection of travel posts, videos and photo essays, chronicling four years of adventures on the road, and learning how to be a semi-permanent nomad.
Covering destinations including Asia, the Caribbean, Europe, Oceania, and North America, it also offers a selection of introspective and inspirational posts about his personal journey, and how travel has changed him.
Overlandsite
Overlandsite is a bit different to most of the travel blogs we have featured here. Evelin and Ferenc travel the world in their Toyota Landcruiser.
This style of travel is called overlanding and these guys really know what they are doing! It isn't for the faint of heart and requires a lot of planning and preparation, and Overlandsite covers alot of these practical overlanding tips as well as chronicling their adventures as they cris-cross the globe.
Get a taste:
The Blonde Abroad
Recounting her travels to 5 continents/ 45 countries and counting, The Blonde Abroad is the travel memoir of a California native who left a career in corporate finance, a luxury apartment and two walk-in closets to begin traveling with a backpack and a shoestring budget.
Typically traveling on less than $50 a day, you can explore her posts by destination, travel tips, activities and interests.
Get a taste:
12hrs
Finding your niche in a sea of travel blogs can be tricky, but 12hrs nails it with their cleverly-condensed guides to exploring a destination in just half a day.
Geared towards people who love to travel – but also love design, and fashion, and art, and want to discover more of it while on the road – 12hrs offers a see-it-all extravaganza of guides, journal entries and photo stories. Itineraries are broken down into manageable chunks of time to show how a jam-packed flying visit can be achieved.
Get a taste:
An error has occurred, which probably means the feed is down. Try again later.
Alex in Wanderland
Celebrated by Flipkey and Viator as one of the best travel blogs around, Alex in Wanderland is the ongoing story of a freelance writer and designer who left her native New York in 2011 and has not had a permanent address since.
Having started blogging to document her two-month trip to Southeast Asia the summer of 2009, Alex fell head-over-flip-flops in love with the adrenaline of travel, and realized there were people out there truly living a nomadic lifestyle. Readers can explore her adventures by destination, obsessions and confessions.
Get a taste:
Nomadic Matt
From the author of the New York Times best-selling book, How to Travel the World on $50 a Day, Nomadic Matt aims to help readers travel more while spending less.
Inspired by the experiences of travel junkie who didn't take his first trip overseas until he was 23 – then quit his cubicle job set out on an adventure around the world – Matt's philosophy (which he learned from backpackers he met in the city of Chiang Mai) is that you don't have to be tied down to a job and you don't need to be rich to travel.
Get a taste:
Travels of Adam
Travels of Adam is a gay travel blog, covering the coolest cultural things to do around the world and offering travel stories, nightlife tips, photos and personal stories of travel adventures around the globe.
Written by a graphic designer who quit his job in Boston to take a trip around the world before taking up permanent residence in Berlin, readers can explore Hipster City guides, travel destination posts, and by theme such as art, food, festivals and tech.
Get a taste:
Do you have a favorite travel blog we should know about? Share it in the comments below…
10 Travel Themed Instagrammers to Learn From
Want to learn how to build your following and fan base, and take even better travel snaps? Just like all writers have to be well read, all great travel bloggers should aim to be inspired by the adventures of others.
While it's ideal to bookmark and browse your own favorite blogs, sometimes scrolling through a visual feast such as Instagram can be enough to spark a new idea or get a better understanding of what makes a great photo.
There are thousands of travel bloggers, professional adventurers, tourism operators and travel-based brands currently engaging and inspiring via the world's favorite photo-driven app and social network. We've picked ten of the best that you can learn a thing or two from, by browsing their digital postcards from around the globe.
National Geographic
National Geographic has been the leading source of armchair travel inspiration for more than a century, so it's little surprise their Instagram feed has been expertly developed as a digital extension of their popular print magazine.
Wander the world through the eyes of the National Geographic photographers, and get a feel for how the experts shoot life through a lens.
Go Pro
The Go Pro brand motto is "Wear it. Mount it. Love it", and their feed is jam packed with images from users capturing moments around the world.
Though not explicitly a travel-related account, it features snaps from all over the world and is a great follow if you're looking for inspiration on capturing movement and energy in your own travel images.
Chris Burkard
Want to be inspired by the best? Chris Burkard is a California-based self-taught photographer and artist, specializing in energetic imagery capturing surf, the great outdoors, and travel subjects.
Lonely Planet
As one of the biggest tourism brands across the globe, you'd expect Lonely Planet to provide a pretty kickass offering on Instagram – and the travel giant does not disappoint. Check out their feed for photos from Lonely Planet writers and staff as they travel the globe.
Lauren Bath
Lauren Bath is a chef turned photographer turned social media influencer – having quit her job in 2013 to become Australia's first professional Instagrammer. Check out her feed to understand how one person can leverage a social following to build a travel-based career.
World of Wanderlust
Brooke Saward created World of Wanderlust back in 2012 as a way to share her travel experiences with family and friends.
Nowadays she's living the dream and blogging for a living, with a readership of more than 5 million each year. View her candid and colorful shots to learn how to successfully put yourself into your shots and build a rapport with your fans.
Daniel Kordan
Russian-born professional photographer and part-time mountain-climber, Daniel Kordan specializes in breathtaking landscape photography. Follow his work via Instagram to understand how lighting, color and composition can work together to create the perfect shot and bring landscapes to life.
Kirsten Alana
Based in NYC, Kirsten is a full time photographer specializing in travel and lifestyle subject matter, having turned her lens to travel after spending a decade as a professional portrait and wedding photographer. Follow her to get a feel for great composition.
Expert Vagabond
Adventure travel blogger and photographer Matthew Karsten has been exploring the world for more than five years. Check out his vivid use of color and glean ideas to make your own images truly pop.
Elayna Carausu
Australians, Elayna Carausu, and her partner Riley Whitelum have been sailing their catamaran, La Vagabond, around the world for the past 5 years and sharing their adventures with their masses of fans who love their down to earth and authentic personalities (I'm a huge fan). In addition to popular Insta accounts, they have a huge following on their YouTube channel Sailing La Vagabond.
Best Travel Blog Plugins
Great content is the key to a successful travel blog, but clever features and interactive elements can help you stand out from the crowd and increase audience engagement. There are a number of WordPress plugins designed specifically for travel bloggers, so we've selected some of the best to help you get started on improving your offering.
Geo Mashup
Offering a simple interface and an average user rating of 4.7/5 stars, Geo Mashup lets you save location information with posts, pages, and other WordPress objects to be presented on interactive maps.
Supporting Google Maps, Leaflet and OpenStreetMap, features include a geo search widget so your readers can search for content by distance from a search location, and marker clustering for Google Maps.
Locations can be saved for all post types, users and comments, and you can even reverse geocoding to fill in address information for locations you've already written about.
Instagram Feed
Increase your social following and showcase your travel photography skills with Instagram Feed, which has an average user rating of 5/5 stars.
Designed to display clean, customizable, and responsive feeds from multiple Instagram accounts, this plugin features a simple set up and is completely responsive, mobile friendly, and customizable – offering the option to add your own CSS and JavaScript.
You can display a custom header at the top of your feed, and include a Follow button to encourage increased social engagement.
Booking.com Official Search Box
The Booking.com Official Search Box plugin allows you to add value for your readers by making it easy to find accommodation related to your content – and increase your blog revenue with affiliate earnings.
User friendly, customizable and with an average user rating of 3.3/5 stars, this plugin uses your affiliate ID so you earn commissions on bookings from your readers.
Nomad World Map
Create your own custom travel map with Nomad World Map, which has an average user rating of 5/5 stars and allows you to link locations on your map to blog posts. Show post excerpts, travel dates or a short custom description for each location, create multiple independent maps, and add a sidebar widget to show your last location.
With Nomad World Map, your location content is shown in a carousel underneath your map, allowing readers to zoom to the linked location when they slide through the carousel content. You can set custom line colors for past and future travel routes, and rearrange the order of the travel route by dragging the items up or down in the route list.
WordPress Related Posts
Want to increase engagement and encourage your readers to browse more of your content?
Suggest additional posts they may be interested in based on destinations, activities and interests with WordPress Related Posts, which has an average user rating of 4.1/5 stars. You can pick specific posts to be included in the footer of your content, to drive your readers to explore more of your journey along with you.
Instagrate to WordPress
If Instagram is your platform of choice for images and you're looking to expand your reach, Instagrate to WordPress allows you to easily integrate your Instagram account into WordPress with automatic posting of new images into blog posts.
With an average user rating of 4/5 stars, you can configure your post settings including title, body text, image size, post format, author and post category. The next time someone visits your site, a new post will be created with each of your Instagram shots.
WP Geo
Add location maps to your posts, pages and custom post types with WP Geo, which integrates seamlessly with Google Maps and has an average user rating of 4.9/5 stars.
Featuring custom map markers, a sidebar widget, and simple shortcodes to insert your map into your posts, you can set map locations by search, entering latitude and longitude, or simply clicking on your map.
Geo-tagging Plugins for Travel Bloggers
Imagine that one of your readers is totally captivated by the photos and information from your latest travel blog post about the best restaurants in Memphis.
They live near Memphis, and many of the dishes that you've photographed are truly mouth-watering. Wouldn't they love your blog even more if they could see exactly where those eateries were on a map?
Now it's easier than ever to improve your readers' experiences through geo-tagging plugins that map locations and provide their geographic coordinates. Here are four popular WordPress geo-tagging plugins that are particularly useful for travel bloggers.
WP Google Map Plugin
The WordPress Google Map plugin is one of the most popular software tools that bloggers use to display geographical data about their posts and pages. The mapping features of this plugin are some of the most comprehensive available.
Users can generate numerous maps and display them in standard, street and satellite views. The plugin also allows bloggers to display detailed and real-time information about the area such as the existence of bicycle paths and vehicle traffic patterns.
Bloggers can be confident that their readers can view the maps on most types of computing devices, and the plugin supports blogs that are written in multiple languages.
Open Street Map
The Open Street Map plugin uses the open source Wiki World Map to display selected locations and geo-tag information such as coordinates and addresses.
Users of the Open Street Map plugin can link posts and pages to their associated locations on the provided maps. Digital photos that are taken via smartphones that are equipped with global positioning systems GPS often have embedded location information that is stored in EXIF files.
Travel bloggers can display these pictures and their associated geographical information on maps when using the Open Street Map plugin.
Easy2Map Photos
Travel bloggers who want to show multiple photos of places where they have visited throughout their trips can easily encode the pictures with geographic data using the Easy2Map Photos plugin.
The application allows users to upload one or multiple pictures and input location data for each photo. The location of the photo is displayed on a map, which can be sized to fit within the layouts of blogs and websites.
Users of Easy2Map Photos can either select locations via the application's drag-and-drop feature or input GPS coordinates.
MyGeoPosition.com
My Geo Position is a WordPress-compatible application that allows bloggers to easily display a location on a map for readers. In addition to showing the location on a map, the plugin provides readers with the location's full address, associated district and country information.
The application captures other geographic identifiers for targeted locations such as latitudes, longitudes and elevation. Generation of geo-tags within My Geo Position is automated, and the software is designed to capture and display geographical data for any address in the world.
My Geo Position improves upon the features of Google Maps because it offers more accurate map depictions of rural addresses.