Looking for a fast and efficient way to automate promotion of your blog posts across your social media profiles? There are a number of plugins available, but I road-tested the popular Jetpack plugin and its Publicize feature, after asking around and seeing what some fellow bloggers were using.
Designed to "supercharge your WordPress.org site with powerful features previously only available to WordPress.com users", Jetpack is owned by WordPress' parent company Automattic. It's free to download, although some of the plugin's add-on features may "require payment in the future". In the meantime it's entirely free, allowing users to try before they buy, and make use of a great tool.
Features include
Carousel, to transform your standard image galleries into an immersive full-screen experience
Comments, to give your readers the ability to comment using their WordPress.com, Twitter or Facebook accounts
Contact Form, to insert anywhere on your site
Custom CSS, to customize your site's look without modifying your theme
Extra Sidebar Widgets, to add images, Twitter streams and your site's RSS links
Featured Content, so you can display specific posts in a highlighted area on your site's homepage
Mobile Theme, to optimize your site for mobile devices
Subscriptions, to allow your users to subscribe to your posts and receive notifications via email
And a whole lot more.
For the purposes of making my social sharing easier, I was specifically looking to utilize Publicize, which is designed to make it easy to share posts across several social media networks automatically when you publish a new post. Publicize offers the added bonus of being able to add simple share buttons to your pages and posts within the same plugin, to encourage your readers to share your content for you.
Installation and set up is super simple, and surprisingly quick.
Jetpack & Publicize Step-by-Step
Search for Jetpack by WordPress.com within the New Plugin section of your admin, and then download and install it. Once you see it listed in your installed plugins list, select Settings. To active the Publicize feature of Jetpack, you'll need to Connect to WordPress.com so hit the green button in the header of the page.
You'll be asked to sign in using your WordPress.com username and password. This means creating a WordPress.com account if you don't already have one (this took me around 2 minutes).
Once you've created your account and signed in, you'll see that you're ready to active Jetpack's features. Select Configure with the Publicize section near the top of the page.
To push links to your new content out to your social accounts, you'll need to give permission. Connect the social accounts you want to be able to post to and log in/ grant access. Connect all of the accounts you may want to post to – you'll be able to select and deselect specific account when it comes time to publishing your posts.
You'll also be able to add simple Share This buttons to your pages and posts from within the plugin. To do this, simply drag buttons from the Available Services box into the Enabled Services box, and arrange them as you'd like to see them displayed. You'll see a live preview of how your share button will look at the bottom, and you'll also be able to choose whether your buttons display as icons, icons with text, text only, or official buttons with counters.
Save your changes and then check out one of your recent posts to see if your new share buttons are displaying as you want them to. This is how one of my recent posts was displaying, complete with share buttons at the bottom of the content, after I'd made the changes.
Now that Publicize is installed and set up, you'll see a new Publicize section in your New Post admin, above the Publish button. You can choose to have the plugin automatically push your content out to all of the social accounts you've granted access to, or you can click Settings to select and deselect accounts, and even include a custom message to accompany your link.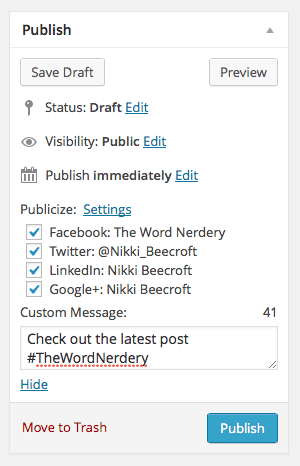 Finally, publish a test post like this Quote of the Day, too ensure it gets pushed out to the social accounts you've set up. I Publicized my test post to my Facebook, Twitter, LinkedIn and Google+ accounts, and checked each were working, as displayed below.
If you have any issues, there is a comprehensive support section on Jetpack's website.