Pionex Review 2023
Pionex is a cryptocurrency exchange that offers integrated, free trading bots.
You don't need any prior experience in crypto currency trading to use them, all you need to do is activate their bot tools, and you can get started.
In this article, we are going to talk all about this crypto currency platform, share our Pionex review with you so that you can work out how to use their bots, what payment methods they have available, and how they layout their fee structure.
We are also going to review their grid trading bot and arbitrage bot, so that you can see for yourself why they are easily one of the best trading bought options in the industry.
What is Pionex?
We believe this crypto platform is trailblazing when it comes to industry, because they are the first exchange in the industry that offers integrated, free trading bots.
It is a cryptocurrency trading environment that is automated and manual that was developed back in 2019, and it has been one of the fastest growing platforms in a number of different locations around the world, including Asia.
In Asia, it does $30 million in trade volume every day.
Right now, the exchange has more than 100,000 users, and it is serviced by a team of more than one hundred experts, along with the founder and CEO.
This crypto platform holds a USA money services business license, and its liquidity engines are aggregated from both Huobi Global and Binance, which makes sure that the bots can match your orders correctly and run around the clock.
It has also been invested and by prominent Chinese venture capital companies.
Why Use a Bot?
A crypto trading bot is a set of algorithms and programs that has been designed to automate the trading process.
Market data is analyzed and interpreted, according to a predetermined set of rules, so that your bot can choose the best opportunities in the market for you and execute your positions.
Bots reduce the need to monitor the market constantly, and they take the emotion out of crypto currency trading.
They also reduce the chances of human errors, and provide simulated environments, so that you can test out new strategies before taking them live.
Bots operate on set rules, with the overall goal being consistency when it comes to performance targets, and thanks to their rapid transactions on trading, you can execute your trades quicker than if you were doing so manually.
How This Platform Works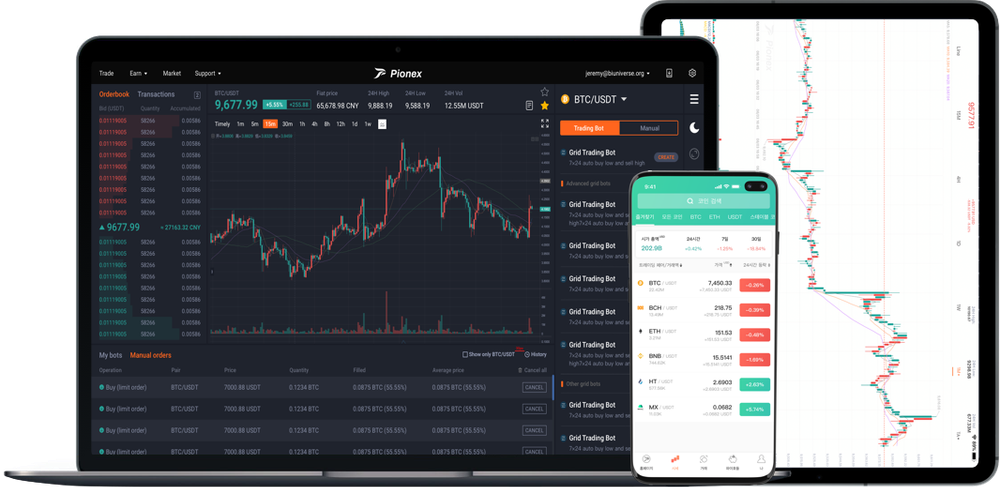 You might be tempted to think this, but this crypto platform is definitely not just another cryptocurrency exchange, because it offers you the tools to create a customizable automated strategy with its free bots.
Pionex offers 12 trading bots for free, that are suited to both beginner and experienced cryptocurrency traders.
The thing about Bitcoin trading bots is that most of the time, they are really complicated, and require client programming, as well as advanced coding knowledge.
The fact that you don't need any of this in order to make the most of world-renowned bots when it comes to Pionex is a massive advantage.
The platform is also going to make it so that you can use copy trading so that you can follow top traders and copy their trades.
What are Pionex's Bots?
Trailing buy bot: This bot is going to add a position when the value of the asset decreases. Buying is going to stop when the price reverses.
Trailing sell bot: Your bot is going to place a trailing stop on orders, which limits potential losses in the case of a sudden market shift.
Smart trade bot: This bot is going to make the most market trends with lower account risk, by purchasing and selling with trailing or fixed stops.
Grid trading bot: This bot is going to purchase and sell orders within price ranges that you have specified, and as a result it is going to secure small and stable profits from a standard level of volatility. This is a great bot to use if you are a beginner, or you are new to the idea of cryptocurrency trading automation.
Reverse grid bot: This bot can help you increase your holdings, as the price of a coin decreases. It is designed to sell your coins when high prices have been reached, relative to your predetermined upper and lower limits.
Margin grid bot: This bot is going to help you earn a profit without using cryptocurrency coins, by lending some to other users of Pionex, and earning capital from this exchange.
Leveraged grid bot: This bot makes the most of margin loans, to amplify the results of a standard grid bot.
Leveraged reverse grid bot: This bot is going to add leverage to the standard reverse grid bot, to accelerate trading results, as well as profit potential.
Infinity grid bot: This is similar to a grid bot, and uses percentages, but doesn't have an upper range limit. This is the best bot for investors that believe that the market is going to increase.
Bot futures arbitrage bot: This is a bot that capitalizes on price differences between bot prices and futures prices.
Trading Platform
As far as Pionex's trading platform goes, this is web based, and it is compatible with all major web browsers out there, including Chrome and Safari.
It's easy to navigate and sophisticated, and offers a number of different features, including built-in live chat, coin ranking, dark and light mode, time filters that are customizable, order history, a completely customizable interface, and a number of different technical indicators.
Manual Trading
You have probably gathered at this point that this exchange is primarily focused on being able to help its clients with automated trading bots, but you can also make the most of this cryptocurrency exchange to make manual trades as well.
You can buy and sell your cryptocurrency coins against the US dollar, and you can use a market order, or a limit order to do so.
Mobile App
This exchange offers a mobile app that means you can take your trades on the go with you.
It is compatible with Android and iOS, and it allows you to develop grid trading bots, wherever you are.
You can receive news in real time about the cryptocurrency market, and the app has a clean yet intuitive design.
Demo Account
This exchange doesn't offer a demo account, however, there are lots of other cryptocurrency trading and bot platforms that don't offer a demo account, so we don't think that it is a big deal.
Pricing & Fees
As far as Pionex's pricing structure goes, it is going to cost you 0.05% commission per trade, which is more affordable than other major cryptocurrency exchange platforms out there.
It doesn't charge its clients extra to implement its trading bots. You can also benefit from zero percent maker fees.
To be perfectly honest, we believe that this exchange is extremely cost effective, which is great if you are a newcomer to the world of cryptocurrency trading bots.
The last thing that you want to do is have to shell out hundreds of dollars only to find that the bots that you have signed up for don't perform as well as you thought.
With this platform, it is completely free to set up your account, and it is free to access all of their trading bots.
We don't see where you can go wrong with a trading bot platform like this.
Payments
As far as deposits go, this exchange only accepts deposits in cryptocurrencies, although it does support 40 digital cryptocurrencies, including Bitcoin and Ethereum.
When using this platform, you need to make sure that your wallet is free of Fiat currency.
It also supports stable coins, and you need to make sure that the deposit networks match to avoid losing any assets.
Another thing that's so great about this exchange is that they don't have a minimum deposit requirement, a funding fee, or a balance level, although each trading pair does have a minimum investment when it comes to order volume.
Deposits can take an hour from submission to show up in your account. As far as withdrawals go, you can only withdraw crypto currencies.
There is going to be a withdrawal fee, but this is going to vary depending on the coin that you are wanting to withdraw.
Pros and Cons
Security
As far as security goes, this trading platform offers a secure trading environment that follows regulation set by American agencies.
Customer Service
This platform can be easily contacted through an email address, or through Telegram, or even a live chat that you will see on their website.
They also have an FAQ section on their website, which includes topics like how to stop a trading bot, compensation and insurance, using a cryptocurrency dust collector, and more.
It also has other self-help options, including social media channels, and a Discord community. You aren't going to be able to contact them through telephone.
Signing up with Pionex
When it comes to signing up with this trading platform, the process is quick and simple.
All you need to do is choose the 'sign-up' button that you'll see on the website and complete the form that you will find online to create a set of login details.
Either an email address or phone number is required for a verification code, and you might want to fill out additional details so that you can increase your withdrawal limits.
However, this feature is optional. They also have a referral code, if you want to include this in your profits.
User Experience
Once we downloaded the platform's app, and gave it a test run, we were really impressed with how easy we found the platform to use.
We thought that setting up and activating the bots that we wanted to execute our trades with was really straightforward and simple.
If you are a new user, then we highly recommend that you download the mobile app, which is super easy to operate, and streamlined.
Tutorials
The platform has a YouTube channel, which includes a number of tutorials, so that you can work out everything you need to know when it comes to trading using their crypto bots, and even how to activate them, so that you can make the most of them.
This is definitely indicative of the platform going the extra mile for its clients, because there are plenty of other platforms out there that don't do this.
As a result of this information, we believe that this exchange is a really good way to learn about trading bots in general.
Each one of their trading bots comes with an in-depth tutorial, that is going to explain everything that you need to know.
If you have any further issues or questions, you can just easily reach out to their support team, through the live chat feature on their website.
FAQs
Is This Crypto Trading Platform Safe?
We believe that this exchange is 100% safe for you to use.
This is because it stores its funds on secure exchanges, which means that the company benefits from the security features of these high-level exchanges.
What is Pionex Lite?
Pionex Lite is a feature that supports American dollar purchases of Ethereum and Bitcoin.
It is a one-stop service, and the application is legit, safe, and easy for you to use, even if you aren't somebody who is experienced.
What Is a Pionex Leverage Token?
Their leverage token offers margin trading exposure, and has an optimized rebalancing mechanism.
This means that you can maintain flexible target leverage, as opposed to a constant and fixed rate.
What Is Pionex Smart Trade?
This is also known as a swing catcher, and it means that you can schedule buying and selling at the same time, with stop loss orders, as well as take profit orders, so that you can increase your chances of making a profit.
How Many Grids Do I Get with My Grid Trading Bot?
This exchange offers a predetermined range of 10 grids when it comes to its grid trading bot.
Do we Like Pionex?
No, we don't like this platform, we love it.
We believe that they are a fast growing, unique cryptocurrency exchange that offers its clients a wide range of simple yet sophisticated bots for cryptocurrency trading, that you can implement without any prior experience when it comes to cryptocurrency trading, or coding for that matter.
These guys are relatively new to the scene of cryptocurrency, but we have been really impressed with their features, their level of security that they provide, as well as how much financial backing they have.
The only downside that we can see is the fact that they don't have a demo account, which means that you don't have any way to test them out before you commit to using them, but to be honest, based on the fact that they have an excellent reputation in the industry, we don't believe that this is necessary.
All you have to do is look at Pionex reviews out there on third parties to realise exactly what they have to offer.