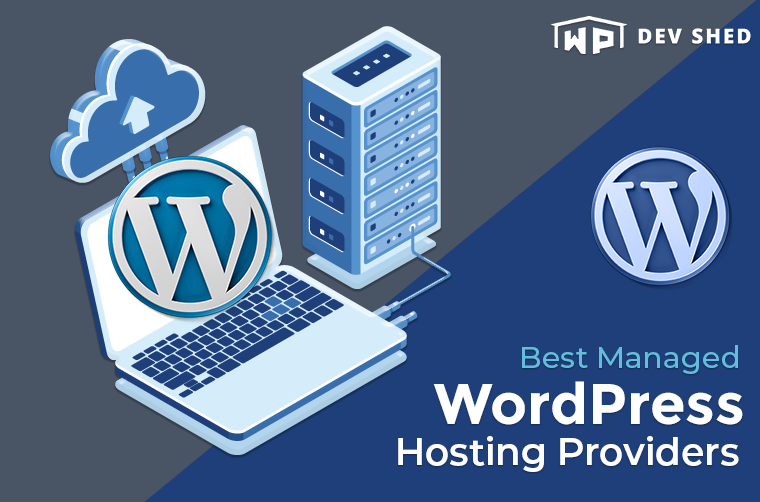 With the rapid growth of WordPress, a new breed of managed WordPress hosting providers have emerged to provide dedicated WordPress hosting services.
These solutions are built on specially tuned hardware and software designed to run WordPress as fast and securely as possible.
If you are committed to WordPress and want the best managed WordPress hosting experience for your site these are the companies you should be talking to.
Best

Managed WordPress Hosting

in 2023
Pressable is, in our opinion, by far the best managed hosting solution that provides servers configured to deliver optimal performance for WordPress sites.
Why Choose Pressable?
An integrated content delivery network and caching services offers lightning-fast load times for Pressable websites.
Their hosting support ensures that there's always an expert on hand to answer your questions.
Test out new website ideas using Pressable's staging site feature or grant temporary access to collaborators with the included collaboration tools.
Secure FTP access gives you complete control over who can edit your site content.
Daily backups provide a solid disaster recovery plan for Pressable users. Along with intrusion detection, malware scanning, and malware removal, this creates a secure environment for all sites.
Pressable Pricing
Pressable plans are priced based on the number of sites you run and your projected level of monthly visitors. You can buy managed WordPress hosting plans monthly or yearly to fit your needs.
Up to 5 sites: $25/month or $20.38/month paid yearly
10 sites: $45/month or $37.50/month paid yearly
20 sites: $90/month or $75/month paid yearly
VIP: single sites with over 1 million pageviews for $750/month
Private Cloud: unlimited sites for $3,500/month
---
In our opinion, WPX Hosting is a fantastic managed WordPress hosting service, providing cloud server space for personal and business websites.
With plans for sites ranging from small personal designs to enterprise-scale business environments, this host offers flexibility and scalability for all users.
WPX Hosting Features
WPX Hosting's secure environment uses firewalls as well as malware scanning and special protections against vulnerable scripts and insecure PHP commands.
To ensure data security, automated backups are performed daily. A "one-click" recovery option speeds restoration time in the event of data loss.
Through the use of premium caching technology, WPX Hosting delivers static content and media at top speed to provide the fastest possible load times.
Other integrated features ensure maximum uptime.
The ability to employ SSL certificates across all sites makes WP gives businesses more options when it comes to growing sales by establishing online stores that customers can feel confident ordering from.
WPX Hosting Plans
WPX Hosting offers these plan options:
BUSINESS $24.99/month
PROFESSIONAL $49.99/month
ELITE $99.00/month
All plans feature 30-day risk-free trials and unlimited data transfer so that you can experiment with your site as much as necessary to find the design that best suits your needs.
---
3. Pressidium
Pressidium uses its own Pinnacle Platform to provide enterprise architecture for every managed WordPress hosting account.
Pressidium Features
Free site migration and a user-friendly dashboard make development simple with Pinnacle.
One-click deployment from the included staging environments lets you implement changes the moment you're ready to go live.
Pressidium keeps data safe with a managed web application firewall, managed auto-updates, bad-bots filtering and consistent scanning for malware and other intrusions.
Using the same webscale technology employed by sites such as Facebook, Pressidium is able to manage changing traffic loads.
Dynamic load balancing, adaptive caching and SSL acceleration support maximum uptime and duplicate resources eliminate service interruptions.
Pressidium Plans
Pressidium offers a 60-day money-back guarantee on all plans. Resources include 1 to 25 WordPress installations and 10,000 to 500,000 visitors per month depending on which plan you choose.
All plans feature unlimited bandwidth and Pinnacle Platform architecture.
Micro: 247.90/month with add-on options available
Personal: $44.90/month or $249/year
Professional: $149.90/month or $699/year
Business: $299.90/month or $1,999/year
Custom plans are available for sites that require more installations or that handle millions of monthly visitors. If you find that the needs of your site change, Pressidium offers the option of upgrading or downgrading as necessary.
---
4. Pagely
Pagely is a hosting provider that offers a suite of useful features to serve businesses of all sizes.
What Pagely Does
Being the pioneers in managed hosting for WordPress gives Pagely an advantage when it comes to support.
WordPress experts are on hand to provide help and answer questions every step of the way. Each account is secured with PressARMOR to prevent and mitigate attacks.
Restoration services are available should any problem ever escape detection.
By using Amazon Web Services as the basis of their managed hosting structure, Pagely can offer fully scalable cloud-based solutions for all customers.
Comprehensive hosting packages include WordPress core updates and plugin updates as well as custom tools to make site building easy. PressCDN optimizes page load speeds regardless of traffic load.
Pagely Plans and Pricing
The seven plans from Pagely are priced according to the number of sites, the level of bandwidth and the amount of storage available.
Business: $64/month
Professional: $149/month
Ultimate: $269/month
VPS-1: $399/month
VPS-2: $799/month
VPS-3: $999/month
VPS-4: $1799/month
If you need more resources but aren't ready for a complete upgrade, you can purchase only what you need for a small extra monthly fee. Quotes for enterprise-level hosting are also available.
---
5. DreamPress
DreamPress is a hosting service from DreamHost that delivers great performance through a highly optimized server configuration.
Why Choose DreamPress
On WordPress.org's recommended hosting list, DreamPress was recently awarded top performance by ReviewSignals for WordPress hosting services under $25.
Each DreamPress instance uses dual isolated server resources with an NGINX web server and multi-layers of server-based caching.
DreamPress is also configured for optimal WordPress security with DDoS protection, web application firewall, specially configured database, secure FTP and multi-factor authentication on its control panel. Cloud-based backup storage is available at a low fee.
Every account has a Let's Encrypt SSL certificate preinstalled. In addition, shell access is provided along with WP-CLI and Git support.
DreamHost offers great WordPress technical support as well as a strong knowledge base.
DreamPress Pricing
Only one plan is available for DreamPress but additional instances are less expensive. Each instance supports one WordPress site:
First instance: $19.95/month or $16.95/month paid yearly
Addon instances: $12.95/mo or $9.95/month paid annually
---
6. 45Air
When you need fast, reliable managed WordPress hosting, 45Air delivers.
Their managed hosting plans provide solid infrastructure and a suite of tools to make your website "fly."
45Air Features
Unlike many WordPress hosts, 45Air supports an unlimited number of monthly visitors in all of its plans.
This gives you the flexibility to grow your site without having to upgrade and allows 45Air to ensure 100 percent uptime regardless of traffic.
45Air runs RAILGUN from CloudFlare to bring you the fastest possible page load times. RAILGUN uses caching techniques that ensure your visitors never have to wait for the information that they want.
If you need help getting started, 45Air will walk you through installing your chosen WordPress theme and expanding plugins beyond their preinstalled offerings.
You get all the support you need to optimize your site for SEO and speed, both of which are important for drawing more visitors.
45Air's Plans
45Air offers four packages with pricing based on the amount of storage and data transfer available:
Coach: $12.99/month
Economy: $24.99/month
Business: $44.99/month
First Class: $114.99/month
45Air also provides customized "Private Jet" plans for a more robust managed hosting solution.
---
7. Kinsta
Managing infrastructure ties up your development staff with unnecessary tasks. Kinsta provides managed hosting that lets you focus on growing your business instead.
Kinsta Features
Kinsta operates a global network that allows you to choose the managed WordPress hosting location for your site to provide the best possible experience for visitors.
A CDN with seven data centers across four continents as well as support for SPDY delivers lightning-fast page load times for all visitors.
Developers enjoy support for WP-CLI and Composer as well as easy management for billing and creating package subscriptions.
Every site built with Kinsta and its staging tools can be controlled from one dashboard. This same platform hosts live analytics information and offers one-click tracking of site performance.
The Right Plan
Choose between a standard VPS plan or a "load balanced" plan that duplicates databases and files across servers for greater data security.
Every plan supports unlimited visitors and page views for greater flexibility. Free site migration makes setup a breeze.
VPS plans:
My Business: $287/month
My Agency: $487/month
My Venture: $987/month
Load balanced plans
My Enterprise: $870/month
My Cloud: $1,470/month
Kinsta also develops custom plans with more bandwidth, disk space and CPU cores to support large sites.
---
8. Synthesis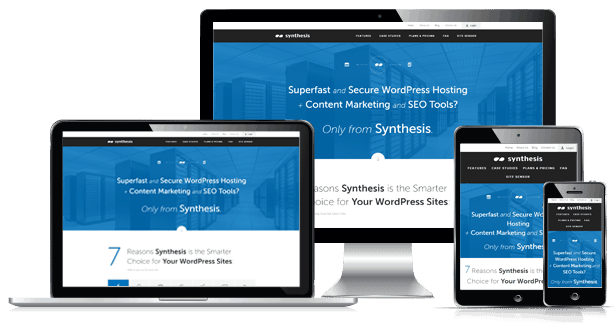 With a focus on efficiency and productivity, Synthesis provides dedicated server space for WordPress sites along with features designed to help you build a solid Internet presence.
What You Get
Creating relevant content and networking with industry influencers is essential to increasing traffic.
With Synthesis, you can perform keyword and market research from your WordPress dashboard, gather contact info for relevant authorities and reach out to build a network that increases reach.
As a Synthesis user, you enjoy protection from common attacks as well as sophisticated hacks with no false positives to turn away legitimate visitors.
The "Site Sensor" uptime monitoring tool performs regular checks to make sure that your site is always available.
What You Pay
Synthesis offers a 30-day money-back guarantee on all plans. Each includes a robust suite of features, the ability to manage one or more WordPress installations and support for different levels of daily traffic.
Standard: up to 10,000 visitors for $47/month
Professional: up to 20,000 visitors for $97/month
Advanced: up to 85,000 visitors for $147/month
Enterprise: up to 300,000 visitors for $300/month
If your site has unique managed WordPress hosting requirements, Synthesis will work with you to develop a solution that delivers the performance you need.
---
9. WP Oven
With managed hosting services dedicated to optimal performance of WordPress sites, WPOven is a powerful solution for both individuals and businesses.
Plans are available for small personal sites, high-traffic blogs and business websites of all sizes.
Features
WPOven offers a free 14-day trial so that you can try tools like a site builder complete with premium plugins and themes.
Take advantage of cloning and syncing to work with test sites and enjoy the flexibility to create as many live sites as you wish.
WPOven keeps all sites secure with daily data backups, firewalls and anti-hacking support. Multiple server locations across the globe deliver the fastest possible page load times.
Sites are optimized for search engines and real-time analytics show which marketing techniques are bringing in the most traffic. Dedicated resources ensure that your site is always up and running.
Pricing
Choose from six WPOven plans based on how much storage, memory and data transfer your site requires.
Tiny: $19.95/month
Micro: $29.95/month
Personal: $39.95/month
Professional: $79.95/month
Business: $149.95/month
Agency: $299.95/month
SSL support, a comprehensive client manager, multi-site support and dedicated VPS services are available in most plans. This range of options makes WPOven scalable and suitable for a variety of applications.
---
10. Flywheel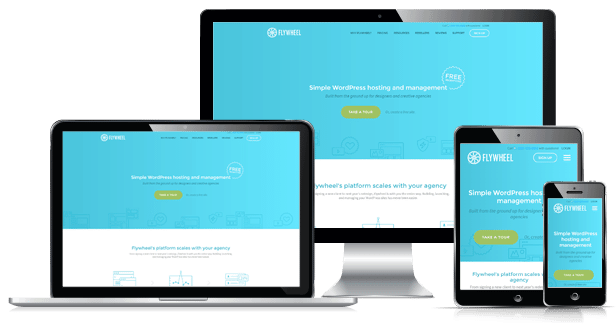 Flywheel provides a WordPress hosting solution that makes it easy "for designers and creative agencies" to deliver high-quality sites to clients.
What Sets Flywheel Apart?
Free site migration gets you started with Flywheel in a flash. Their automatic nightly backups keep content safe, and included malware monitoring provides an added layer of security.
As a designer, you get free demo sites that you only pay for when they go live. Easy tools allow you to transfer billing directly to your clients.
Manage all of your sites and projects from the user-friendly dashboard to make your work go faster. Collaborating with Flywheel is simple and secure thanks to one-click management of team members and contractors.
Easily create staging sites, add new features and perfect your projects before presenting them to clients without having to share passwords with anyone.
Flywheel Plans
Flywheel offers a variety of managed WordPress hosting plans designed to suit individual site owners and creative agencies who also handle their clients hosting…
Pay-Per-Site:
Tiny: $15/month
Personal: $30/month
Professional: $75/month
Bulk:
Freelance: $100/month
Agency: $250/month
If you need more space, contact Flywheel for a quote on a custom plan design.
---
11. Presslabs
Presslabs offers managed WP hosting that is built to handle the demands of popular websites with high traffic loads.
What You Get
Presslabs protects your content with automatic updates of plugins, security features and core WordPress components. C
onstant monitoring of website health ensures that Presslabs can deploy control measures as necessary in the event of a problem or intrusion.
Git integration provides version control so that you can collaborate without complications.
A built-in CDN and an Nginx-based caching layer speeds page load times while a highly available DNS ensures that your site is always accessible.
Full daily backups, redundancy and SFTP access keep data safe from loss and malicious attacks.
Pricing Structure
Three Presslabs' managed WP hosting plans are available to support your growing site:
Hydrogen: $149/month with additional sites $49/month
Helium: $299/month with additional sites $99/month
Xenon: custom pricing available on request
Hydrogen is built for US audiences and provides unmetered storage and bandwidth. Helium offers support across several continents for optimal performance.
Add 100,000 page views to either Hydrogen or Helium for just $10 more per month. If you have a complex site, Xenon includes a dedicated cluster and priority support to ensure a smooth experience for webmasters and visitors.
---
12. Kahuna Host
The Hawaii-based Kahuna Host offers managed WordPress hosting and theme support for webmasters looking to upgrade their small websites.
Kahuna Host Features
Kahuna Host began as a company called Organic Themes and continues to offer premium WordPress themes for desktop and mobile websites.
These themes feature simple layouts and intuitive editing options for easy customization.
High speed bandwidth and the promise of 99 percent uptime means that sites load quickly and are always available.
A 24/7 support desk is ready to handle any problems that users might have. Users can manage site files, domains, billing, support tickets and more from Kahuna's secure admin panel.
Automatic updates, daily backups and security software patches provide a safe framework for data storage.
Managed WordPress Hosting
Kahuna host currently offers one managed hosting plan called Nene. Priced at $20 per month, Nene provides:
One WordPress site
5 GB of disk space
Support for 25,000 monthly visitors
Webmasters also have the option of using the Theme Setup service. For $199, Kahuna installs WordPress, sets up a theme and a collection of plugins, adds a logo and puts up a background image, all within 48 hours. More plans and features are set to be released in the future.
---
13. Lightning Base
When you need lightning-fast speeds for your site, try managed WP hosting from Lightning Base. Using Linux-based servers configured just for WordPress, Lightning Base is able to offer a traditional setup with superior page load times.
What You Get
Lightning Base employs a global CDN, SSD storage and an opcode cache to provide the speed that webmasters need.
Faster speeds increase the chances of making sales since visitors tend to spend more time on sites that load quickly.
A dynamic firewall is paired with a webapp firewall and regular security scans to offer a safe environment for site content and essential files.
Lightning Base performs daily offsite backups that can be transferred to your storage account for greater control over content and security.
What You Pay
Every Lightning Base managed WordPress hosting plan comes with a single WordPress installation but offers support for multiple sites. Their "Pageview Pricing" allows a specific number of visitors per month depending on the plan level.
Personal: 10,000 views for $9.95/month
Small: 25,000 views for $19.95/month
Medium: 100,000 views for $49.95/month
Large: 250,000 views for $99.95/month
Should you need more than your package offers, simply upgrade your site and Lightning Base will handle the transfer with zero downtime.
---
14. WP Web Host
WPWebHost is a straightforward solution for your needs. From shared hosting to dedicated servers, WPWebHost offers webmasters a range of options.
What WPWebHost Delivers
When you sign up for WPWebHost, you can use their one-click WordPress installation to have your site up and running in just a few minutes.
Take advantage of servers configured to run WordPress and dedicated WordPress support to build the best website possible.
WPWebHost accounts include "freebies" such as a lifetime domain name, premium WordPress themes, hand-picked plugins, and SEO tips to help you grow your audience.
Optional daily and weekly backup along with SSH access secures your data, and one-click upgrades ensure that installations are up to date.
Plans and Pricing
Every managed plan from WPWebHost comes standard with a cPanel dashboard and a 99 percent uptime guarantee. Unlimited subdomains, email accounts, and MySQL databases are offered at all levels.
Choose a plan that provides the type of hosting and the level of resources that your site needs to function optimally.
WP Blogger: $3/mth
WP Lite: $7/mth
WP Plus: $27/mth
WP Geek: $77/mth
---
15. WPCloud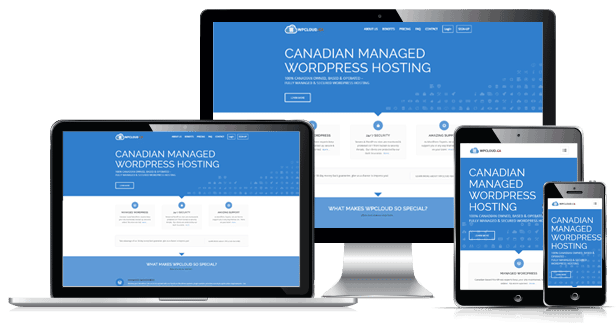 WPCloud is a dedicated hosting solution for Canadian WordPress websites.
Owned, based and operated entirely in Canada, this service provides a fully managed hosting environment for all users.
Pricing
With plan options offering 2 to 25 WordPress installations, WPCloud has something for everyone.
Business 10: $24/month
Business 15: $55/month
Business 20: $89/month
Agency: $240/month
WP Cloud's managed WordPress hosting plans are priced in Canadian dollars. Pay for a full year of WPCloud up front and receive two months of hosting for free.
Plan Features
All plans from WPCloud include a comprehensive list of features designed to make your hosting experience as easy and productive as possible.
With 99.9 percent guaranteed uptime and daily backups to servers in three separate locations, you can rest assured that your data is always available.
Scalable cloud-based plans and a CDN with 25 global data centers help you expand your reach to serve the widest possible audience.
WPCloud provides 24/7 security monitoring for your site and complies with Canadian privacy regulations.
Should anything slip past these defenses, your site is cleaned and repaired for free within 24 hours of detection.
If you have any other problems with your site, a team of WordPress experts is on hand to assist you.
---
16. MWP Cloud
For bloggers who are ready to make the switch to a professional platform, mWPCloud has the tools to ensure that the transition is as smooth as possible.
Choose Your Plan
Every plan from mWPCloud is backed by a money-back guarantee. Free site migration takes the hassle out of transferring files from one host to another by bringing your site quickly over to the new platform.
All plans use a cPanel dashboard and offer support for SSL. You can choose one of three managed hosting options to suit your needs:
Personal: $9.95/month
Business: $19.95/month
Advanced: $49.95/month
If your site requires more than 500 GB of data transfer or 10 GB of storage, mWPCloud also offers Enterprise level plans with unlimited resources and multisite support for greater expansion.
mWPCloud Features
With servers designed and configured for WordPress, managed WordPress hosting from mWPCloud provides the perfect environment for building a professional blog.
SSD storage, cloud-based servers, daily backups and uptime management services keep data safe and ensure fast load times.
mWPCloud offers a 24/7 helpdesk and WordPress support to provide answers to your most important questions.
Work on your site with confidence knowing that multiple security layers and a web application firewall are providing constant instruction protection.
---
In truth, the very idea of comparing managed hosting vs shared hosting can be a little misleading because the two things are not necessarily mutually exclusive.
Shared WordPress hosting refers to hosting plans which provide space on a shared server, point being bloggers and small businesses rarely need the capacity of their own dedicated server.
Managed hosting refers to plans which provide a higher level of service than your basic hosting plan, but these too are probably on shared infrastructure unless you are opting into the very highest levels of service.
Managed WP hosting is like a specialist VPS host.
In the case of managed hosting for WordPress it means the provider will take care of things like updates for the core WordPress application, and possibly themes and plugins too.
Providers will typically also provide an additional layer of WordPress specific security and might also provide a built in content distribution network (CDN) to help with the performance of the site.
Managed WordPress providers have also tuned their entire infrastructure to run WordPress fast and stable because they deal with nothing but WordPress.
If you are serious about your site then one of the providers above would be a great option.
What are the benefits of managed hosting?
Considering it powers over 75 million websites, WordPress is by far the most popular web application for building a presence on the Internet. Much of its popularity can be attributed to the extreme ease of installation.
It's hard to imagine a simpler way to get a site up and running, but one-click installation can be where the simplicity ends for site owners who are not overly technical.
WordPress, like any application, requires routine maintenance in order for it to run effectively and securely.
Problems can also arise when plugins cause conflicts with one another, or with the code that runs WordPress itself.
Databases get corrupted, sites are hacked and people make simple mistakes that can really gum up the works. In other words, it is easy to set up, but it is also easy to mess it up.
For a long time, anyone who found themselves having trouble with a site running on WordPress had limited options if they needed help.
They could turn to the community boards for support in hopes that they could find the answer or find someone who would point them in the right direction.
This works for people who are comfortable with code, for everyone else it could make matters worse as most fixes require a person to get their hands dirty with HTML, CSS, SQL, or PHP.
The only other option was to hire a WordPress consultant, and for a small business, this could get expensive in a hurry.
Managed WordPress Hosting

Providers Answer the Call
In the past, your hosting provider would usually provide an easy way to install WordPress on a shared or dedicated server using whatever control panel they provided for their customers.
All it took was the click of a button and for the customer to provide a few details like the password, database name and location of the installation.
A few minutes later WordPress was ready to go. But this is where support for the application ended.
If the customer was to run in to any trouble with their site due to WordPress, a theme or a plugin the hosting provider offered little help since few supported the applications that customers installed on their servers. That is until just recently.
Seeing the popularity of WordPress explode a number of providers began offering managed WordPress hosting packages.
Instead of customers being left to their own knowledge, or having to turn to pricey consultants, the hosting provider handles the maintenance of the site.
Professionals handle tasks like upgrades, compatibility and security as part of the managed WordPress hosting package leaving the owner to focus on content, marketing and the other responsibilities of running their site.
Whatever type of hosting your opt for the dimensions on which to compare hosting options are always the same. Check out our article on choosing the best web hosting for more info.
Other Benefits of Managed Hosting
Most site owners don' t mind paying more for managed hosting as opposed to self-hosting plans once they realize the benefit of having an expert handle the maintenance tasks associated with running a website.
However, managed hosting comes with some additional benefits that some site owners never think about as well.
Increased speed
If you have read anything on user experience then you know that visitors don't stick around waiting for pages to load. This was one of the biggest issues when Flash pages were so popular years ago.
But Flash isn't the only culprit when it comes to slowing down page load times. Any application can cause that if it is not configured properly and WordPress is no exception.
Now add to the mix the fact that Google takes page load times into consideration when it comes to ranking factors and speed becomes even more important to a website's success.
Plugins are tested to make sure that they do not negatively impact WordPress' performance. Customers are then presented with a list of plugins that are allowed as well as a list of plugins that have been banned for one reason or another.
With managed WordPress hosting plans not only is WordPress configured to load pages and posts more quickly, but the infrastructure is built with the same goal in mind.
Servers are built specifically to host WordPress so the hardware itself is configured to provide an optimal experience for the visitor to a WordPress powered site.
Security
When Sandro Gauci, the CEO and Founder of EnableSecurity, published his research regarding WordPress security it opened quite a few eyes.
Looking at the 42,106 that were listed in the Alexa top one million between September 12th and 15th of 2013 it was found that 70 percent of these WordPress sites were vulnerable to malicious attacks.
Gauci's research came one day after version 3.6.1 was released. When he was scanning sites for vulnerabilities, using freely available tools, he found that a number of WordPress installations were out of date.
In fact, out of the 40,000 websites he looked at only 7,814 had upgraded to the recent 3.6.1 version that contained important vulnerability patches. Scarier still was the fact that 769 of these sites were still running a subversion of WordPress 2.0!
With managed WordPress hosting, site owners no longer have to keep up-to-date with WordPress security patches or know which plugins can give attackers an open door to their site. The experts take care of this for them.
Sites are updated immediately to keep them safe and plugins are tested to make sure that they don't pose any risks either.
Customers of managed WordPress hosting providers are also protected by additional security solutions that sit in front of the servers and hosting infrastructure.
Appliances like web application firewalls and intrusion detection/prevention devices are often employed to protect customer sites from some of the more sophisticated attacks that websites face.
Accessibility
In the eyes of most customers, the most important benefit to managed hosting plans is the fact that their site will be accessible to visitors and customers.
The site won't go down because of a mistake made while configuring, updating or enhancing the site because the people who are managing it know what they are doing.
Managed WordPress hosting companies also include contingencies for when something does go seriously wrong.
If the site is hacked, if a file becomes corrupted or if something out of the ordinary should break the site the backup and recovery process in place will have the site restored and up in running in a short amount of time.
Staging environment
The best managed WordPress hosts also provide site owners with a dedicated staging environment, just like big enterprises have.
A staging environment is effectively a replica of your live site where you can test changes to the site before exposing them to the public on the live site.
You can tweak your design and content as much as you like, and then once it is just right you can quickly deploy the changes to the live site in one go, rather than play around with changes which the public might see.
That's not to say you can't set this up on a traditional shared hosting plan, but it isn't common and certainly takes a lot more technical savvy than the average small business has on hand.
Having this set up as part of the managed WordPress hosting service is one of the major benefits.
Other Considerations
It is fair to say that these plans are more expensive than self-hosted plans on shared servers. Don't expect to pay typical shared hosting rates and receive managed hosting.
Another thing to remember is that nothing is 100% secured or 100% failsafe.
Sites can go down and sophisticated hackers can compromise even the most secured sites; but having a member of staff or expert on hand helps keep these risks to a minimum.
Customers also need to realize that not all managed WordPress hosting companies are created equal. Just like any decision, choosing a hosting provider requires a fair amount of research that extends past which provider offers the lowest price.