As a social account manager, you are expected to remain active on social networks for an extended time, liking posts, and responding to constantly keep your audience engaged.
Hence, the need to adopt the use of automation tools to minimize the time-wasting tendencies of such social networks. It is estimated that the average Instagram user spends 24 -33 minutes a day on Instagram.
However, for a social media manager, you could easily spend so much more than that affecting your available time for anything else; and unlike a random user, you are not merely scrolling for funny or eye-catching pictures or videos; you are conducting the hard work of curating a brand image.
Time spent on Instagram becomes more challenging to maintain as the business grows, as you would have to commit more time to juggle your multiple clients and brands.
As a Social Media Manager, your time would naturally be spent on the below-listed activities;
Planning and creating posts
Trying to grow your following
Creating reports for your clients
But by automating your actions on Instagram, you certainly don't have to spend so much time all day on the platform.
Hence the purpose of this article which has been written to provide you with the requisite guide to automating your activities using third-party software to conduct your tasks and manage your accounts without being physically present to carry out the tasks.
The activities above can be undertaken efficiently through automation to save time and lessen your work burden; by employing the service of Instagram automation tools, you can easily streamline your most demanding tasks and make them a whole lot less time-consuming.
Best Instagram Automation Tools in 2023
Considering this, the following are the top Instagram automation tools you can use to manage your time effectively while getting the best out of the platform in 2023: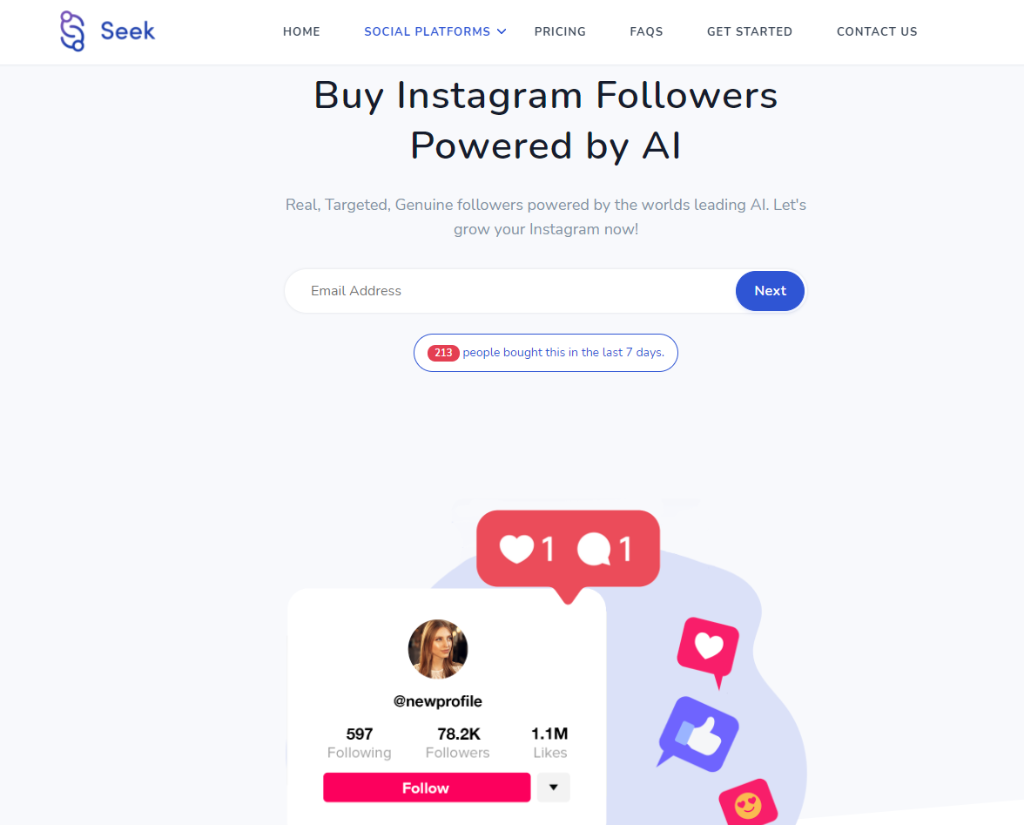 The Seek Socially automating tool helps you to secure your Instagram audience without you being physically present. It allows you to conduct your business remotely.
The capacity of this automation tool is attested on Forbes, Entrepreneur, and SocialMediaToday, Seek Socially is guaranteed to get more real followers for your brand and business and ultimately earn you more revenues.
The process this excellent tool conducts its business is seamless; you would be asked to give a list of accounts on Instagram whose followers you'd like Seek Socially to interact with.
Seek Socially then takes it from there, liking a few photos from each account user on behalf of up to 25,000 monthly.
This act immediately gets your account name in front of as many people as possible, quickly helping you add as many followers as possible on Instagram.
This can allow you to focus on more important work like maintaining client relationships while you delegate work to Seek Socially like you'd a team member.
Overview of Seek Socially
The service's main features are its easy filtering options which enable you to filter irrelevant information and focus on actions that could grow your business.
It also provides detailed target reports and concentrates heavily on organic growth rather than following people who do not interact or like your posts "ghost."
The cost attached to this service is $99 per month, and this is quite a bargain considering that Seek Socially has gathered 3 out of 5 stars on Trustpilot.
Seek Socially's Targeting Method
As a social media brand curator, you are expected to grow the accounts on behalf of your clients, and this is not a one-time thing; you have to ensure that you are consistently gaining followers in the budget.
However, the sheer number is not enough, and you need to ensure that your account attracts real and active followers who have an actual interest in your client's brand and not merely ghost followers.
The use of Seek Socially is the only way to ensure that when your followers increase, your likes, comments, and website clicks grow as well as it targets actual humans who are bound to interact with your brand.
In order not to lose from the expected gain that you anticipate from this following after all the planning and engagements, you'd want to ensure that your posts get the attention the quality posts deserves.
You are expected to pick similar accounts, hashtags, or locations that target your client's audience for optimum activity.
Seek Socially's Filtering Options
Seek Socially comes equipped with an advanced filtering system that allows you to set your specifications such as gender preferences, following to follower ratio, accounts blocklisted, and so much more.
The integrated AI technology can mimic human behaviour through intermittent pauses and sleep modes.
This can also be adopted on a client-by-client basis to ensure that the settings are appropriate for the account.
Seek Socially's Reporting Options
The Partner Program feature is the most loved by Social media managers with the detailed target.
There is an area in the dashboard that enables you to see how many likes were performed on a selected target and how many such likes resulted in a follow back from the target.
These capabilities allow social media managers to begin making targeting decisions, inadvertently remove low performers and more marks that have proven to deliver the best results.
Artificial Intelligence is further equipped to suggest new targets capable of working well for your account based on machine learning and user activity, allowing you to grow your account with minimal effort and just a few clicks.
A professional Seek Socially plan is $99 per month; it also offers bulk discount discounts to digital agencies that white-label its Instagram growth service.
The service rating of 4.9 out of 5 stars on the Trust Pilot is considered the highest of any Instagram growth tool.
If you check out the Instagram growth service website, the first information you would be privy to are claims of their prowess in helping you gain the right organic followers that care about your contents and not just ghost followers who only serve to make up the numbers.
Growthoid was pioneered with massive brand growth in mind. It offers exceptional support for your business's brand whilst guaranteeing you the right followers that would assure you of followers' growth.
The client has a top-notch support department that is waiting to proffer answers to your queries and concerns at any second of the day to ensure you are not left behind, and you are receiving the help you need to help bolster your account growth.
The first step to commencing the use of this app is to select a package that you deem best for business, though most users choose the creator package.
Then you proceed to check out. After making payments, you are expected to select your target audience and let Growthoid do the rest.
The Kicksta is an automation service that has similarities with the likes of the renowned Growthsilo. The main difference between both tools is that one is highly personalized to the extent that you can communicate to the client CEO personally.
This tool is highly recommended, and a month of trial putting it to use would undoubtedly convince any new user of its exponential benefits.
It can automate your actions ten times faster than you'd naturally do yourself.
The significant advantage of this tool is its natural organic website that allows you to grow your base without buying followers or employing some poor gimmicks.
The tool has sound targeting features that enable you to track accounts that interact best with your brand.
This will allow you to commit the requisite time and energy to onboard such accounts and tap business opportunities; another exciting feature is its excellent customer support services that enable you to ask questions whenever you have to understand the system.
This is an Instagram growth service that assures you of organic growth. This tool is potent as it integrates natural development that is evidenced on the dashboard.
The developers worked well to deliver the best possible in a user-friendly, customer-oriented automation tool.
The company's experienced hands have propelled it to the industry's height in terms of a recognized account guaranteed to provide you with the best tools for organic growth.
The experience and hands-on programming of the managers have spurred many brands' pages through engagement boosting and the provision of a trusted and proven service professional.
The benefits of this automation tool company are designed to grant you trusted, verified, and confirmed services.
The main features of this tool are; it's positioning as the industry leader through years of delivering the best services, the integration that allows you to view and interact with stories in a very safe manner without compromising your information.
The tool has carved a niche for itself as one of the few growth services in the market delivering results.
Like other teams in this category, the automation company has a top-class support team and outstanding developers who constantly update the tool to ensure the best services and guarantee over 1,500 followers per day.
The major flaw of this tool is its cost, and you need to be confident of getting your money's worth from the automation tool and its import on your brand. The service of this tool can be employed for $229 per month.
Flick is an Instagram tool that commandeers your hashtags to grow your engagements successfully.
It is acclaimed that using a hashtags generator to generate and create the right hashtags for your content is guaranteed to improve the success you are bound to enjoy from the range.
This feature will significantly increase the chances of getting your content to the right audience and amass the right kind of followers on Instagram.
Flick claims that they have assisted many clients who have trusted their service gain significant engagements on their sites.
Hence, these guys are highly recommended as they would serve as the key to success as a social media manager.
The features that ensure these guys stand out include an Expansive database, a user-friendly dashboard, the top grade customer service support and their ability to get you the beat hashtag strategy.
These services can be obtained for a meagre fee. The only downturn is that you have to run their service manually.
The Nitreo Instagram automation tool is a step-up from Mr Insta Instagram automation tool.
Nitreo was designed to help you grow your Instagram account organically while expanding your reach and building your brand. With Nitreo, you do not need to buy followers and create fake accounts.
Instead, Nitreo targets real profiles (Through liking comments, followership, and viewing of Stories) guaranteed to get you actual engagements. Nitreo automation tool prides itself on being hands-free.
In other words, the process has been made incredibly easy. You need to create an account, and then Nitreo takes over, freeing you to focus on other, more critical marketing work, leaving Nitreo to handle the mundane tasks.
The main feature of the Nitreo automation tool is that it focuses on organic growth and understands the algorithm for you; it is relatively steep at $49.79 per month.
The rating is 2.6/5 on the True pilot Star rating. Nitreo allows you to target your audience by specifying your intended audience.
You can also easily add hashtags, similar Instagram accounts, and locations that you consider relevant to you. Immediately you are set up, and Nitreo gets to work doing growth work on your behalf seamlessly while you focus on other vital activities.
The automation tool will continually improve your audience targeting, and your results will only get better. The price to employ the service of Nitreo is quite steep to access the tool's full range of targeting features.
Nitreo avails you a comprehensive view of your phenomenal growth by letting you see charts and graphs for statistics like total followers gained.
It also enables you to see daily results to keep an eye on how things are changing and growing on your account.
In terms of plans, Nitreo has two, which are the "Essential" plan that costs $49 per month and the "Speed" plan that costs $79 per month, making it more expensive.
This Instagram automation tool offers custom agency pricing, depending on the experience you intend to get. Nitreo's Trust Pilot rating is 2.6 out of 5 stars, not a bad rating in social media automation.
This Instagram activity automating tool is acclaimed to be at least two times more effective than its counterparts in the business. Inflact artificial intelligence can help you manoeuvre all your mundane Instagram activities from scheduled posting, directly interacting with your audience content, and so much more.
The company claims that it takes barely seven minutes to set up the process and initiate your account and get going.
The tool's services can be employed for $37 if you are looking to buy a two weeks plan, while you can enjoy the discount if you purchase the monthly price pint of $57; therefore, it is pertinent to note that the longer your payment sign up plan, the less you eventually have to pay.
The tool's FAQ section contains many answered questions to ensure that you get the optimum customer experience on the site. The company has also assured that your information is well secured to prevent the risk of hacking.
The main features of this tool include its bulk messaging capacity, the ability to auto-follow and unfollow accounts that are actively performing or that are performing poorly. It is also engineered to guarantee likes on your content.
This fantastic tool also allows you to generate hashtags at will without having to think much about it. It allows for flexible payment methods, including PayPal and credit cards.
However, some user reviews say the follow/unfollow feature doesn't always work; which we are confident the developer would correct.
8. Kenji.ai
The very first feature of the Kenji automation tool is that it offers all potential customers a free trial, meaning that you do not have to share your credit card details to check out their services and confirm if it will suit your purpose, same cannot be said for every other company that renders this same service to its users.
Kenji claims that their service is optimized for Instagram and very fast, which means that when you eventually do pay for their services, you can be confident that you would be getting your money's worth.
The Kenji automation tool has a nice and easy dashboard that is user-friendly with its aesthetically pleasing tools.
The device uses its innovative targeting tool, which provides the clients with up-to-date information and special targeting mandates that only targets the people that he thinks might interest your client so that you can focus on growing your business and attain more followers for your clients.
They also provide quick information on new developments, which informs its users so that they can be aware of how things are progressing and they can adjust their features accordingly.
If you intend to build a practical Instagram automation tool, then your best bet is Kenji.
If you need an effective, practical Instagram automation tool, we suggest checking out Kenji due to the following impressive features; the automation tool provides high-quality customer support and uses a secure HTTPS site to protect client information whilst guaranteeing significant growth and provision of tutorials that aids the grasp of the process.
9. Mr. Insta
Mr. Insta is an Instagram marketing tool that is acclaimed to help you get your account targeted, garner you high-quality Instagram followers that will boost your engagement for a very long time.
Mr. Insta put for sale Instagram followers, likes, views, and other forms of engagements to its users through its targeting style.
The Insta platform sells engagement for YouTube, Twitter, Instagram, Pinterest, Spotify, and Soundcloud amidst other social media applications.
However, it is worthy of note that buying followers for Instagram is not recommended as organic followership growth produces better long-term engagement, and followers you believe have the propensity to impact adversely on your engagement numbers.
Setting up a Mr. Insta account is simple, and the signup process is quick and easy; once logged on, you only need to activate your free plan and go after some relevant profiles before you start shopping the programs Mr. Insta can offer.
Mr. Insta Overview
The main features are its ability to filter followers, allows you to purchase automatic followers and likes, and get followers for your account manually.
The pricing on Mr. Insta depends on the number of followers or likes you are willing to purchase. The Insta app garnered 2.5 out of a possible 5 star on True Pilot Rating.
Mr. Insta Filtering Option
Mr. Insta is equipped to allow you to filter followers during the registration process. Once you are done creating an account and verifying your mail, the platform proceeds to ask you to select 4 out of five interests from a laundry list of options.
Mr. Insta utilises the information provided by your selections in helping you select and streamline followers with similar interests.
Mr. Insta allows you to filter followers using the Free Instagram followers Plan.
Using the Free Instagram followers plan will enable you to get new followers every 12 hours; you can get new by following a small number of similar accounts and gaining many followers. Though you need to follow and confirm each follows manually.
Once you have succeeded in observing the required number of reports, your plan will be activated, and Mr. Insta will give you your new, verified followers to immediately boost your existing following.
When Mr. Insta selects new followers for you, the tool searches its Instagram profile base to find relevant profiles using their interests that align with yours, Instagram posting preferences, and previous buying experiences.
Mr. Insta doesn't offer any other manual filtering options; therefore, you must filter the accounts yourself.
However, if you choose your interests carefully and then follow accounts as similar as possible, the followers Mr. Insta would provide you with will likely be in line with your desire.
Further to Mr. Insta's free plans for followers and auto likes, you can also opt into the paid Daily Followers Plan, which would give you real and semi-targeted followers automatically every 24 hours without having to follow any accounts back, making it a better option for you to enhance the automation process.
Mr. Insta Reporting Options
Mr. Insta is limited in reporting as it functions a bit differently than other Instagram growth-providing services. This Mr. Insta platform does not interact on your behalf; instead, it simply hands you followers and likes.
That means there isn't much to report on beyond the raw numbers of your account growth which is why it is not the best in the market.
Mr. Insta Pricing
Mr. Insta offers multiple plans that allow you to purchase different aspects of Instagram engagement; the pricing provided is separated into four are as follows:
Free Instagram followers plan — which enables you to receive new IG followers every 12 hours indefinitely; however, you manually follow other accounts
Free Instagram likes plan: Under this plan, you are expected to input the URL and receive free likes every 12 hours indefinitely.
There is a daily followers plan of 250 followers for $10; 500 followers for $25; 1,000 followers for $40; 2,000 followers for $60; 5,000 followers for $110; 10,000 for $190, all of which include you having to follow accounts manually.
Buy Instagram likes plan — 100 for $6; 200 for $9; 500 for $14; 1,000 for $25; 2,000 for $39; 5,000 for $59; 10,000 for $89; 20,000 for $129; 50,000 for $179
Mr. Insta earned just 2.5 out of 5 stars on Trustpilot. This is considered a reasonably poor rating, and caution is advised when using any service that enables you to buy Instagram followers and likes instead of focusing on organic growth; the best way to build long-term engagement.
10. Later
The Later scheduling tool on Instagram is efficient and straightforward to use, and it is also effortless to use, making sure that there is no learning curve required.
The main features of this tool are its drag and drop elements that allow you to plan your grid, schedule intending stories as well as posts; the auto-post part of the app will enable you to add user tags and geotags.
The service can be accessed for $9.49 per month, and it got 3.9 stars out of 5 stars on the True Star Rating, making it one of the best.
Later's Scheduling Options
The Later automation app is equipped with a "drag and drop" feature to plan your feed before scheduling any posts. It is also possible to utilise Later's "auto-publish" feature, which ensures no notifications and more time saved.
The platform allows you the opportunity of scheduling stories as well as posts in your feed even when you are not physically present.
This Instagram automation can easily save you hours a month, and you can be sure that all of your posts will be published right on time without you being present.
The app's "best time to post" feature, the Later's algorithm, analyses your historical post data and then highlights which times you have received the most engagement in the past, making you enjoy the automation better.
It is important to note that for there to be enough data to get an accurate reading, It will take a little more work on your end testing out different posting times and using the app to post at least fifty pictures within six months. Though as a marketer, this should not pose any hassle.
Later's Time Saving Features
The auto-post feature allows you to tag users in your post as well as specify geo-locations. This automation is great for not only increasing your reach but also giving credit to re-posted images to garner you more organic followers.
Looking at the possibility of increasing your reach, Later didn't forget about the importance of hashtags.
Later's integrated "saved captions" feature allows saving lists of hashtags to re-use and quickly add to posts hence generating more traffic soon.
Using some of their paid plans, you can gain access to Later's "hashtags suggestions" feature, which can help you find and plan more hashtags to use to generate more traffic to your account.
The other ways Later keep you organised, and efficient include the ability to sync photos to the platform from just about anywhere (Dropbox, your phone, Google Drive, your desktop), gaining you the momentum to grow your account.
The tool makes it easy to label those photos and keep them organised. Meaning that if you have more than one business account, you can sort pictures into different content libraries for each one.
Later has a free version that has many of the features to enable you to get started before you get fully acquainted with the process.
The tool's paid plans range from $9/month to $49/month, with the main difference between their offerings being the number of Instagram accounts
11. Planoly
The Planoly automation tool eliminates guesswork by letting you layout the pictures you are considering posting by using tools to predetermine and aesthetically display what they would look like on your profile.
You can schedule posts or mess around with the layouts and drafts features. The app is considered a user-friendly app with an easy-to-understand interface; therefore, you won't spend so much time learning its use.
The main features of this tool are its ability to assist in saving hashtag lists, crop photos easily while uploading, and using the Discover section to help you create posts using the stock images and other available resources.
The tool can be accessed for a fee ranging between $7 to $150 per month. The device is rated 1.8 stars of 5 stars on True pilot.
Planoly's Scheduling Options
With Planoly, you can schedule Instagram stories, multi-photo postings, and regular single photo posts via automation.
Just like Later, Planoly's automation tool allows Instagram automation to allow your planned posts to be published straight to your Instagram account with no unnecessary steps from you as all the actions are automated.
Planoly allows you to tag locations and Instagram users in your posts, giving you all the features you post directly in the app.
You can also save hashtags lists to add to your post and increase your reach and grow your account significantly.
Planoly's Time Saving Features
Another unique Planoly feature allows you to crop images as you are uploading them, which can be incredibly helpful if you repost a lot of user-generated content; hence you can eliminate parts that are not relevant.
All you need to do is upload your screenshot and crop it to your desired size.
The feature that makes Planoly shine is their "Discover" section, which can be a huge time saver if you feel like you're constantly running low on content as all account users would like to continually see content hence bringing your accounts to the forefront and generating organic likes.
In this section, you can search for specific hashtags, users, or free stock images to transform into posts all directly on the Planoly Dashboard; this feature is excellent if you're working with Influencers who are posting quality images of your product shots or have a branded hashtag with an active group.
Planoly has a free plan feature that allows you to post up to 30 photos for one Instagram account. They also have a paid plan that possesses additional features ranging from $7-$150/month.
Once you adopt the premium plan, You can use Planoly to add up to 10 Instagram accounts and ten users, which can be great for digital agencies with larger teams who need to grow their brands significantly.
12. Hopper HQ
The Hopper HQ is new in the social media automation unit but is quickly rising to the top of the Instagram scheduler list due to the quality of the service it delivers.
This tool lets you schedule the retrieval of photos from 20+ cloud sources and upload up to 50 pictures at a time.
If you're a user who tends to get distracted by your phone and prefers to work on desktop only, Hopper HQ can help you save potentially hours by automating your actions.
The tool's interface is sleek and clean; it was designed for marketing professionals to make their work easy and seamless.
Planoly ensures that creating posts is very user-friendly, with the ability to preview your Instagram feed and drag-and-drop to make changes.
The main features of Hooper HQ are its Instagram automation triggers, also the add the first comment on posts, bulk pricing discounts, and its user-friendly platform, which allows for an easy interface hence ensuring that with few clicks, you can get the best of the tool.
Rating is 3.7 stars out of 5, and the price is $19 per month.
Like previously evaluated tools, the Hopper HQ's Instagram automation tool seamlessly posts your scheduled content for you, including photos, videos, and multiple posts.
Planoly has an Instagram automation triggered to instantly post your first comment on a post and the caption. This is good news for anyone trying to place their hashtags in the first comment of their post and boost engagement.
13.Iconosquare
The last type of automation tool to be reviewed is the Time-saving automation tool. These qualities analytics are crucial for finding the best areas to improve and assure the Return on Investment to its clients.
Below are the top 3 Instagram analytics platforms that use Instagram automation to speed up your reporting process.
Iconosquare allows you to carry out the integral function of tracking your activities to get the best of the Instagram campaign, but it's also time-consuming.
Automation tools such as Iconosquare can help expedite the whole process. The device is an official Instagram partner, and they provide advanced ways to track your Instagram analytics and also Facebook.
The main features of this tool are the customized dashboard with stats, unique tracking option, and sourcing of data for Instagram stories.
The device can be purchased at $29 per month and has 2.8 of 5 stars on the True pilot star rating
The tool ensures that for each social profile you connect, you can design a dashboard of all the stats you want to track; all you need to do is drag-and-drop pre-made widgets into place. The tool has over a dozen widget categories to improve engagement.
Unique tracking items that are worth noting include:
Audience age, gender, and location
Website clicks from Instagram
Number of mentions
Average reach per post
The Iconosqaure tool is also one of the only Instagram analytic platforms to incorporate stats for Instagram stories, becoming as important as standard Instagram posts.
They track account performance, monitoring improvement, or otherwise. The tool Pricing starts at $29 per month and increases based on the number of social profiles and users you need.
The Iconosquare automation tool company also offers bulk pricing options for larger brand agencies and currently has 2.8 out of 5 stars on Trustpilot, not bad for the role it operates.
14. DashThis
The DashThis integration has over 35 plus operations. DashThis is an analytics platform that can automate your Instagram analytics and all of your marketing reports in one place without you needing to carry out your tasks yourself.
The main features of this tool are its drag-and-drop dashboards, pre-filled report templates, and ensures that reports are automatically updated every day and are made easy to share.
The price for the month is $33-499, and it earns 3.7 stars out of 5 stars. The dashboard is considered user-friendly and empowers you to customise your experience for optimal results completely.
The tool automates your experience and allows you to create personalised dashboards for each client with stats that you probably track manually.
All you have to do is select your preferred KPIs and drag-and-drop them in the size and position you like, and you can delegate the tasks to the tool to serve as the task completion. There is no need for copy-pasting data into an excel spreadsheet.
The tool allows you to add your client's logo, headers, and stationery notes to give more context to your report.
The reports are automatically updated every day, which easily keeps your clients or other team members up to date with multiple ways to share, either through URL links, PDF, and automated emails.
Moreover, DashThis is reckoned with for their outstanding customer support team, who are always available to assist you accordingly through the setup process.
The level of integration and customization of reports has gained it an exemplary reputation amongst all reporting tools.
The tool has five pricing levels starting at $33/month for three dashboards and ranging to $499/month for 100 dashboards.
15. Hype Auditor
The Hype Auditor came into the limelight with a different approach to Instagram account growth and development analytics.
It helps you analyse not only the aspect of the progress of Instagram growth but also the quality of the increase in terms of likes and interactions.
The main features are that it requires no set-up, enhances the view of Instagram audience reports and Instagram engagement reports.
The price is $299 per month and 3.2 stars out of a possible five stars on Trustpilot star rating.
The good thing about Hype Auditor is that it takes absolutely no time to set up. All that is required is to enter in any Instagram handle, and their Instagram automation tool will give you a report for that account.
Their reports focus on two main areas.
1. Instagram Audience Report
In the first instance, you can see your audience quality score out of 100 and a few problem areas to focus on while using the gram.
This report gives you a detailed breakdown of your audience, including location, gender, interests, ethnicity, and language.
The "audience type" area of the report can be very useful in determining the quality of your audience by breaking down what percentage of your followers are real and not mere ghosts.
Instagram audience report is instrumental in deciding what content to put for the public and also the right time to post it, measuring the information accordingly to provide optimum brand growth.
2. Instagram Engagement Report
The engagement report covers many areas including, engagement rate, comment-to-like ratio, and authenticity of comments.
The information also helps you determine the account performance compared to other accounts with a similar follower size and niche, monitoring the optimal usage of the Instagram account.
The comparison with the industry numbers can help your agency set competitive benchmarks but also help give a client realistic expectations through constant brand growth.
The Functionality of Instagram Automation
Functionality can help keep yourself organised by creating folders and groups of your reports.
It is also possible to export information into shareable PDF or receive automated email updates each week to keep track of the program and monitor the tool's efficiency. Hype Auditor is an incredible Instagram automation tool.
The setback of this tool is that it doesn't allow for weekly changes in the dashboard, meaning that this tool may not be the best choice for your primary source of Instagram analytics as these reports tend to serve better as a piece of your initial Instagram audit for new clients your agency takes on for brand development.
The tool was initially created to evaluate the audiences of Instagram Influencers. If you're doing a lot of Influencer outreach, it's a tool worth looking into as it could guarantee your brand high performance.
Conclusion
Instagram is arguably the essential marketing platform right now because of the high audience pull and engagement levels.
However, many Social Media apps have also become a bit of a bully, demanding more and more time with each new feature.
However, managing your account is going to take a lot of hard work and time. Hence, the necessity of the Instagram automation tool, with which you can precipitate the entire process.
If you want your Instagram bot to work well, you need to make the most of the right Instagram automation tool like the ones mentioned above.
Doing so will help you to reduce time spent on tedious low yielding tasks and focus more on critical efforts, such as improving your content.