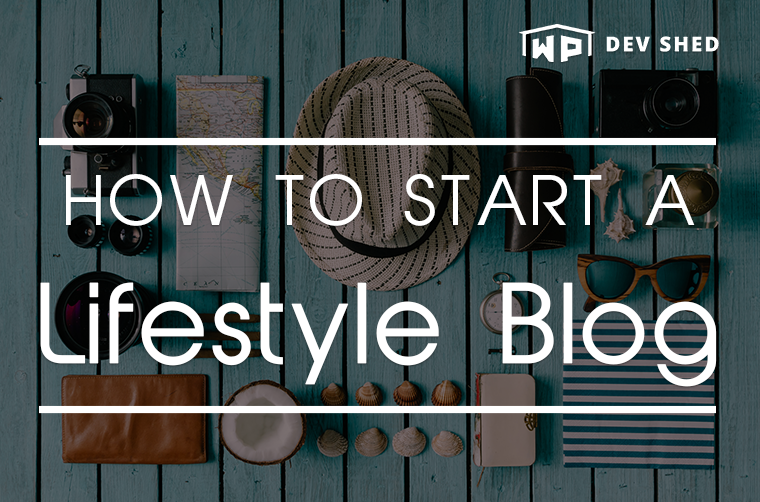 Blogging is a way to share your take on the world. This highly personalized medium allows you to shape your platform based on your experiences, thoughts and opinions for readers who happen to share the same interests.
Of course there are many types of blog, from personal to business blogs, and in this article we share our experience on how to start a lifestyle blog.
How to Start a Lifestyle Blog
What Is a Lifestyle Blog?
Lifestyle blogs are focused on your lifestyle, more specifically, your hobbies, passions or routines.
Some notable topics include home organization, yoga, fusion food cooking, women's fashion, and vintage interior design. Every such type of blog resonates with who the author is as a person because these blogs are essentially a person in words and the world through their point of view.
No two lifestyle blogs are the same. Some blogs share the same general category, such as fashion or travel; however, yours will always revolve around your own personalized niche, such as fashion on a budget, for example. It is evident that lifestyle blogs are extremely unique which is why they are popular amongst bloggers and readers.
Not only does the variety compel readers all over the internet, but the material you can gain from following such blogs are sometimes content you cannot learn from anywhere else. Tips, advice, or even life hacks from lifestyle blogs are based on real experiences by real people which can be difficult to find nowadays.
Lifestyle Blog vs. Personal Blog
One of the more confusing aspects regarding lifestyle blogs is the differentiation from personal blogs.
Both styles do revolve around the authors' lives. However, lifestyle blogs are about interests seen from the author's perspective. This type of medium tends to consist of advice, information, ideas, and some personal thoughts throughout their content.
On the other hand, personal blogs are analogous to online diaries that share the experiences, feelings, and opinions of the writer.
Lifestyle blogs can have components of personal blogs in their posts, but personal anecdotes should be kept to a minimum to keep the blog's focus on the topic itself rather than the life events of the blogger.
These blogs also differ in what they offer to readers. Lifestyle blogs are notable in that they provide something for readers to take away. Supporters can always learn something such as cooking recipes, organization tips or travelling precautions.
Personal blogs serve content that readers can relate to emotionally through shared stories regarding personal experiences.
Distinguishing these two types of blogs can be tricky. It all comes down to the type of content the medium consists of and what experience is offered to readers.
How to Choose Your Lifestyle Blog Topic or Niche
Embody Your Interests
Because lifestyle blogs are about your interests, listing out topics you are interested in is your best bet.
Think about aspects of your life that you feel best identifies you. To help, you can reflect on milestones in your life that you feel have made you who you are. Adopting a child or facing failure are examples of life events that could have sparked a passion of yours that can turn into a successful blog.
Your lifestyle blog can be about a broad topic, such as cooking, or it can be a combination of more specific topics, such as gardening, food, and budgeting. Just keep in mind that if you have multiple topics, they should relate on some level otherwise your blog can seem disorganized and it can be more difficult to attract a solid following.
Also, avoid subjects that are too specific as they can be limiting when it comes to creating actual content.
When brainstorming your blog's topic, it is highly recommended to choose something you truly know about.
This may seem obvious, but it is easy to choose something based on what seems popular at the time instead of a niche that works best for you. Having personal experience with your field not only gives you content to write about easily, but it brings credibility and trust that your readers will appreciate.
It is much more rewarding to gain supporters by sharing honest content rather than faking your knowledge in the long run just for the attention.
After recognizing your passions or hobbies, consider the nature of them. The best topics for you are not only ones you have a lot of experience with, but also those that you can write about for a long time and still enjoy it.
A solid niche for your blog will provide a lot of quality and interesting content for years to come. You also want to make sure your readers will stay interested by writing new and relevant posts. Certain topics can fade out of relevancy and your posts can become dull.
Sometimes, it is difficult to create a list of topics you are truly interested in and can start a successful blog on. To help with this step, consider items you tend to surround or occupy yourself with on a daily basis.
Look over your pins on Pinterest, the pictures you save on Instagram or the posts you retweet on Twitter. Also, look into other successful blogs to gauge the types of niches that have lasted over time.
Reflect on Your Goals
By considering why you want to blog in the first place, you can reflect on your goals to come up with your blog niche.
If there is a message you want to send throughout your content, shape your topic around it. The type of information you like to share or the advice you want to give can also guide you to your perfect niche.
Another method to curate your blog's focus is to think about your target audience, and their goals and desires.
What inspiration would your readers need? What would they want to take away from your blog? What would make people come back for more?
Understanding what is relatable yet new to others is a powerful weapon when beginning your blog.
Consider Your Competition
If making money is a main factor in lifestyle blogging, scoping out your competition is a smart move when deciding what direction to take your blog.
You want to make sure your topic will allow you to offer content that others do not and to give readers a reason to return to your blog specifically.
Another factor involved in making money through blogging is how easily you can actually bring in profits. Ensure your content will stay relevant enough to earn the money.
Make sure there are keywords, advertisements and companies that will work for you and appeal to readers. To check for these factors, research is your best move. Utilize online tools that present data regarding how popular certain keywords are.
Also, look into trending topics, popular items being bought online and companies that other bloggers are working with.
Looking into these areas gives you an idea of what to expect when your blog picks up and financial prospects get involved, and whether those outlooks match your goals.
Coming up with a Great Lifestyle Blog Name
When naming your blog, you want it to give readers an idea of your content so they know what they are in for.
Sometimes, having an ambiguous name can work in your favor if that is the style you are going for. Either way, readers use your blog name to gauge their relevancy and interest to you. That being said, your name should also stand out in order to get people to click.
Showing personality is a great way to attract an audience. People are drawn to welcoming, unique and interesting personalities so do not be afraid to show it through your blog. This helps your blog feel more relatable and real to readers.
Considering the impression your blog name gives is important so also be aware of any possible offense your blog name gives off.
If your blog focuses on a number of topics, coming up with a uniting and creative blog name that represents your niche can be tricky. A good tip to do so is to consider the common ground between your interests.
For example, if your subjects of focus are gardening, food and budgeting, a solid niche could be "tasty yet affordable homegrown recipes." Your choice in words can reveal personality and what content followers can expect from you.
Because your blog name is one of the most important aspects, do not settle for something that does not truly encompass your platform or your character.
If all else fails, you can always check out other bloggers for inspiration on how to formulate your perfect name. Getting feedback and opinions from friends can also bring fresh ideas to incorporate.
Coming up with Lifestyle Blog Post Ideas
Encountering writer's block happens to many bloggers. Being able to pump out consistent material with ideas that others have not thought of is challenging. Connecting back to a previous point, this is why it is important to have experience in your niche.
Your experience allows you to bring relevant, new and insightful content that is unique. But yes, your experiences can run out. There is only so much you can bring to the table. Consider these practices to help overcome writer's block.
Remember Your Goals
In such case, remind yourself of your goals and why you started lifestyle blogging in the first place. Because this blogging pursuit is often self-driven and self-managed, keeping goals helps to avoid a loss in motivation and direction.
Keeping in mind what you want to contribute to the world can help guide your writing. Another thing to remind yourself of is your main target audience and what would appeal to them.
Thinking about who you are writing to can refresh your mind about content they want to see and what you want to provide with your expertise.
Branch out Your Ideas
Another strategy to come up with more blog post ideas is to choose one of your favorite or most popular post and to branch from it. Change the time frame or the location of the idea.
For example, if one of your favorite posts was about food delicacies, consider writing about delicacies of the past. If your blog is about gardening, consider a post about outdoor versus indoor gardening. Something you can also consider is to connect your niche to things happening around the world.
This helps you to stay relevant which pulls in more readers. To help with ideas, you can also change your writing style by trying out different types of post. Some variations include how-to posts, tips and tricks, and what-I-wish-I-knew posts.
Another suggestion is to bring about a new mood in your content like focusing on negatives if you typically speak about positives. For example, write about the precautions to take while traveling solo if you have already written about reasons one should travel alone.
Simply Ask Around
If it is very difficult to come up with quality blog posts, you can always ask friends for ideas. Having a clear mind always helps especially if you have been stressing over it for a while.
Another approach you can take is to simply ask your readers for what they want. Interacting with your audience through social media platforms or your blog's comment section are great ways to show you care about your readers and your blog. Not to mention, it also builds anticipation and excitement in readers.
Taking the time to converse with your supporters gives you a better understanding of who your readers are which only improves you as a lifestyle blogger.
Because lifestyle blogs are based on the author, they can definitely change over time. Evolvement due to changes in hobbies or the loss of ideas is common; however, it is best to try to keep your blog within the same realm over time.
Drastically changing your blog's focus can lead you to lose the interest of some readers, but you also get the chance to gain new supporters as well. Despite these factors to consider, in the end, it is best to remain true and to tailor your blog based on yourself.
Consider your goals and where you see your blog going in the future to help determine what path to take if changes are a consideration.
Lifestyle Blog Design Tips
The visual appeal of your blog can make the difference between whether people continue to support your lifestyle blog or whether they click out of it within the first five seconds. There are components of a lifestyle blog that you should consider in order to present your platform in the best light possible.
Quality Visual Content
Utilizing images throughout your post helps to explain your ideas. Humans are visual creatures and many people are visual learners. Providing images help convey information that may not be well understood initially with just blocks of text.
Especially since your blog posts are about your interpretations, it can be difficult to effectively communicate your thoughts to people who have not shared the same experiences as you.
Even though visual content is a huge benefit when explaining ideas, avoid the backfire of including too many images.
Only include pictures that improve the overall experience of your blog. Also, provide a variety of visuals that best convey your words or heighten the mood you are establishing. For example, consider infographics for more complicated topics that involve more dense information, and screenshots for how-to guides.
You can include your own pictures to accompany content regarding your personal experiences or images of people to bring about empathy in readers.
Not only do visuals clarify your thoughts, but they also keep your blog interesting and appealing. Separating blocks of text make your posts easier to digest compared to long, unappealing walls of text. Images can also make you appear more credible and reliable.
A blogger who takes the time to incorporate meaningful visuals throughout their post shows that they care about quality and getting their message across. A writer who cares about their readers will usually provide information that is worth the time to read and follow.
Not only do these features reveal who you are as a lifestyle blogger, but visuals are also a great way to incorporate more of your personal style in your blog. Especially if they are your own photos, they will bring a personal touch which gives off more welcoming energy for readers.
Something to consider when including visual content in your posts is your choice in layout. You should avoid long, rectangular images on the sides and rectangular images running horizontally across the page as they can be mistaken as advertisements. Also, consider how you place images on the page.
You do not want them awkwardly breaking up your text and ultimately making it more difficult to read. Remember, visuals should always make your page more cohesive.
A Profile Picture
Including a picture of yourself on your blog allows readers to connect your words to a face.
People establish better connections to your blog when they can get to know the author on a personal level. It reminds your followers that they are supporting an actual person rather than a computer-like presence or a corporation on the internet.
Your profile picture adds a personal touch and can reveal more of your personality than the rest of your blog has. If readers like your content, they more than likely would want to get to know who is responsible for the content.
Images can reveal the type of person you are and they are huge in first impressions so think about what message you are sending through your image. If you want to exude an energy of competence and credibility, make sure your image embodies that.
Likewise, utilize your image to match the content your blog focuses on to bring cohesiveness to your site.
Social Media Links
An essential on lifestyle blogs is to include your social media links. This allows your supporters to connect with you on more platforms so they can get to know you more.
It also helps you get to know your audience which only improves the overall blogging experience. Interacting with your readers can establish more personal connections which encourages others to return and continuously support your work.
Taking the time to interact also builds a sense of community on and off of your blog.
Building connections between your lifestyle blog and your social media also helps when it comes to promoting your work and increasing traffic.
You can share previews or exclusive content on social media to get people to interested in your blog and to provide an incentive for readers to follow you on other platforms. Not only can you use social media to promote your work, but your readers can share your links on their own platforms to help increase traffic to your blog.
Great Lifestyle Blogs to Check Out
Cup of Jo
This lifestyle blog was created by Joanna Goddard. It encompasses a great variety of topics from food to style to motherhood. You can tell that each blog post takes into consideration the targeted audience.
The content under food revolve around easy yet healthy and delicious recipes for busy moms which relate well with her section regarding motherhood. The subtle connections throughout her blog emphasize the cohesiveness that allows her blog to feel very well put together and thought out.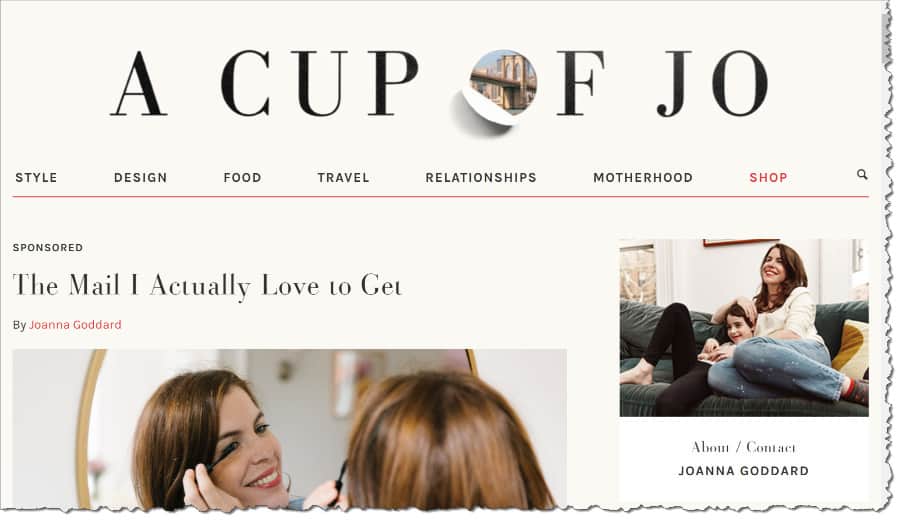 Not only do the articles in Cup of Jo provide tips and tricks that are common in other blogs, but some articles provide unique content such as interviews about topics that readers are interested in.
For example, one of the blog's posts involve interviewing women about their relationships with their daughters. This provides advice and insightful narratives that emotionally support Cup of Jo readers which contributes to the welcoming environment exuded throughout the site.
Deliciously Ella
Deliciously Ella provides plant-based recipes to promote healthy living and stress-free cooking.
From easy-to-follow cooking videos to recipes that consider the trickiest of allergies, Ella created content to encourage easy, healthy eating in her own life which eventually grew into a business that motivated others to do the same.
Since Ella started her lifestyle blog due to illness, her hardships gave her a reason to blog. This allowed her to continue creating useful content that others could relate to.
This brings a personal touch and builds sympathy with readers which strengthens her blog community. Throughout the site, anyone can tell that Ella and her team run the blog with passion through their consistent material, numerous supporting products and quality design.
The Rugged Male
The Rugged Male is a male-centered blog. One of their notable topics is fashion where they provide advice on how to style certain items and information regarding the latest jewelry trends.
Writing content that is often popular for women, but not as common for men shows their compassion. Their desire to create a platform that offers men content that numerous other blogs offer for women proves their dedication as well.
Despite being a male-centric blog, The Rugged Male also expands its scope by including gender-neutral content such as cooking tips and outdoor summer adventures.
This lifestyle blog is simultaneously educational, casual and free-spirited. Their content consists of relevant topics that people actually care about infused with personal advice from the authors. This personal touch in every article allows the blog to become more relatable and welcoming for readers.