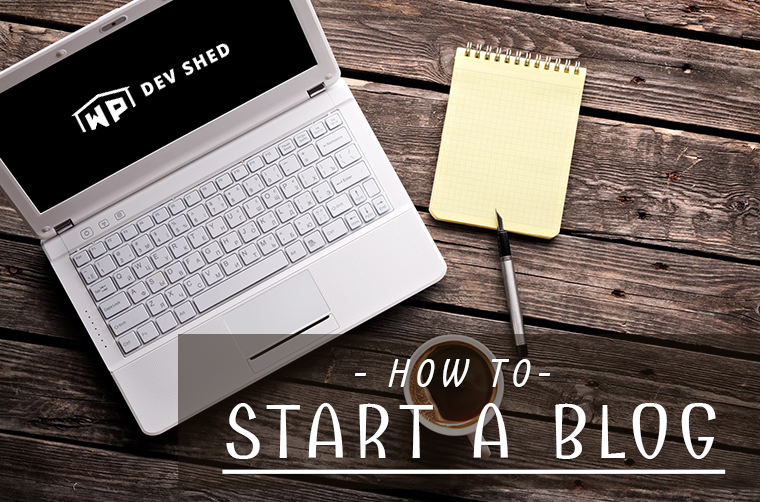 Learn how to start a blog using the world's favorite content management system, WordPress.
Follow our simple four step tutorial and have your blog up and running in no time.
Learn how to start a blog:
We've designed this tutorial on how to start a blog so that you can start from the beginning or jump straight in where you need help. If you have any questions about any part of this please comment below and we'll do our best to answer your question. We also written specifically about how to start a fashion blog, how to start a travel blog or a how to start a lifestyle blog.
Step 1: Choose a domain name
Enter your brand name or a relevant keyword to search available domains right now.
Choosing a name is the fun part of starting a new blog. It might seem like the easy part but I strongly recommend you give this some serious thought as changing your name later and having to move your site to a new domain can be a bit of a hassle (I've been there). Not to mention the need to change/update/migrate all your social media accounts as well. Best to get it right from the outset. Here are some straight forward guidelines for generating a blog name you'll be happy with for the long run:
The best names are simple, memorable and brandable. Can you see the name on your business cards, a letter head or even a tee-shirt? Is it a name that you will be proud to tell people, and that is easily recalled?
Is it available as a domain? This is the part that often derails the naming process. With fewer available options on the top level extensions (particularly .com) you may need to get creative. I personally love the Lean Domain Search tool, but there are a number of domain search tools , such as Namefresh, which can help you find a great domain name.
Go with an appropriate domain extension. If you are serving a local market use the local domain extension, eg. .co.uk for the United Kingdom, or .ca for Canada. But if you are serving the global market use a global extension such as .com, .net or one of the newer ones like .lawyer and .agency (more here).
Are the social media handles available for your chosen name? Namechk.com and Knowem.com are great tools for this.
Don't forget that the alternative to creating and registering a new domain name is to find an expiring domain that someone had registered previously but has let lapse. There are thousands of domains expiring everyday and if you keep an eye out you might be able to catch a really good one. The expired domain market can be competitive, so check out Matthew Woodward's article and learn how to find a great expired domain.
When it comes to registering your domain name for your blog I always recommend Hover as a standalone domain registrar (I use them), but honestly if you don't have a lot of domains then it is simpler to register the domain with the hosting company when you sign up because they will make sure the domain is set up to point to your new server automatically, which saves you an extra step. The hosting companies typically charge a bit more than the standalone domain registrars, but doing it all at the same time will simplify things if you are not familiar with domain management and DNS.
Step 2: Signup for web hosting
There are many many options out there for hosting your blog. We've done a lot of research to help narrow the choices, and we've made some specific recommendations on the best WordPress hosting.
If you prefer to do your own research on hosting companies then the following guidelines will help you assess competing web hosts and make the right choice when building your blog:
If you are starting your very first blog, then a shared hosting account with one of the established companies will suit you. Shared hosting will comfortably handle hundreds of daily visitors (even more if you set up your site well).
Look for prices in the range of $5-10/mth (sometimes you'll get better on sale), including the cost of your domain name registration. I do not recommend going with cheapest monthly plan you can find. There are plenty of $1/mth hosts around, but I think the service they can provide for $1/mth is limited. The old saying "you get what you pay for" is definitely true for hosting services.
Look for a provider who can also grow with you. If you outgrow your shared hosting plan you want to be able to move into a more powerful plan with the same company.
Go for a linux based host which also offers CPanel for easy management of your hosting account and domain, and one click WordPress installation (making it super easy to get started). Almost all providers will provide these things, but ask before you signup if you are not sure.
Look for a host that supports free SSL. This will allow you to have a fully secure (https) site with a valid security certificate called a Secure Sockets Layer (SSL) Certificate. This really is mandatory these days.
If you have an established blog that is already getting hundreds or thousands of visitors a day, or if you are a business with a little more budget, then I highly recommend you go with one of the new breed of managed WordPress hosting companies.
They are more expensive, but they provide a more robust service that takes care of your WordPress installation (automated updates etc), backups and site performance. We use a managed provider for this very site.
A few things to expect when you signup with a hosting company:
Some hosting companies have fully automated provisioning of new accounts, in which case you literally get immediate access to your account and can create your website right away. Others will need to call you to verify your details before they'll provision the account. In this case it normally happens within hours, but I have waited a couple of days before.
The hosting companies will try and upsell you on all kinds of things (I'm looking at you GoDaddy!). Automated backups are probably a good idea, but unless you need a secure site (https) for ecommerce then you probably don't need a dedicated IP address. The free SSL cert companies like Let's Encrypt provide SSL certs for shared IPs.
To keep things easy I recommend you register your domain with the hosting company at the same time you signup for hosting. But, if you do chose to register your domain with a registrar that isn't your hosting company then you will need to update the name servers associated with that domain so that the domain points to the right place. The hosting company will provide you with their name server details when you signup and you'll need to update these with the domain registrar. For example, these are the name server details for a domain I recently hosted with Bluehost. I registered the domain with another company and had to update these details to point the domain to the right place..

Now when someone looks up that domain their browser will be directed to the Bluehost nameserver which in turn will point them to the right IP address. Note that it can take up to 48 hours for new nameserver information to become effective so you might have to wait before you can reach your site at your domain.
Step 3: Install WordPress
We've mentioned WordPress a few times already, and often we are guilty of assuming that everyone knows what WordPress is. If you haven't heard of WordPress before then you just need to know that it is the world's most popular content management system for websites.
It is also open source and free, which means it doesn't cost anything to use WordPress to start a blog (though you still need to pay for hosting). WordPress is used by some of the worlds biggest brands, and because it is so widely used the community of users is huge…meaning you can always find someone to help with your blog. We're a proud part of the WordPress community ourselves.
Assuming you choose one of the recommended WordPress hosting providers, then installing WordPress couldn't be simpler. We're going to use a Bluehost account by way of example, but all the popular shared hosting companies have a very similar process and most use the same basic control panel software even if they skin them differently.
Follow this process to start a blog with WordPress.
Once you have your hosting account login details (always emailed to you after signup), you can login to your hosting control panel which will look something like this…

Depending on who you sign up with the control panel will look more or less like this. Some hosts won't have a button which says "WordPress" specifically, instead they may have an option like this example from a Site5 account we have…

Other hosts will use installers such as Mojo Marketplace, Fantastico, Softaculous or Installatron. They all do very much the same thing, enabling you to install WordPress (or a host of other apps) with just a few clicks. So even if the installer your host uses looks a little different it will function in much the same way.
Click through to the installer and you will be prompted through a series of fields. The first is where you want to install WordPress…either in the root directory of your domain so that your home page is mydomain.com/, or in a directory such that your home page will be something like mydomain.com/blog/ – Unless you are planning to do something else for a home page I recommend you install it in the root directory.

You'll then be asked to create an admin user account for the installation of WordPress. These are the credentials you will use to login to your site to manage the content. The default username generated by many installers is "admin", but you must NEVER use that because it is not secure. Any hackers who might try to access your site will always try the default user names. You are much better to make it a bit harder and set a different and unique username. Your first name is better than "admin".

Once you have set these few details the installer will do all the heavy lifting and create your blog for you. Once that is complete you will be able visit your site at yourdomain.com and you will be able to login to manage your site at yourdomain.com/wp-admin
What to do after you have installed WordPress
Of course starting a blog isn't just about installing WordPress. There are a myriad other things that you will want to do to make your blog look and function just as you want it to. In fact, I dare say that your blog is never really finished, it is always a work in progress. We could write for days on all the little things you can do, but here are some handy tips and resources that will get you started with the essentials:
Step 4: Develop your content and a marketing plan
The truth is that learning how to start a blog in the first instance is actually the easy part. The job of developing and marketing your blog is the hard part.
The right content marketing strategy will depend on the nature of the market you are in, but it will certainly involve some combination of search marketing (paid and/or organic), content marketing, local and social media marketing which really covers a wide range of channels including Facebook, Twitter and LinkedIn, but but also include other niche channels too. In some markets offline marketing will also be important, but we'll focus here on providing resources around online marketing in particular.
Develop a content plan for your site:
Getting the content right on your new blog is easier said than done. You should start by thinking about your audience and what they need:
Define your audience and their needs.
Do the keyword research – look for informational and transactional search terms and use these to inform the web pages you develop.
Develop content that answers the questions they have about your product. Content can be in many forms from the written word, to charts and graphs, video, infographics, presentations and webinars.
Blog lots. I really can't think of any business that wouldn't benefit from more well considered and highly targeted blog content. You don't have to call it blogging if that term doesn't seem right for your industry, but you should be regularly publishing content which talks to the wants, needs and questions your market has.
We've already said that you can't just start a blog and expect people to come. You have to market it. There are lots of channels for doing this.
What is right for you will depend on your market…where do the people in your market congregate online?
What does the buying cycle look like in your market? Whatever the case, these are the common channels for reaching customers:
Final Thoughts on How to Start a Blog
If you've made it this far then you know all you need to start a blog using WordPress. It's time to jump in.
Choose a good WordPress hosting provider, signup, install WordPress and start developing your content and marketing plan. Even if you are starting a personal blog you need to be thinking about how to marketing your content. There are millions of blogs online, how will yours standout?