Anyone who is trying to build their Instagram following may have asked this question: How to get 1k followers on Instagram in 5 minutes?
It seems like no big deal— 1,000 followers. It should be easy, right? Many companies selling Instagram followers in bulk would tell you yes, but if something sounds too good to be true, it likely is.
These companies promise to help you grow your Instagram account by thousands of followers with instant delivery. You may see thousands of followers flood your account, but what does that mean?
Are these companies reputable sources of Instagram growth? Unlikely.
Will their followers actually offer your Instagram account something valuable? Absolutely not.
Think about it: if someone could get thousands of Instagram followers that added value to their account and helped deliver business results, why wouldn't everyone be doing this?
The truth is that overnight growth on Instagram isn't likely, and it's not possible through paid third party services. Organic Instagram growth is possible, though, when you work with the right tools and strategies.
In this article, we're going to uncover all of the myths surrounding rapid Instagram growth and why you can't get 1k followers on Instagram in 5 minutes.
In addition, we'll go over 5 key principles and accompanying tools that actually do help you to grow your Instagram quickly, the right way.
Let's go!
Why You Can't Get 1k Followers On Instagram In 5 Minutes (Unless They Are Fake)
If you come across a website that guarantees you 1k followers on Instagram in 5 minutes or less is being deceptive. They may offer you this for free or at a cost, but either way, they won't be able to deliver on their lofty promise.
Their website may be completely professional, they may say all the right things, but at the end of the day, they have their motives, the main one being profit.
So, what happens when you get 1k followers on Instagram in 5 minutes?
The company will take your payment and say that your order is going to be delivered either instantly, in 5 minutes, or over a period of time. They may send you the followers you purchased, but these will be fake or bot followers.
Fake followers on Instagram are computer-created accounts with the sole purpose of selling them to boost follower counts. They are not run by a real person and they are inauthentic Instagram accounts.
Because they aren't run by real people, they are basically ghost followers— accounts that do nothing for your Instagram engagement or conversion. Simply a number, you won't get any likes on your posts, they won't comment, and they certainly won't buy any of your products or services.
This is a big problem, but that's not all— fake Instagram followers can hurt your account and could even get you banned from Instagram altogether.
Fake and Bot Followers Are Harmful For Your Instagram Account
It may be surprising to know that even big names like Ellen DeGeneres, BTS, Kourtney Kardashian, Taylor Swift, Ariana Grande, and other mega celebrities have a huge majority of fake followers.
In fact, all of the names listed above have an Instagram follower count made up of over 45% fake followers. Having such a high number of fake Instagram followers can hurt your reputation.
Lower credibility is one of the main ways that bot followers hurt your Instagram account and your brand identity, but it's not the only thing that happens.
Getting 1k followers on Instagram in 5 minutes through Instagram bots can create bigger problems. Your account will be more likely to appear as spam, and you may even see inappropriate or annoying comments flooding your posts.
They may even DM some of your real followers and cause a negative user experience for them. If your account appears to be infiltrated by bots, you'll begin to lose your real followers, which is detrimental.
In terms of business, buying fake followers will ultimately hurt your metrics and make your analytics completely askew. Because the Instagram algorithm runs based on engagement, you'll suffer a weak performance and see your follower to engagement ratio tank.
You also won't be able to understand any of your real performance metrics based on your target audience, active times on Instagram, and more. This will hinder you from creating a more effective content strategy.
Ultimately, if you use your Instagram for marketing or publicity, you'll also lose out on your investment; it's estimated that fake followers cost brands $1.3 billion in 2019. If you're an Instagram influencer, bot followers are the worst thing you can do for your platform.
You're not likely to gain any brand sponsorships if you can be identified as buying fake Instagram followers; brands want to see high levels of engagement and interaction, so fake profiles will hurt you, and you'll lose out on business.
The Influx Of Followers Will Alert Instagram
When you get 1k followers on Instagram in 5 minutes, just know that Instagram sees that activity and your account may then come under fire. Instagram has strict rules against gaining fake followers in their community guidelines and they have methods in place to detect it.
Instagram routinely does sweeps at an alarming rate of a million sweeps per second in order to identify and remove fake and bot Instagram followers; they are then blocked and effectively removed from your Instagram follower count. You'll end up losing a majority of the accounts you bought.
Not only that, when you receive a large amount of Instagram followers, the technology at Instagram can detect this and you can be flagged for suspicious activity and may even be asked to provide identification to prove the legitimacy of your account and regain access.
If you are found to have a substantial amount of fake Instagram followers, your account may also be subject to a shadowban or less reach on Instagram, limiting your opportunity to reach valuable followers in your target audience.
The biggest consequence is a permanent ban.
How To Grow Your Instagram Account The Right Way
As you can see, getting 1k followers on Instagram in 5 minutes is truly not worth the trouble and headache that it can cause you; you'll no doubt end up frustrated and disillusioned. The good news is that there are a few different ways that you can legitimately fortify your Instagram growth.
Here are 5 of the best methods including Instagram tools that can help.
1. Use An Organic Instagram Growth Service
While there are plenty of companies simply looking to line their pockets with your hard-earned investment, there are a handful of Instagram growth companies that do work to enhance your Instagram follower count.
A reputable Instagram growth company will help you to get more real Instagram followers through organic growth methods such as interaction and engagement.
While you won't get 1k followers on Instagram in 5 minutes, you'll see a boost in genuine followers and engagement that can help deliver real-world results and Instagram monetization.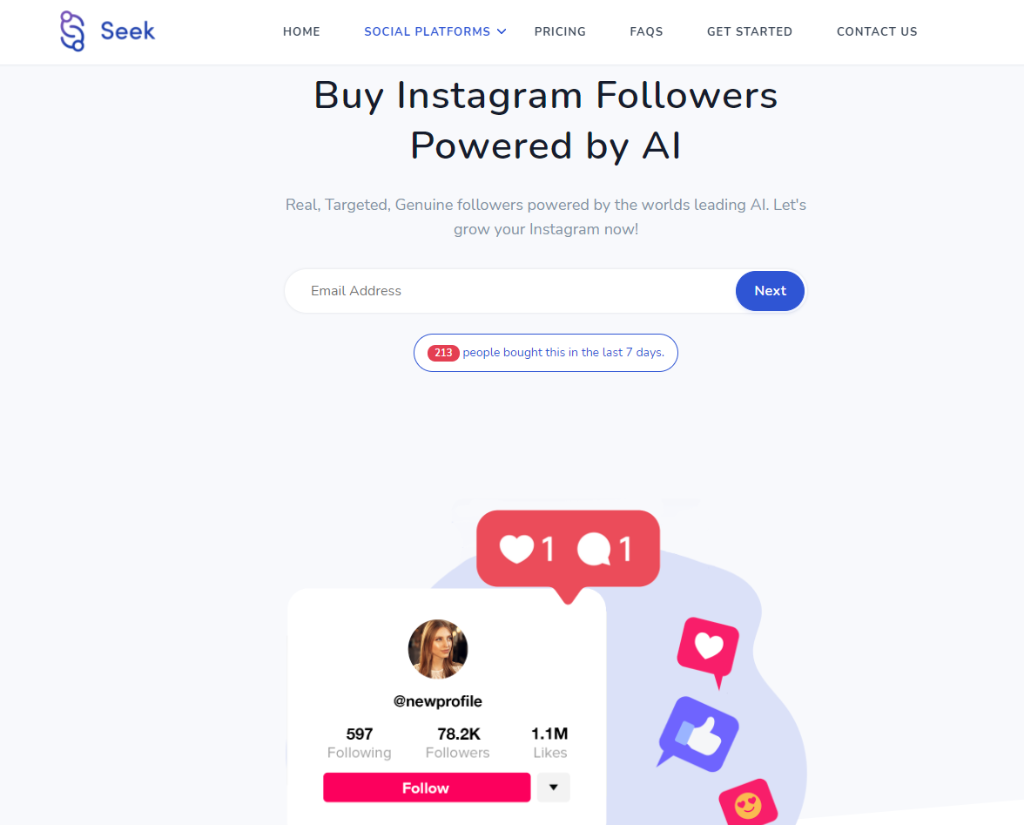 Seek Socially has completely changed the Instagram growth game and they have risen to be one of the most effective organic Instagram growth services on the market.
Their fully managed Instagram growth service has helped over 7,000 agencies and influencers grow an authentic Instagram following.
How it Works
The first step is to provide Seek Socially with a list of similar Instagram accounts, competitors, influencers, hashtags, and more. Your dedicated account manager will use this information to build a campaign of accounts to target, interacting with only the most relevant Instagram followers.
Your account manager will then get to work, engaging with users that follow the accounts and hashtags you provided as targeting instructions; they will like photos and view Instagram stories and videos of these users.
When your account manager performs these actions, the user will be alerted, leading them to check out your profile and likely follow your account based on their interests and your high-quality content.
The key here is that you consistently post great content; since relevant users will be motivated to check it out, they'll see it and become your newest Instagram followers. The engagement method is the #1 proven way to gain more Instagram followers that add value to your profile and community.
Pricing Breakdown
Seek Socially has two simple, budget-friendly pricing options. Both plans are no contract and offer a money-back guarantee. The standard plan comes in at $49/month and the Premium plan at $99/mo.
The Premium plan comes with advanced features like follow/unfollow (optional), more targeting options, blacklist, whitelist, story viewing, comment liking, and much more.
Both can help you to grow your Instagram account, but with the extra options, Premium provides, you'll see quicker Instagram growth.
Reviews
Seek Socially client Sweet Wrapture Waffle House wasn't about to risk their Instagram account through getting 1k followers on Instagram in 5 minutes.
They'd worked so hard to build a solid reputation on Instagram, and they entrusted Seek Socially with their Instagram growth. "We've been using Seek Socially for well over 6 months now and safe to say, they know what they're doing. Way to go people!"
Apparel brand JustGym also uses Seek Socially to reach more users in their target audience and gain more business. They've reached over 47K followers with Seek Socially, and are still growing.
"I've had nothing but a great experience with Seek Socially! With Seek Socially I haven't had to spend nearly as much time trying to build my following, which leads to investing my time and energy into other areas."
Hashtags are the key to discovery on Instagram; when you use hashtags in your captions and on Instagram stories, your content gets put into a hashtag feed where people can view it and check out your account, leading to follower growth.
Don't just guess at which hashtags will work for your Instagram account— if you're looking to build a truly effective Instagram hashtag strategy, you can find a variety of tools available that can help you be specific about your hashtags and optimize the tags that you use.
Tools We Recommend for Instagram Hashtag Strategy
Flick is one of the best Instagram hashtag generators available; with over 9,000 brands, businesses, and marketing professionals using the tool, it's definitely worth using if you want to gain more reach on Instagram through hashtags.
How it Works
Flick allows you to find the best hashtags with one click. You will be able to enjoy hashtag analytics, 100+ hashtag suggestions on each query, saved hashtag sets, quick-copy to Instagram, and more.
You can create your hashtag sets and have all of your hashtag information in one place, making it easier to manage and expand your hashtag strategy. You can search for hashtags based on your niche, filtering options, performance metrics, and more.
Pricing Breakdown
Flick offers two different plans, the Solo plan and the Growth plan. The Solo plan will give you up to 100 results per search and up to 30 hashtag sets, with in-depth analysis across three brands, $15/mo.
The Growth option comes in at $49/month and offers unlimited results per search as well as unlimited hashtag sets, offering advanced search options, unlimited brands, in-depth analysis and priority support.
Flick Reviews
Social Media Manager Rhonda T has gained a better perspective in terms of her audience as well as competitors.
"I was able to find a bunch of competitors and see what they are doing, which allowed me to create better content that is geared towards engagement."
Tiffany L, a social media creator, also had success with Flick and was happy to tap into growing Instagram through hashtags.
"With the amount of people on Instagram, I seem to forget just how much reach is passing through the fingertips of big accounts without a solid hashtag strategy."
3. Post Consistent, High-Quality Content
The main reason that people don't gain as many Instagram followers as they'd like is because they don't have a fully-developed, effective content strategy.
Instagram content goes beyond in-feed posts— it's also understanding what type of content your target audience wants as well as incorporating features such as Instagram stories and story highlights, IGTV, reels, and more.
You're not promised to get 1k followers on Instagram in 5 minutes even with the best Instagram content, but you'll have a much higher chance of people sharing your posts with friends and family.
It's recommended that you post on a daily basis; if you find yourself struggling to reach this goal, you should ensure that you're posting at least 3 times per week. You must have consistency if you want to capture the attention of your target audience.
You'll also get more engagement when you post on a consistent, regular basis, which will in turn get your content more reach and appear in more feeds based on the Instagram algorithm.
The idea here is that you post consistently but also high-quality content. If you post whatever just for the sake of posting, it will likely hurt your content strategy and disrupt your brand image.
Make sure you put thought into the content that you post.
Tools We Recommend for Instagram Content Creation
Canva
If you are looking to create a professional, branded aesthetic for your Instagram content, Canva can help.
With thousands of pre-made, customizable templates, you can create a consistent look for all of your Instagram content and make it more recognizable and valuable for your viewers.
How it Works
You can use Canva on all devices— tablet, mobile, as well as via desktop. Simply search for your desired template style and you can find a wide range of features that will help you to create high-quality Instagram content.
You're able to upload your own photos into the Canva template, add or edit text, create animations, and much more. It's a valuable tool that you should be taking advantage of if you're serious about growing your Instagram account.
Pricing Breakdown
Canva is a free tool, but they offer a Pro plan that gives you unlimited access to premium tools and content, including 75+ million premium stock photos, videos, audio, and graphics, background remover, 100GB cloud storage, and more.
Canva pro will run you $12.99/mo, or $119.99/year for a team of one. If you're a nonprofit or a teacher you may be able to access it for free.
Later
Later is one of the premier marketing platform tools for Instagram. It's an all-in-one option for planning, analyzing, and publishing Instagram content, and their visual feed planner and scheduler can put you one step ahead of your competition by ensuring your Instagram aesthetic is perfectly tailored to your brand image.
How it Works
Later is a visual-based tool that is built for sharing photos, videos, and stories, helping you to build a phenomenal feed.
They offer you a drag-and-drop calendar for your Instagram that helps you stay on top of your content planning and posting; you can even put them right into the time that you'd like them to be published.
You also get access to a grid preview that helps you to see your Instagram content from your followers' eyes before it goes live. You can even save captions to make posting even easier.
Later goes beyond that, also offering you a Linkin.bio tool, mentions and tags in scheduled posts, photo editors, and more. This includes Instagram stories as well as multi-photo carousel posts.
Pricing Breakdown
Later has a free plan that is available for one social media platform and up to 30 posts per platform with access for one user. If you need more access for additional social sets or users, you can choose from plans starting at $12.50/mo billed yearly, or $15/mo. Their most expensive plan, Advanced, costs $40/mo or $33.33/mo billed yearly.
4. Learn about Your Target Audience
One thing you'll need to do as you begin planning your content strategy as well as once your content goes live on Instagram is to continue to learn about your target audience and monitor the performance of your posts.
You want to see which type of content gets the most likes, which content doesn't typically perform well, and when you get the most engagement from your Instagram followers.
Once you can understand these metrics, you can begin to adjust your content strategy based on real performance data. This will help speed up your Instagram growth and get your content more engagement.
Tools We Recommend for Instagram Analytics
Instagram Analytics
Instagram has its own tool for analyzing your performance metrics; you'll be able to access Instagram insights if you have a business or creator account from directly within the Instagram app.
How it Works
All of your posts will have their own metrics which you can view directly on the post itself. This is also true for Instagram stories.
You can access more detailed metrics about your target audience from the Instagram insights tab. Simply visit your Instagram profile, tap the menu in the upper right hand corner (three horizontal lines), then tap insights.
Here, you will see how many accounts you've reached, how much content interaction you've got, more information about your followers, the content you've shared, and more. The default will be the past 7 days, but you can change it to the past 14 days or past 30 days if you want a larger snapshot.
Pricing Breakdown
Instagram insights is completely free; you just need to ensure that you have your profile set to a business or creator account and not a normal, personal account.
Iconosquare
If you don't want to go through the trouble of reviewing and charting your Instagram insights yourself, you can look to a third party tool to help you. Later will give you analytics as well (see previous section), but the go-to tool for Instagram analytics is Iconosquare.
How it Works
You'll be able to access a variety of different charts with easy-to-understand analytics, giving you actionable improvements for your Instagram content strategy. Iconosquare also provides information about your competitors and how you measure up to others in your niche.
Reports such as profile report, dashboard report, hashtag report, and competitors report help you to understand all elements of your Instagram performance. There are really no limits to the information and reports provided by Iconosquare. They can also help monitor other social networks.
Pricing Breakdown
Iconosquare offers 3 pricing options:
Pro: $49/mo billed annually
Advanced: $79/mo billed annually
Enterprise: $139/mo billed annually
If you're a small business or professional marketer, you should be okay with their Pro plan, but you can check out their pricing options according to their needs. They do offer the option to pay monthly at slightly higher rates.
5. Optimize Your Instagram Bio
Don't fall into the trap and try to get 1k followers on Instagram in 5 minutes the fake way. Focus on real Instagram growth and you'll see true results; the final step in doing this is to optimize your Instagram bio.
If you don't have a solid Instagram bio, many users may pass on your account. When your Instagram bio is sloppy, unprofessional, or unfinished, new viewers that happen upon your account are likely to pass you by.
Here are some tools and tips to help you optimize your Instagram bio.
Tools We Recommend for Instagram Bio
Linktr.ee
Instagram doesn't allow clickable links on the platform; the only place you can input a clickable link on Instagram is in your bio. For this reason, it's important to create a sort of directory link for your bio, especially when you have multiple social channels and outside websites.
One way to do this is to use Linktr.ee, one of the most popular link-in-bio creators for Instagram. This link will work anywhere, but it's especially useful for Instagram.
How it Works
You can link to your latest videos, articles, recipes, tours, stores, websites, social networks, and more with Linktr.ee. You can even collect payments there and monetize your platform that way.
To set up your Linktr.ee, simply visit the website and you can get started for free by following the steps. Make sure you have all relevant information and URLs ready to go.
Pricing Breakdown
Linktr.ee offers a free plan, but you'll be able to access additional features with their Pro plan, including premium themes, advanced customizations, integrations, link scheduling, and advanced analytics.
The Pro Linktr.ee costs $6/mo or $60/year.
Tips for a Strong Instagram Bio
In addition to using Linktr.ee, you can also do the following for an optimized Instagram bio:
Use a branded profile picture
Make your bio text descriptive, informative, and engaging
Use relevant hashtags to appear in hashtag searches
Take advantage of call-to-action links
Final Thoughts: How to Get 1k Followers on Instagram in 5 minutes
Now that you understand why it's not possible to get 1k followers on Instagram 5 minutes, focus your energy instead on building a content strategy that works. Optimize your bio, use an Instagram growth tool, and stay on top of your hashtag game.
Don't waste time with bots and fake followers if you want real results— go for organic growth instead.