An attorney or law firm website makes it easy for new clients to find your agency. It can also help you raise awareness about your brand and allow you to establish a communication channel that's easily accessible by clients, partners, and prospects.
In this article, we'll talk about different strategies you can to build a successful attorney website for next to nothing. Along the way, we'll also go through some best practices and share actionable tips to help you get started with a step in the right direction.
Article Quick Links:
---
Why it is unrealistic to build a good quality website for free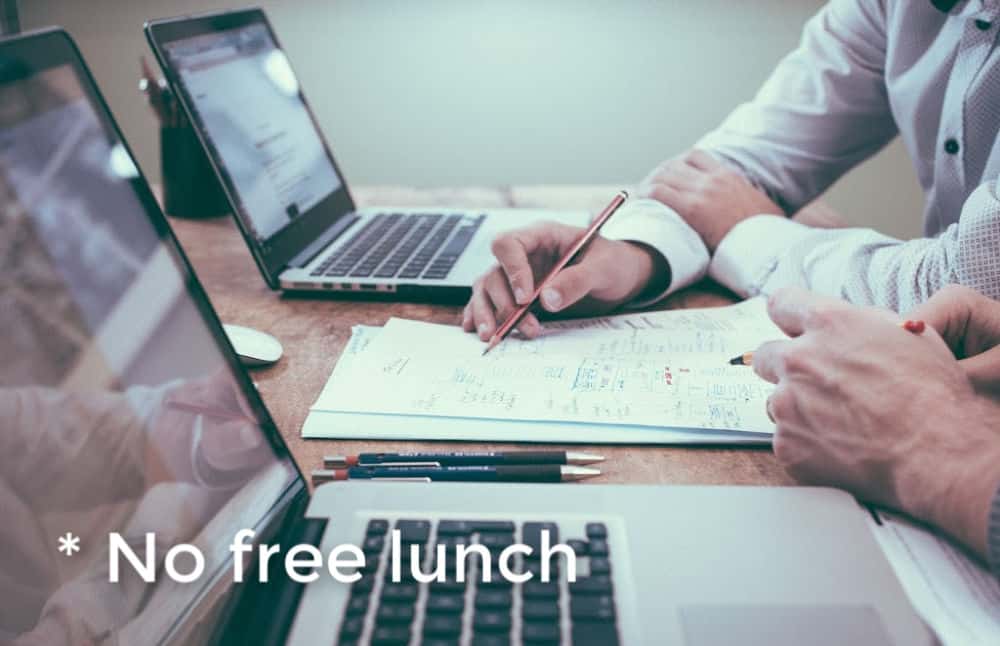 If you're looking to build an attorney website for your solo practice or law firm, you should at the very least expect to spend some money on web hosting. There is such a thing as free hosting, but it really isn't for business websites. Here's why:
When it comes to paid web hosting, the best web hosting service providers typically charge a monthly or yearly fee in exchange for its server space. A free web hosting company, on the other hand, offers its server space free of charge to website owners and generates income by displaying ads on your site pages. If you want to portray a professional image, you don't want any kind of 3rd party advertising on your business website.
Here are some more reasons why you shouldn't try to build a good quality attorney website for free:
Branded Domain Name
A paid web hosting service allows you to choose your own domain name. For example, this might be bostonlawfirm.com. This way, search engine crawlers are able to easily find your website (by domain name) which helps boost your search engine ranking.
Free web hosting companies give you sub-domains so your site's URL is something like bostonlawfirm.sitebuilder.com or sitebuilder.com/bostonlawfirm. This is unprofessional at best, and really does look cheap…which I doubt is the image you want to portray.
Traffic
Paid web hosting companies are prepared for an increase in traffic to your website, often guaranteeing a percentage of their server's uptime. This means that your site rarely goes offline and is able to handle a spike in traffic. These hosting providers offer tiered plans for bandwidth at different prices and you can select whichever plan suits you best.
Free web hosts on the otherhand need to protect their precious resources so often severely limit your bandwidth which means your site may struggle with handling traffic surges.
Scalability
A paid web hosting company lets you choose how much server space you'd like to purchase which means that you get plenty of room to grow your website. This includes adding more site pages, uploading media files, installing themes and plugins as well as adding custom code to modify your website's design and features.
Websites hosted with free web hosting providers, however, aren't built to scale. This means that you can only add a few pages to your website and there will be a cap on storage space. In addition to this, your website can face downtime if your site's traffic level exceeds the bandwidth cap. It's also worth mentioning that you won't be able to install any themes or plugins the web host doesn't allow.
Now that we have a better understanding of why law firms should consider going for paid web hosting instead of free hosting, let's look at some of the important elements of a good attorney website.
What are the elements of a good attorney or law firm website
As an attorney, you need to let prospective clients know that you have the ability and expertise to handle their legal matters.
A well conceived website helps instill that confidence in them so that they may be more inclined to reach out to you. Your website and the content you publish on it can help you establish yourself as a professional.
#1: Design
These days web surfers often switch between devices when searching online. This means that prospective clients may be accessing your website on multiple devices (smartphones, tablets, and desktops).
Responsive design enables your law firm website to run on any device, regardless of the screen size. This way, you'll be able to offer a consistent user experience across all devices which also leads to improved search engine rankings.
We've create a number of free website designs for Attorneys and Law Firms. You can download these for free here:
There are also many great paid/premium legal themes available around the web. We made a list of the best premium themes for law firms and Attorneys.
#2: Lead generation
Many people would prefer to get in touch with your business via a contact form instead of the phone. For this reason, you must have a clear and concise contact form that allows prospective clients to get in touch with you.
In addition to this, you may consider publishing lead magnets on your attorney website to generate leads. For example, you can create checklists, PDF guides, or other downloadable resources related to your particular field that prospective clients might be interested in. These kinds of resources are highly searched and can drive relevant and qualified traffic.
There are a large number of lead generation plugins for WordPress, we made a list of the best ones.
#3: Contact details
A website gives you the opportunity to offer multiple communication channels to make it easier for prospective clients to reach out to you. You can create a contact form to collect client requests along with their email address. Similarly, you must post your firm's contact number on your website to encourage phone calls.
It's a good idea to post your contact information (including email and contact number) prominently on your website. This allows people to choose the option they're most comfortable with, thus improving your conversion rates.
#4: Testimonials
A great way to project yourself as an authority in your field is by highlighting past performance and achievements. This includes publishing case studies, testimonials, and reviews. Reviews and testimonials are a great form of social proof that can help improve conversions.
Keep in mind that you need to be especially careful when publishing testimonials (including verdicts and reviews) on your law firm website. You'll have to ensure compliance with your state's attorney advertising regulations. Some states strictly regulate or even prohibit this type of marketing.
#5: Services
Being a service-based industry, law firms only have their legal expertise to sell which makes it crucial to convey your expertise to prospects. Put simply, you need to let prospective clients know that you're an expert and skilled professional in your field. Clearly mention your service offerings and use your affiliations, accomplishments, and accreditations to back them up.
Your prospects want to make sure that you understand their questions and concerns so be blunt: let them know which law you practice – family law, corporate law, or probate law – and support that by showing them related certifications and affiliations with concerned organizations.
#6: Team bios
A great way to use your law firm website to build trust between your prospective clients and your firm is by putting a face to the name. This helps you humanize your brand.
You can do this by sharing headshots, well-written bios, and links to social profiles. The more transparent you are, the more at ease they'll be when getting in touch with you. Read more about how to add team bios to your website.
Posting engaging attorney bio pages on your law firm website is a great way to introduce your corporate culture to your clients. To take things to the next level, you can share information about volunteering work, social contributions, or a word from each of your firm's attorneys.
#7: Blog
Your attorney website's blog is a unique platform that you can use to let prospective clients know that you're a competent law professional and are able to understand their issues and concerns. Blogging on a regular basis also helps you increase traffic to your attorney website and, ultimately, boost conversions.
A great way to showcase your knowledge and grasp over legal matters is to write blog posts based on frequent questions asked by prospective clients and sharing your opinion on current cases that are related to your practice area.
What analytics do you need to set up?

A law firm website is always a work in progress and therefore should constantly be updated based on changes in user behavior. However, in order to optimize the user experience of your law firm website, you will need to set up analytics tracking. This way, you can collect detailed and accurate data about how users first learn about your website, how they interact with it, and which pages they visit most.
Google Analytics gives you the insights you need to better understand where your site traffic is coming from and identify areas that need improvement. In addition to this, you can also monitor key metrics like your average session duration, bounce rate, and unique page views. We've previously blogged about the 8 key web metrics.
What are some advanced features to consider?
Here are some advanced features you might consider adding to your law firm website once you've got the basics set up:
Call tracking
Call tracking (also referred to as call attribution, analytics, or intelligence) is a marketing analytics tool that enables law firms to understand how their marketing, website, and digital efforts increase inbound calls. This information is used by marketing teams to improve campaigns and optimize website performance which helps the business come up with the maximum number of leads for the lowest possible cost.
Call tracking software works by generating unique phone numbers which are assigned to different emails, direct mails, ads, or a specific campaign. Each of these numbers enable marketers to track call volume. This way, they can determine the effectiveness of each source or channel.
Opt-in email marketing involves getting site visitors to sign up to your subscription list, often using an incentive like a lead magnet. The goal is to collect email addresses of prospects who would actually be interested in your legal services.
When a site visitor opts-in to your email newsletter list, they give you their consent to receive marketing emails. To remain GDPR compliant, you'll have to obtain explicit permission that the person wants to receive marketing emails from your business. These are the best email marketing tools to use.
Video content
Text-based, static websites are a thing of the past. Most online users have short attention spans so you need to incorporate interactive multimedia elements such as sound and video if you want them to focus on your message. There are 7 types of video content you can use on your website.
Video content is a great way to reach out to a wider audience which makes it perfect for law professionals. You can clearly explain your message to your clients using a brief, one-minute explainer video.
Videos can be a powerful medium for sharing client testimonials, giving a behind-the-scenes look into your law firm, and posting attorney profiles.
Essential marketing tactics for attorneys and law firms
Here, we'll take a look at some of the digital marketing tactics used by successful attorneys and law firms.
Google My Business listing
Since Google is the most widely-used search engine, you need to list your law firm with Google My Business as it helps improve your website's SEO. For those unfamiliar, Google My Business is a free service that helps local businesses manage their listings in Google search results.
You might've seen Google My Business listings for businesses when searching for local services in your area. It shows search results on a map and displays other useful information about businesses such as their website, contact details, and reviews.
Customer reviews on Google and Facebook
Clients can post a Google review of your law firm by finding your law firm's name in Google's business listings. Alternatively, you can get your clients to post their review by sharing a link to your Google review page by clicking on "Write a review" and copying and pasting the link into an email message.
Moreover, Google reviews are directly linked to the Google search engine which means that soliciting reviews from clients will help you improve your site's search results ranking, especially when it comes to local SEO.
Facebook also lets you obtain reviews from people that follow your business page. Facebook reviews are also accessible to Google's search engine which means that you have another tool to improve your site's rankings in Google search.
Adwords and Facebook ads
Google AdWords is Google's search engine marketing service that lets you run text ads above the Google search results. They are displayed on top of organic search results after you type in your query.
In addition to optimizing your attorney site's SEO, you can pay for your search results to be listed on a priority basis. These ads blend naturally with the page results and are displayed with relevant recommendations for what the user is searching for.
So, for example, when a person types in "intellectual property lawyer Boston", Google will display a list of the top 10 search results that were the best match for the user's query. The paid ad results will be displayed above the organic results.
Facebook also offers a variety of advertising options that are displayed on its main website, mobile app, and on other websites and apps that partner with Facebook.
Many lawyers find it difficult to effectively promote their law firm on Facebook because they limit themselves to posting related images and articles on their Facebook business page. However, they can increase their client outreach simply by running ads on the social media giant.
Conclusion
Attorney websites let you connect with your existing clients and partners and find new clients for your law firm. It also improves your agency's visibility, raises brand awareness, and gives you a platform to project yourself as an authority in your niche.
Do you have any tips for building an attorney site of your own that you'd like to share with other legal professionals? Let us know by commenting below!