Flick Review 2023
Instagram has more users these days, so creating a long-term strategy that helps to give you a competitive advantage on the platform is important if you want to facilitate your long-term success.
Most people know that using hashtags is important, but perhaps they don't really know which ones to use exactly, or how to create a strategy that actually brings in more followers and gets content seen in hashtag feeds.
Hashtags are truly the most important facet in terms of getting your content seen by more people, so how can you figure out the best hashtags to use for your niche? While you could review your competitors and see which hashtags they're using, there is an easier and better way: hashtag generators. 
A hashtag generator is an Instagram tool that creates a list of hashtags that you can use based on your search keyword and niche.
I've been looking for a good hashtag generator for a while now, and I've come across one of these tools, Flick, which is gaining a lot of notoriety for its hashtag generation service. I decided to review it to see how it holds up.
Let's take a look!
How Does Flick Work?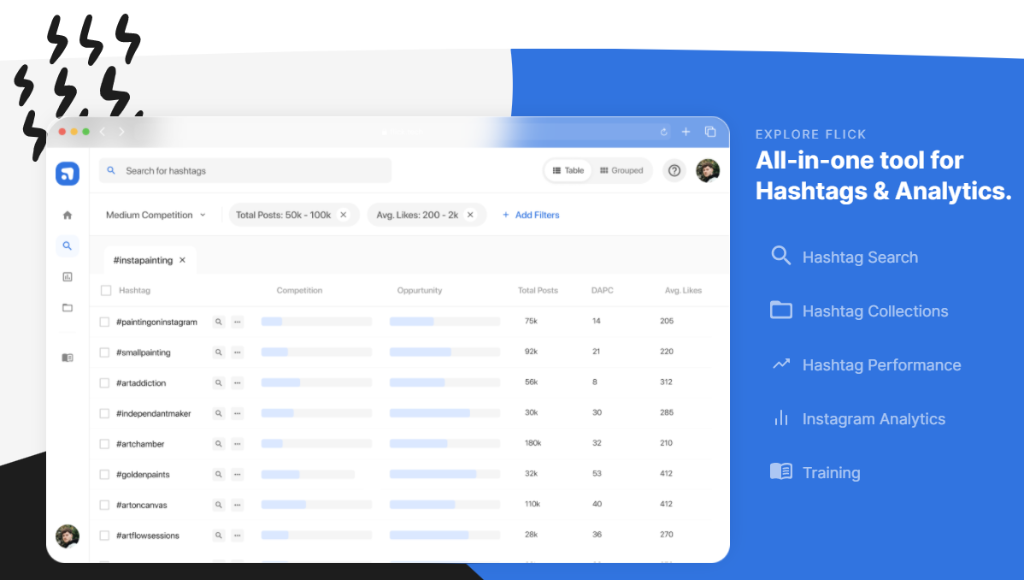 Flick is a really simple and easy way to find out which hashtags are the ones that will work best for you and your particular content.
It's not uncommon for Instagram users to use whichever hashtag they may have seen on other users' accounts (I'm guilty of this), including general ones like #beauty or #goodtimes, among many others.
These hashtags will ultimately deliver little to no results because they are so broad; there is too much content being posted with these hashtags, so they get pushed down the hashtag feed very fast.
In addition, anybody in any niche is likely to use these hashtags, so they are not as valuable in gaining real, targeted viewers. When you use a hashtag generator tool like Flick, you will get real-time trending hashtags that you can use on your Instagram posts to gain more reach.
Next, I want to take a look at the features that make Flick a highly competitive and productive hashtag generation tool.
Features
These are some of Flick's standout features that I really enjoyed using and found to be super helpful.
Hashtag Generation
The main function, hashtag generation, always aligns with your targets and uses the best data from Instagram to ensure you get high-quality hashtag generation that will bring you the best results.
When I searched for a term, for example, "fitness," a list of the top hashtags that match for fitness is populated in order to bring better success with post discoverability.
They have 3 plan levels that will get you access to more hashtags depending on which one you choose. I personally preferred the plan that gave me 100 hashtags because 20 was just a bit too few.
Hashtag Sets
You can create sets with the hashtags you find most relevant, which means you don't have to go searching for your hashtags or write them down in random spots.
You can simply create your hashtag sets and then copy them to paste into your captions for easy posting. This is the most awesome feature on Flick! It makes posting content with hashtags so much easier and more streamlined.
As I said, it can be tough to know which hashtags are working and which ones aren't. It includes a lot of guesswork and you can lose a lot of precious time when you test and test your posts again.
Since Flick uses real Instagram data to populate the most effective hashtag lists, you'll be able to create sets that really make a difference. You can completely take your hashtag game to the next level with Flick and they save you so much time through their tool. 
One of my pro tips: make sure that your account is not private so that you can get reach to new users and not just users who already follow you. There's no sense in having an Instagram account that is not viewable.
When you do that, Flick gets you out there and discovered by so many more users through hashtag feeds, which we loved about their service.
Their service is totally affordable and able to be used by anyone, no matter how much or how little experience you have with websites and Instagram tools, which means that no one will be excluded or confused by the Flick service.
Flick Review Verdict
Flick is without a doubt the best hashtag generator out there. With their really easy-to-use platform and flawless design, Flick will get you the information you need every time, allowing you to consistently re-evaluate your hashtag strategy and create sets that make your life easier when it comes to posting.
Don't make the same mistake I did; don't wait any longer to re-vamp your hashtag strategy; every day that you put it off, you're losing valuable potential Instagram followers and viewers.
One of the best and simplest ways to get your hashtag strategy moving is to use a generator like Flick.