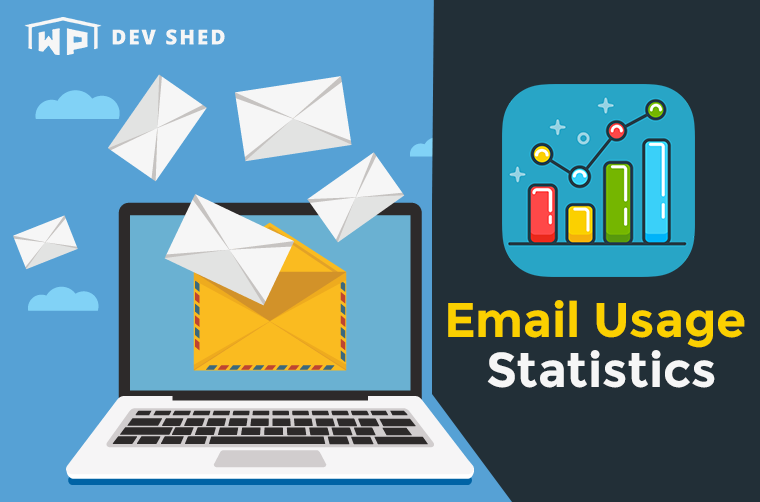 Email Usage Statistics 2023
If you are a small business owner you probably steer your email marketing based on a variety of key performance indicators (aka KPIs or metrics).
You probably monitor metrics such as open rate, click-to-open rate, bounce rate, and of course, overall ROI.
Keeping track of performance is integral to email marketing. It helps you as a small business owner and marketer to understand where you can improve and how to adjust your strategies accordingly.
That being said, it's also important for marketers to be aware of current email usage trends and statistics. With this information, you'll know how to stay relevant to your audience.
In this post, we'll walk you through how many people use email and email usage statistics for 2023 that will help you create campaigns to help your brand stand out from the competition.
Key Email Usage Statistics for 2023
4.258 billion people use email
300 billion emails are sent every day
The average person has 1.75 email accounts
127 business emails are sent per day
Gmail owns 45% of the email market
More than half of emails are spam
46% of emails are opened on a smartphone
How Many People Use Email in 2023?
These email stats show that there are over 4.258 billion active email users worldwide as of 2022, and this number is expected to steadily increase for the foreseeable future.
Statista predicts that the number of email users will expand to nearly 4.4 billion by 2023.
To compare, there are currently 3.5 billion social media users across the globe.
While this is a significant number, there's no denying that email definitely overpowers social media in terms of user base.
The data makes it clear. If you are looking for a more effective way for your small business to reach its target audience, then email marketing is an ideal tool to use.
Since email has a user base that numbers in the billions, there is a large pool of potential subscribers you can connect with.
The Rate of Email Opens on Mobile
Smartphones are very much ingrained in people's lives.
On a daily basis, your consumers use their smartphones to request an Uber, order takeout, shop for clothes and shoes, and last but certainly not least, check their emails.
As a result, mobile email usage has exponentially increased over the last several years.
IBM's 2018 Marketing Benchmark Report states that approximately 50% of all email opens happen on mobile.
For specific industries, the rate gets even higher.
According to IBM's report, the leisure, sports, and recreation industry has an average mobile open rate of 60%.
For lodging and travel agencies and services, the mobile email open rate is 55.6%. Meanwhile, for marketing and advertising, it's 54.7%.
When it comes to email opens, mobile devices have clearly taken over traditional desktop usage.
This is why you should optimize your emails for mobile, especially if your small business is among one of the industries where the majority of email opens occur on mobile.
If you ignore this step, you run the risk of alienating a significant portion of your audience.
Furthermore, the chances of your subscribers ignoring or deleting your emails become much higher.
The Number of Emails Received per Day
Just a few years ago, Radicati reported that the average person received around 121 emails every day.
This number has bumped up recently, with updated reports estimating that consumers now receive over 128 emails each day.
To put it into perspective, this means that consumers receive an average of 45,990 emails each year, 5.25 emails per hour, and approximately 1 email every 12 minutes.
That's a lot of emails to go through, especially since consumers have a lot of other things to do.
The takeaway here is that it has become much more challenging to get noticed by your target audience.
Inboxes are more crowded than ever, so you have to make an additional effort to grab the attention of your subscribers.
One of the best ways you can achieve this is by writing subject lines that hook your email readers.
Here are some easy yet proven tips that you can follow.
Keep it short and sweet. Your subject lines should consist of a maximum of five words. This way, the entire subject line displays on your subscribers' screens even on mobile.
Personalize. Always include your subscribers' first names in your email subject lines.
Use time-sensitive language. Including phrases like 24-hour exclusive or on sale today only establishes a sense of urgency that entices your subscribers to act on your emails.
The Number of Marketers Who Leverage Email
With the amount of revenue that email marketing can potentially bring, it's hardly surprising that businesses—from small enterprises to multinational conglomerates— take advantage of email.
Data from the Content Marketing Institute (CMI) reveals that email marketing is the number one way in which marketers nurture their audiences.
According to CMI, 87% of marketers leverage email marketing.
However, only 58% of these marketers say that their email marketing strategies paid off.
While you may not be blazing a new trail in your decision to use email marketing, you can definitely be more successful than other small businesses in your niche when it comes to nurturing audiences.
You just have to send relevant messages with the goal of helping your customers solve problems and improving their lives in the process, instead of simply making a sale.
The Amount of Spam and Its Financial Impact on Businesses
Anti-spam laws have been in effect for years, and the General Data Protection Regulation was implemented in 2018.
However, this doesn't mean that spam is now a thing of the past.
On the contrary, email usage statistics suggest that spam email will remain a problem for many years to come.
According to the Internet security website SpamLaws.com, experts estimate that 58 billion spam emails will be sent every day in the next four years.
They also estimate that these spam emails will cost businesses nearly $200 billion annually.
In an effort to clean up their users' inboxes, internet service providers (ISPs) are now implementing much stricter spam filters.
Understanding spam filters will especially help you with the following points:
Preventing email bounces and landing in subscribers' spam folders
Maintaining a solid sender reputation
Remember, ISPs flag companies that send spam, making it harder for them to successfully send their messages.
How Has Email Changed Over the Last Five Years?
It's pretty important when thinking about email usage statistics that you know how it has changed over the past few years.
Because there are new technologies coming out all the time, this has enabled people to take advantage of email like never before.
It wasn't long ago that PR reps, salespeople, and link building experts were able to send out emails to each prospect, one at a time.
Now, thanks to email outreach software, you can send out a huge number of emails at once, which means that you can end up saving a lot of time when it comes to prospecting your leads and not limit yourself when it comes to marketing opportunities.
Because you can leverage the power of preexisting email templates, you can now put your efforts into closing those deals, when your prospects respond to outreach.
Of course, new technology is just one way that email has changed over the last few years, and one interesting trend to take note of is that email is actually continuing to grow.
In fact, email statistics show that 3% more people are using email year on year, and this is predicted to continue on up to 2024.
What is also interesting is the number of emails being sent and received. These are increasing as well, but more and more emails are also being ignored.
This means that businesses that rely on email outreach to connect with potential customers are really thinking about how they can personalize their messages so that they don't have to go in cold.
Email Usage Statistics That You Should Know in 2023
If you plan on using email outreach to grow your business, then there are a few critical email usage statistics that you need to know so that you can make the most of these opportunities.
How many people use email in 2023? Here are what we believe to be the email usage statistics that you should know about right now.
More than 4 Billion People Use Email in 2023
When you think about email usage statistics like this one, it is incredibly impressive. This means that more than half of the world's population now uses email.
This number represents people who have used email over the last three months, so it is highly likely that there are many more email accounts out there that exist that haven't been counted for this statistic.
As a comparison, there are 3.8 billion people in the world that use social media.
Yes, social media is catching up to email, but as you can see, there are more people that have email accounts than social media still.
Of course, you want to leverage social media when it comes to your outreach efforts, so that you can improve your email response rates, and we think that consolidating the two is actually known to give your business an edge and ensure that you are putting your content in front of the right people.
300 Billion Emails Are Sent Daily
More and more people are using email, which means that it completely makes sense that the number of emails that are being sent out each day are going to increase.
In 2019, roughly 293 billion emails were being sent out each day. These days, that number is over 300 billion.
This incorporates both personal and business emails. This means that more than 3.5 million emails are being sent out every second.
By the year 2023, it's predicted that this number is going to be closer to 350 billion, as email continues to expand in terms of popularity.
People that Use Email Have 1.75 Email Accounts
Because there are so many people out there that use email in their place of work, it completely makes sense that most of us have more than one email address going at the same time, because this way, we are able to separate our personal emails from our work ones.
So, email usage statistics show that the average person has 1.75 email accounts. Just remember that these are median results, and the average user actually has closer to two.
This also means that there is a small percentage of people out there that actually have a huge number of email addresses, and this is going to completely depend on what they do for work.
For example, if you are a freelance worker, then you might have a different email address for each customer that you work with.
With this kind of work increasing in popularity, it is highly likely that more and more people are going to have more than two email addresses to their name.
Another reason why someone might have more than one email account is to avoid spam.
127 Business Emails Are Sent Every Day per User
According to statistics, the average number of emails related to business that are sent out every day per user is 127, and back in 2019, it was 126.
Of course, this means that this number is also increasing, but keep in mind that not all of these emails are going to be legitimate.
In fact, if you break it down, you will realize that 98 of those emails were received, and 78 of them were legit. This means that twenty of them were spam.
This statistic shows us that Gmail dominates the world of email, with a 45% market share, and more than 1.8 billion users around the world.
While you might think that this only outdoes other email companies by a little bit, you would be surprised to know that Gmail wins out by quite a lot.
Outlook has 400 million and Yahoo has 225 million. Even if we just look at one country, like America, Gmail dominates by an even bigger margin. 85% of the American population that use email use Gmail.
This means that out of 246 million email users Gmail accounts for 130.9 million. This means that their market share in America is 43%.
What's interesting about the American demographic is that Yahoo dominates Outlook, because Yahoo has 42.4 million users, and Outlook has 34.4 million.
When you are sending emails out, you might want to consider sending out emails from Gmail.
When you do, you are able to customize your profile picture and information, which of course is going to improve your chances of your email being open.
This way, you can stand out against the competition, and ensure that your emails are the ones being seen.
Outlook and Gmail Dominate the Business World with 63%
When you consider the general population, Gmail is obviously the most popular email provider.
However, when you go into the business industry, things are slightly different. When it comes to business email accounts, Outlook and Gmail neck and neck with 30% and 34% market share.
Gmail provides hosting for emails for more than 2.5 million domains, while Outlook provides email hosting for 2.7 million. This means that when you combine the two, they have a market share of 63%.
Third on the list is GoDaddy's email hosting software, which dominates just 16% of the market, and hosts 1.2 million domains.
This means that when you are trying to create an email outreach campaign, both Outlook and Gmail are good choices if you want to customize your profile picture and information, and naturally improve your open rate.
However, as you can see, because Gmail has a slight lead when it comes to market share, you're going to get an edge if you decide to use them.
More than Half of All the Emails out There Are Spam
This statistic might disappoint you, but what might disappoint you even more is the fact that back in 2009, 94% of all emails were spam.
This means that the number of emails that are spam these days is significantly less, but the percentage point is still 53%.
Of course, because we know that there are 300 million emails that are sent out every day, we can easily figure out how many spam emails are sent out every day. The answer is 159 billion.
While there are different sources out there that have different statistics around this fact, what we do know is that it is only a good thing that there are less emails in the world now that are spam emails and not legit.
Email software providers also have more robust security measures in place so that you can avoid opening spam emails, and it is a lot easier to recognize what a spam email looks like.
46% of Emails Are Opened on A Smartphone
This statistic shows how powerful smartphones are these days, and how often we like to take everything on the go with us.
With 46% of emails opened on a smartphone, this means that it is easily the most popular way to open an email.
While you might be surprised at this statistic, you won't be when you realize that smartphones make up the majority of Internet traffic.
However, you might be surprised to learn that the reading environment of certain emails is going to vary depending on the industry.
When it comes to the automotive industry, the open rate can be as much as 52%, however, when it comes to insurance, it can be as low as 18%.
The biggest takeaway here is that regardless of the industry you fall into, it is clear that the majority of people that read and receive your emails are going to be doing so on their smart phone.
As a result, you will need to make sure that your emails are optimized for mobile devices, so that your clients can easily respond to them on their smartphones.
82% of Workers Check Their Email Outside of Their Business Hours
This statistic is potentially due to the fact that our world is becoming increasingly connected thanks to smartphones, and as a result, four out of five workers admit that they check the email outside of business hours.
Another interesting thing from this stat is that almost half of all workers say that they check their email every few hours. This means that they are doing so even if they aren't at work.
When you develop an email outreach campaign, of course it is normal to send out your emails during normal work hours, however, you might want to play around with when you choose to send out your emails on a consistent basis, and consider sending them outside of normal work hours if your response rate isn't high.
You can always go back to the original approach – it can't hurt to try.
91.5% of Outreach Emails Remain Ignored.
According to statistics, just 8.5% of emails get a response. There is no surprise here, considering how generic some emails are.
The good news is that there are a number of things that you can do to mitigate the chances of this, including:
Send a follow up email because this practice can double your response rate.
Try to use a long subject line, because emails that have long subject lines have a high response rate that is as much as 24%.
Make sure that you personalize your subject line and email body. Personalized subject lines can increase the response rate by 30%. Additionally, if you personalize the body of your email, this can increase the response rate by 32%. Put these two things together, and you can significantly improve the performance of your outreach campaign.
Ensure that you are including links to your social media profiles and your signature that is below your email itself. If you include a link to your Twitter profile, this can improve your response rate by 8%; an Instagram link can increase the response rate by 23%.
Make the most of email outreach software. Software like this can help you take control of your outreach process, so that you can automate and scale your outreach, and avoid making small, somewhat minor, mistakes like using the wrong name or including the wrong website link.
Wrap up: How Many People Use Email in 2023?
As a small business owner, you need to keep yourself informed on how email is being used by your audience, and just how many people use email is a key indicator.
These email usage statistics for 2023 will help you determine which email marketing practices are best for your brand and therefore ensure the long-term success of your campaigns.
Sources