One of the benefits of having your own domain name is branded email addresses, ie. [email protected] In most cases, when you sign up with a web hosting service you get email hosting as part of the package. But what if you wanted a third-party email solution instead of the email hosting provided by your web hosting company and still keep your domain name in your email address?
Looking for email marketing tools?
Email related issues are among the most common complaints people have with hosting companies, and it can quickly become very sensitive when you rely on your email for business or even just personal matters. For this reason alone we always recommend using a separate dedicated email host for mission critical business and personal accounts.
In this post, we'll run the rule over five of the best email hosting services that you can use instead of your web hosting provider's default email service. But before we begin, let's take a look at why it's a good idea to use a third-party email hosting service in the first place.
Why You Should Use a Third-Party Email Hosting Service
If you want your business email address to end with your domain name (for instance [email protected]) and be hosted separately from your web hosting provider then you can opt for a third-party email hosting solution.
Here are a few reasons why it's a good idea to keep your web hosting and email hosting separate:
Takes up server space. All of the business emails and email marketing campaigns that you send to your email lists will take up space on the same server your site is hosted on.
Software lacks functionality. Web hosting companies often give you free email service with your hosting package because it's cheap and the software used lacks a clean interface and advanced functionality.
Reliability and up time. No web host is 100% reliable. This means that if your website faces some downtime due to a problem with the server, your email service will, too.
Avoid tie-in to your web host. What if you want to switch hosting companies for your website? If you have to deal with moving your email as well as your website it becomes much harder to switch hosts.
Personally, I think avoiding lock-in is reason enough to keep your web hosting and email hosting separate, but considering also the much better email tools offered by dedicated email hosts and it becomes a no-brainer.
Let's take a look at some of the best, third-party email hosting services that you can use instead.
5 Best Email Hosting Services to Replace Your Web Host's Email Service
As an online business owner, there are a number of options available to you when it comes to selecting an email hosting service.
Keeping in mind that your business' email will be used to manage email lists and marketing campaigns, we've picked out some of the best email hosting services for you. Let's step through them one at a time.
1. G Suite
One of the most popular and comprehensive email service providers is Google's G Suite. It gives you all of the Google Apps that you could need in one neat package on your domain. What this means is that you'll be able to send emails from your business web address and even create group mailing lists.
In addition to its advanced email features, G Suite also makes it easier for you to collaborate with team members in real-time by leveraging its built-in shared calendars, screen sharing, and video conference functionality.
Key Features:
Allows you to collaborate with team members in real-time.
Enables users to store and share files in the cloud.
Offers additional security measures including two-step verification and single-sign-on.
Price: Starting at $5 per user per month
2. Zoho Workplace
Zoho Workplace puts a modern spin on classic email by blending social media style communication into your business emails. Instead of wasting time with subject lines and whatnot, you can send short, quick messages to team members and begin collaborating with them instantly.
Zoho's email app features a tabbed interface that allows you to quickly switch between the draft email you've been working on and your work calendar to increase productivity. In addition to this, you also get access to other Zoho apps that let you create and edit documents, manage files, set up meetings, and much more.
Key Features:
Well-crafted interface that lets you collaborate and communicate with team members in one pane.
Designed to increase productivity.
Comes with a wide-range of apps that let you manage your company's data.
Price: Starting at $2 per user per month
3. Office 365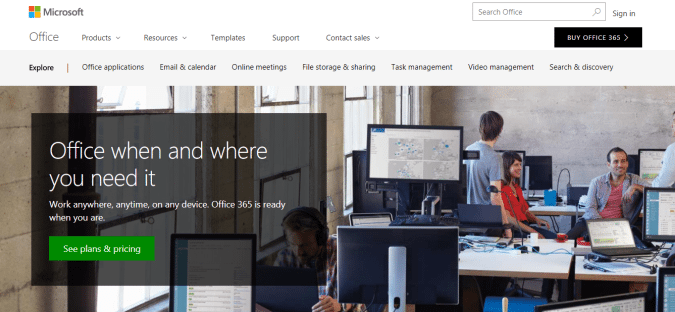 Microsoft Office 365 comes with a suite of features including Outlook, Active Directory, OneDrive, and Skype that are essential for managing your business emails and communicating with clients and team members.
One of the standout features on offer with Office 365 is Office Online that lets you run Microsoft Word, Excel, PowerPoint, and OneNote from within your browser to easily collaborate with colleagues on documents. Additionally, it packs shared calendars, an ad-free inbox, and synced contact lists across your devices in real-time.
Key Features:
Allows you to send emails up to 150 MB.
Makes it easy for users to connect Outlook to Exchange Online.
Protects your mailbox with anti-malware and anti-spam protection.
Price: Starting at $4 per user per month
4. Rackspace
If you're looking for a simplified email solution that comes with only the bare necessities then Rackspace email hosting is definitely worth trying out. The core email app comes with everything you need to sync your team members' emails, calendars, and contact lists. In addition to this, you can also use the built-in to-do list app to stay on top of upcoming tasks.
And if you're already using a different email solution for your business emails then Rackspace's team of experts will help you migrate over to the new platform free of charge.
Key Features:
Powerful email functionality including message filtering, auto-responders, and multiple signatures.
Allows you to store files in Rackspace Cloud Drive.
Secure IMAP access for Outlook and mobile devices.
Price: Starting at $2 per user per month
5. FastMail
FastMail features a neat and clean ad-free interface that lets you stay focused and maximize your productivity. It automatically syncs your contacts and calendar on your PC and mobile devices to help you stay up to date.
Those of you who travel a lot for business can leverage FastMail's comprehensive time zone support feature to schedule internationally. If you're in the market for a simple email solution that gets the job done then FastMail is worth a shot.
Key Features:
Comes with a fast and easy to use interface.
Allows users to add custom branding to the app.
Offers two-step verification and encrypted data storage.
Price: Starting at $5 per user per month
Conclusion
Whether you're just starting your own blog as a newbie webmaster with a brand new domain or run a website that already has hosting set up, there are many different third-party email solutions that you can use in place of the email service offered by your web hosting company. And the best part about it is that you'll be able to keep your domain name in your email address!
Which features do you look for in an email service provider to host your business email? Let us know by commenting below!