How's your search for Black Friday and Cyber Monday web hosting deals going? Have you been able to find your ideal web hosting package yet? If not, you've landed on the right website. We have some great news for you. You're going to like what you see in this article. The deals will surprise you.
I'll be providing you a guide to the best Black Friday deals according to the lowest monthly commitment, the highest discounts, free bonuses, extra resources, and top-notch support.
Based on my experience from my own adventures in web hosting selections alongside some fellow bloggers' and digital marketing experts' input, I am putting these deals together for your consideration.
The Best Black Friday Web Hosting Deals
It's that time of the year yet again where you get to look for Black Friday and Cyber Monday deals on web hosting for your holiday blogs.
Let's get started with looking at this guide for the top Black Friday web hosting deals of the year, in no particular order.
Bluehost Deals for Black Friday & Cyber Monday Events
Bluehost
Up to 60% off web hosting plus…
Free SSL
One-click WordPress installation
Unlimited disk storage
Unlimited GB of site transfer
99.9% guaranteed uptime
Bluehost is, by far, the most popular and reputable web hosting service available in the industry. Amongst bloggers, it's a favorite that they commonly recommend to other bloggers.
Bluehost was introduced to the public in 2003, and it has grown and evolved in appearance, services, and features over the years. Its claim to fame revolves around its consistency in services and innovative updates that continually serve its clients and draw new business to them.
I have been using Bluehost for a long time and am so confident of this company's offerings, reliability, customer service, and dynamic features that I happily recommend this company as my top favorite.
The hosting is consistent, and I have enjoyed a fantastic experience on this platform. Right now, as the holidays approach, is the best time to check out the Bluehost Black Friday deals. I think the push for this service is well warranted and why so many bloggers are promoting the Bluehost Black Friday and Cyber Monday sales.
Also, Bluehost's newly upgraded resource protection features utilizes isolated systems. You can feel comfortable with the shared resources through the isolation protocols. This technology doesn't slow down your performance or your network, so delivery is fast and efficient as usual. Other newly upgraded and updated offerings include SiteLock, Domain Privacy, free SLL, GodeGuard, and a Dedicated IP.
My favorite thing about Bluehost is it resources for scaling up that are so easy to implement for higher business demand solutions, The 24/7 chat and phone support further make this company a top-rated and trusted web hosting option.
Bluehost is a company that serves up peace of mind along with all their valuable and reliable services.
While this list is mostly not in any specific order, Bluehost is my number one pick.
HostGator Deal for Black Friday & Cyber Monday Events
HostGator
Up to 60% off
70% web hosting discount
Free domain name
Easy configuration
There's no doubt that HostGator is one of the top web hosting companies on the market. Many people are looking to find out about their Black Friday offerings. I have compiled what you need to know about HostGator's deals. 
HostGator was born in the year 2002, which is the year before Bluehost. This company has played a significant role in websites over the years and has become a popular hosting platform. Some of their popularity comes from the variety of hosting plans and types that are appealing.
I have used HostGator and my personal experience with this platform has been good. It's easy to set up your account and your new website. You can enjoy 99% uptime from HostGator. You will find several bloggers who trust HostGator for their website needs.
This service seems to offer efficient and high performance without the worry of glitches or technical issues with SSL. You also get free email hosting with HostGator.
GreenGeeks Web Hosting Deals for Black Friday & Cyber Monday Events
GreenGeeks
No hidden fees and…
Free site builder
Free unlimited email accounts
Free Let's Encrypt Wildcard SSL
GreenGeeks is a little younger than Bluehost, being introduced in 2008. It's maintain its popularity amongst its users and bloggers are still attracted to this service. Its popularity relates to its superb services for its customers.
The reliable network connection is largely due to the proactive maintenance at their data centers. Also, with technologies like PowerCacher, PHP7, and MariaDB, you can expect dynamic and fast page loading.
In my own personal experience with GreenGeeks, I enjoyed top-notch security with zero-day vulnerability fixes working across customized firewall protocols. You can even scale up on this platform without downtime delays.
A2Hosting Deals for Black Friday & Cyber Monday Events
Our Speed, Your success
Growth options
Free SSL certificate
Easy to use cPanel control panel
Before Bluehost or HostGator, A2 Hosting was introduced in 2001. This is a global web hosting service that offers an uncomplicated interface. My personal experience with A2 Hosting has been good, which is why I have included it in this list.
I am pleased with the uptime and the speed of loading through this web host. I gladly recommend this as one of the choices for web hosting if you are ready to make your own website. If you plan to implement a blog or website on WordPress, this platform makes the process easy with the A2 optimized WordPress setup system.
Currently, the A2 Hosting Black Friday sale for WordPress is a 60% off deal, but for shared hosting plans you can save about 67%. You can get your account for $1.98 a month during this event.
You need to know that their server is fast and offers a developer-friendly platform. Also, customer support is delivered via chat, phone, and a ticket-based support system. A2 Hosting is compatible with most all Content Management Systems (CMS). That way, you can easily install any Drupal, WordPress, or Magneto site.
The payment processing system is a local payment gateway out of India, Mexico, South Africa, and the UK. It's a safe and secure payment processing system.
DreamHost Sales for Black Friday & Cyber Monday Events
Easy-to-use panel
Advanced system
Dynamic one-click installer
Unlimited storage and bandwidth
1996 is the year when DreamHost web hosting launched to the public. It's one of the most powerful hosting companies that offers managed WordPress services. Some of DreamHost's offerings include DreamPress, Shared, and VPS. Each option features affordable options.
The custom control panel is one of my favorite features from this company. Other pluses include options to add additional users, adjust your settings, and several ways to adjust email settings.
One-click installation of WordPress, Joomla, and other apps is another bonus of DreamHost hosting. They guarantee that you will have 100% uptime, plus solid state drive storage.
GoDaddy Deals for Black Friday & Cyber Monday Event
GoDaddy
99.97% uptime …
Easy file transfers
24/7 support
Easy billing
GoDaddy became a web hosting service in 1997 and has grown and evolved since. It's a big favorite amongst Indian bloggers, mostly due to the expert and superior support from this company. It also helps that you get 24/7 support through live chat, system tickets, and phone.
GoDaddy allows you to build an amazing SEO-friendly website even if you're a beginner. Not only do you enjoy 99.97% uptime, you also get fast loading speeds for your website. You get access to Drupal, Joomla, WordPress, and other apps to install.
This company provides unmetered bandwidth, free email, 100 GB storage, and a free domain name for your first year of service. You can save even more through the Black Friday and Cyber Monday deals.
InMotion Hosting Deals Black Friday & Cyber Monday
InMotion Hosting
DDoS protection plus…
VPS website options
FTP accounts
MySQL databases
InMotion is a web hosting provider that began in 2001 and has become one of the best hosting companies in the industry. Something that its users claim is that it exceeds their expectations in features and services. I have found this platform easy to use, so you don't have to have expertise to use it. It took me only a few minutes to acclimate to it.
Loading time is great on this SSD and PHP7 system. It offers firewall and DDoS protection, 24/7 dedicated support, hacking security, and more. Customer service is delivered via chat, phone, and/or email.
Discounts for Black Friday and Cyber Monday will vary depending on the plans you choose, but the deals are great for these events.
iPage Sales for Black Friday & Cyber Monday
iPage
Beginner-friendly web hosting plus…
Add-on domain names
MySQL databases
FTP accounts
The iPage web hosting platform was launched in 1998 as a complete web service, but in 2009, it relaunched as a web hosting service. Their web hosting is well-known amongst bloggers, who like this provider.
The main reason bloggers like this platform so much is due to its easy-to-use interface. So, it's easy for beginners to use, but feature-rich enough for the professional blogger. The drag-and-drop function is one of the easiest elements of this platform.
When you use iPage, you also get one-click WordPress installation and more than 300 open source apps designed for web development. Additionally, you get unlimited email addresses, free domains with annual hosting plans, and unlimited disk space.
All iPage plans include Cloudflare integration and SSD storage to help reduce page size. Your website will be fast and uptime is maximum.
Web Hosting Hub Deals for Black Friday & Cyber Monday
Web hosting hub
cPanel + free domain for your first year
Unlimited bandwidth
Unlimited disk space
Web Hosting Hub launched its platform in 2010. It's based in Virginia, United Stats, and serves over 40,000 customers with hosting. The company owns two data centers. One is on the East Coast and the other on the West Coast.
Their shared hosting plans offer reliability, are scalable, and affordable. Their customer service is offered 24/7. You get a 90-day money-back guarantee if you aren't satisfied. You can check out their Black Friday deals online.
SiteGround Deals for Black Friday & Cyber Monday
Web Hosting Crafted with Care…
Custom hosting options
High performance and uptime
Control panel
In 2004, SiteGround appeared on the internet and is now one of the most popular web hosting services for bloggers. The customer approach is the main reason for its popularity.
SiteGround provides high-speed SSD server across all hosting plans. They offer 24/7 customer support and some great deals for Black Friday and Cyber Monday. You won't find these kinds of sale prices any other time on SiteGround.
I have personally never heard anything negative about this hosting service. That is likely due to its diligence to customer service and support.
SiteGround is one of the few hosting services that is officially recommended by WordPress. The features of this web hosting provider include WP caching, GIT version control, one-click staging, SSL certificates, free site migration, and CDN.
Their WordPress plugin allows you to upload any website. I am glad to recommend this hosting to you.
WPX Hosting Deals Black Friday & Cyber Monday
WPX Hosting
Managed WordPress plus…
28-day auto backup
High-speed CDN
99.95% uptime guaranteed
2015 is the year that WPX Hosting got its start. Since their beginnings, this has become a very promising managed WordPress web hosting brand, even to today's standards. Many of my fellow bloggers are using WPX Hosting for their websites, and they say that their sites load fast and the network is stable. 
The technical team is professional, knowledgeable, and helpful if you run into any problems. Another thing I like is that once you buy it, your renewal price doesn't change like some other hosting companies.
WPX offers free migration, a secure environment, Malware and Hack removal, and DDoS protection. The customer support and care team are experts and provide professional help with all your WPX hosting needs via 24/7 live chat, ticketing system, and phone.
Arvixe Sales for Black Friday & Cyber Monday
Arvixe
Free site builder and…
Email hosting
Storage limits
Shared hosting
Arvixe was introduced to the public web hosting realm in 2005 and delivery reliable web hosting and high quality services at fair prices. Their goal is to provide affordable prices that are less expensive than their competitors without sacrificing their level of quality service.
You will have access to VPS, Linux, Windows, and Managed Dedicated Servers at a fair price. Customer service is available 24 hours per day and offers some of the best help in this industry. They can be contacted via phone, live chat, or support ticket.
You can expect the control panel to be easy to use and beginner-friendly. Also, you will enjoy unlimited options such as disk space, email accounts, data transfer, a free site builder, and much more.
WP Engine Deals for Black Friday & Cyber Monday
WP Engine
Google Cloud Hosting plus…
Managed security
WordPress core patching
support from WordPress experts
For those of us who are already blogging, WP engine needs no introduction. It's a leader in the industry of managed WordPress hosting. Some of my fellow bloggers told me that their experience with this web hosting service has been superb.
It offers fast website loading and nearly 100% uptime, both of which are vital to today's websites. Their newly upgraded infrastructure offers Google Cloud Hosting, which allows existing sites to load 40% faster.
This service is categorized as premium, so you will receive superior customer services and support. I have no problem recommending WP Engine to my site visitors for their money-making sites.
You may pay a little extra for this premium service, but it's well worth it for the security and peace of mind you get from it.
Kinsta Deals for Black Friday & Cyber Monday
Kinsta
Managed WordPress Hosting plus…
WordPress support specialists
Optimized WordPress stack
Comprehensive security protocols
Kinsta, established in 2013, is one of the new hosting services on the block. Its simple interface and dynamic performance are what make this WordPress hosting platform a favorite. I feel confident recommending this web hosting company for newbies to professional website owners.
One of the best things about Kinsta, as far as I'm concerned, is the premium management that is attached to Google cloud's platform. The risk of your website going down is virtually nil. Additionally, you will have access to free website migration and an SSL certificate for your site.
Premium support and security are two of the most prominent features for keeping your data safe and secure on the Kinsta hosting platform.
KnownHost Hosting Sales for Black Friday & Cyber Monday Event
KnownHost
Discounts on packages…
SSD storage
Managed hosting
Multiple features
24/7 customer support
In 2005, KnownHost became a full-fledged hosting company located in America. This company is known for its fully managed web hosting services. Every year, they strive to add more value to their offerings. Their latest is Cloud Shared, dedicated hosting, and VPS.
Complimentary DDoS protection is one of the things you can expect from KnownHost alongside of 99% uptime. Something I like about this hosting service is the excellent support staff that offers 24/7 live chat and phone support. You also get free data backups, high-performance, 30-day money-back guarantee, and easy free setup.
This platform has some great Black Friday and Cyber Monday deals and discounts worth checking out.
NameCheap Sales for Black Friday & Cyber Monday Events
NameCheap
Get up to 80% off
Backups
Uptime guarantee
Money-back guarantee
Namecheap came on the scene in 2000 and became not only one of the best providers for domains, but also web hosting. You will find their deals for Black Friday and Cyber Monday to be excellent.
If you're seeking a new domain name or web hosting, Namecheap is one option. Some offers on the table for the big events include new hosting, SSL purchases, and new domain registrations.
It's worth checking out their Black Friday and Cyber Monday deals and steals.
JustHost Deals for Black Friday & Cyber Monday Events
Justhost
Free domain name registration
One-click installation of WordPress
Unlimited Storage plus data transfer
In 2002, JustHost was launched and since that time they have delivered premium web hosting services to its clients. VPS, Reseller, and Shared hosting packages are made available to you for any kind of website you want to build. This web hosting provider focuses on customer service, valuable features, and competitive pricing.
Another perk offered is free domain registration for a full year, plus multiple app installation options. You also get a 30-day money-back guarantee if you're not happy with the services. You also get domain forwarding, auto-responder, and unlimited email addresses.
There are some great Black Friday and Cyber Monday sales from JustHost if you want to give them a try.
Cloudways Deals for Black Friday & Cyber Monday
Cloudways
40% off on your first month's subscription and…
Enhanced SLAs
24/7 live chat support
Application-level options
Cloudways is a hosting company that offers managed WordPress hosting that comes with advanced technologies. One thing you will notice is the performance of this hosting. It's obvious through its speed, security, support, and uptime. My personal experience with this provider is that it's beginner-friendly and simple to use. 
Cloudways offers a balance between affordable prices and functionality. You will easily be able to migrate your existing websites without losing anything. You can also enjoy VPS cloud hosting, which helps you to replicate several copies of your content, so it can transfer faster.
Its cloud servers create a fast-loading experience for your WordPress website. Black Friday deals on this platform provide 40% discounts on your first month's subscription. 
Liquid Web Deals for Black Friday & Cyber Monday
Liquid Web
Managed hosting and custom solutions
VPS server environment
Specialized hosting
Fully managed hosting for WordPress
Liquid Web made its appearance in 1997 and brings many hosting innovations to the table. As one long-term customer told me, it's worth the money you spend. I have taken that to heart, and I am sharing it on this list.
This hosting platform offers easy migration of your site, and you also get double the bandwidth on their VPS hosting plans. Unlike other web hosts, Liquid Web owns its own data centers, so you get 100% SLA. You also get Enterprise-grade DDoS protection. You don't often hear of this kind of option from other reseller hosting providers.
Liquid Web has some great Black Friday and Cyber Monday deals available. Take your time choosing your plan before you decide on one.
Hostinger Deals for Black Friday & Cyber Monday
Hostinger
Up to 85% off
30-day money-back guarantee
24/7 live support
2x Optimized WordPress speed
Hostinger appeared in 2004, and it services 29 million users in 178 countries. Their advanced technology and performance is part of the reason its used by so many people. If you're working with a specific budget, so you want a high-performance website on a budget, this hosting provider may have something you need.
You get 2 times the speed using their optimized WordPress platform at an affordable price. You also have the option to host unlimited websites that provide 24/7 live support and an easy website builder. Your website will offer a 30-day money-back guarantee and fast site loading time.
Hostinger is having a Black Friday sale, with domain names being up to 85% off for select domains.
FatCow Sales for Black Friday & Cyber Monday
FatCow
Web hosting and domain names…
Managed unlimited domain names
Easy-to-use website builders
100% wind energy powered
FatCow offers site management tools, shared hosting, and website marketing services. It's one of the oldest, but most stable and reliable hosting services in the industry.
FatCow offers a free domain name for your website, unlimited email accounts, and loads of website templates. It's easy to build and go live with your website with this hosting provider.
One of the things that grabbed my attention about this company is its reliable and super customer support. They strive to provide fast support when you need it.
Page loading speed and affordable hosting plans are two more great things about FatCow.
Hostnine Sales for Black Friday & Cyber Monday
Hostnine
Web hosting, Reseller, VPS, and Dedicated hosting…
Access to cPanel
Softaculous installer
Supports Perl 5, Ruby on Rails, and PHP 5
Hostnine was founded in 2006 and is known for its dynamic system that makes things easier for you. Another special thing about this company is that it's always looking to enhance their offerings and stay ahead of their competition.
Something that really impressed me about Hostnine is its superior and professional 24/7 customer service that is open day and night. This provider is secure and safe and has an in house backup program that maintains your content and keeps your data safe.
You can see their Black Friday offerings online and enjoy a 45-day money-back guarantee. Also, the site loading speed is fast.
HostPapa Deals for Black Friday & Cyber Monday
HostPapa
Powerful hosting at an affordable price…
Free domain
Unlimited bandwidth
Unlimited disk space
The beginning of HostPapa's adventure in web hosting began in 2006. As it grew, it gained popularity in various parts of the globe. Its affordable pricing and dynamic services play a role in its popularity. In my opinion, it's a good solution or small businesses that are seeking an affordable web hosting option.
Even though the cost is affordable, you should expect fast page loading and easy to use tools and control panel. They have a professional and knowledgeable customer support team that is ready to handle your issue or answer your question 24/7 through phone calls, chat, and even their support ticketing system.
You also get a free domain transfer and free website migration.
TMD Hosting Sales Black Friday & Cyber Monday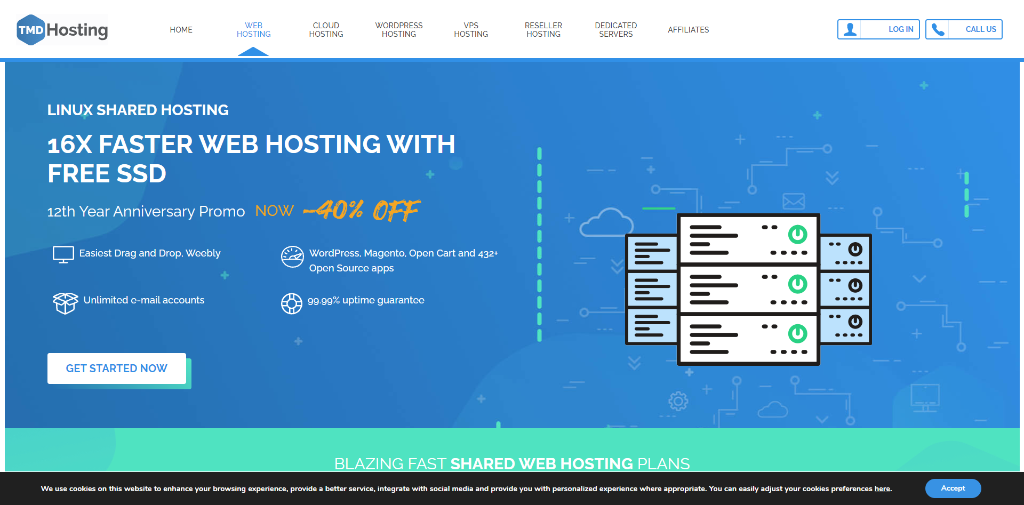 TMD Hosting
Fast loading time and…
Free Cloudflare CDN
24/7/365 tech support
Unlimited SpamExperts
In 2007, the TMD Hosting service launched and made a big splash in the web hosting industry by offering great service alongside of top-notch technologies, plus the ideal balance of dynamic features.
I quickly learned that the network was stable and offers a 99.98% uptime because it's constantly monitored by its expert team. The loading time for web pages is also quite fast.
With 7 data center locations, your website is part of a stable and seamless environment. It includes security, regular updates, amazing customer service and support, and daily backups. Customer support is on the ready with 24/7 options via phone, chat, and support tickets.
The deals are hot for Black Friday on TMD Hosting.
Hostwinds Sales for Black Friday & Cyber Monday
Hostwinds
Customer-centric web hosting…
Softaculous auto-installation
Free website transfers
Instant setup
It took a 20-year-old man to develop and launch Hostwinds in 2010. This service is known for delivering superb web hosting services. They offer the best options in plans for VPS hosting, Shared hosting, and Dedicated servers, plus much more. You simply choose the one that fits your budget and needs.
Your uptime is 99.99%, so that your site can run smoothly. They have a super customer support team that can assist you 24/7 from your phone, via support ticket, or though live chat. You will find some nice sales here for Black Friday.
FastComet Deals for Black Friday & Cyber Monday
Fast Comet
Managed cloud hosting and…
45-day money-back guarantee
Drag-and-drop website builder
24/7 customer support and step-by-step tutorials
Beginner-friendly web hosting is what you can expect from FastComet. I often recommend this hosting provider to my newbie friends. Not only that, but even my most geeky friends will like FastComet.
I know a bit about this provider, since I did have an account with this company at the beginning of my blogging career. I will say it's excellent for beginners.
This company offers advanced cloud hosting, they call FastCloud which has features like 24/7 professional support and 10 global data centers. This is a managed hosting provider that handles everything for you including getting your site setup to optimizing your site.
If you aren't happy with your services on FastComet, you can activate the 45-day money-back guarantee. You also get Cloudflare integration and free website transfer.
InterServer Sales for Black Friday & Cyber Monday
InterServer
Fast, reliable managed cloud hosting…
Unlimited transfer and storage
406 one-click installation scripts
Cloud-based hosting options
Launched in 1999, InterServer has since hit the ground running with its advanced options and affordable pricing. Something that I like about this web hosting service is its fast loading for pages via Global CDN, SSD storage, and inter-proxy caching.
It also has an easy to handle control panel that offer about 461 apps that you can install with one click when you are ready. Also, you will have a secure environment with features such as Auto Virus Scanner and Machine Learning Firewall. You can also create unlimited email accounts for each web hosting plan you purchase.
Best Managed WordPress Hosting Black Friday Deals
Bluehost is my pick for the best value for your money in managed WordPress hosting. The Black Friday sales give you a leg up with lower pricing for you to get started before the holidays.
My number one pick for shared hosting deals for Black Friday is Bluehost. They are currently offering seriously deep discounts on their superior web hosting and other offerings.
FAQs
What are Black Friday Deals for Web Hosting?
Black Friday is the day after Thanksgiving. This is when the biggest annual holiday sales happen. It's a good way to get the best deal on web hosting.
What are Cyber Monday Deals for Web Hosting?
Cyber Monday is the Monday after Black Friday and is exclusively designed for online deals for the day. This is when you will get the year's best prices on web hosting.
Final Thoughts
The above web hosting deals are set to be the best on the web for Black Friday and Cyber Monday. These are companies that I can confidently say have features that are reliable, stable, and dynamic for blogging, business sites, and more.
Every one of these web hosting providers are offering big savings, discounts, and special perks for select plans and features.
I am happy to recommend these to you for your consideration when you are ready to get started on your blog. I have had experience with several of these web hosting platforms, so I bring knowledge to the table related to these hosting providers.
If you're planning on making money with your blog, I also recommend that you get started right away because the holidays are coming up fast and that's the best time to get exposure to your blog or website.