Recently, BigCommerce announced BigCommerce for WordPress, a feature-rich integration that combines the flexibility of WordPress as a CMS with BigCommerce's catalog management and ecommerce engine. This is an exciting new option which will appeal to many ecommerce site owners who also want the flexibility of the WordPress CMS. With this in mind we thought it would be useful to provide a comparison of BigCommerce's WordPress integration with WooCommerce as the incumbent eCommerce solution for WordPress.
We'll start off by taking a look at the common WooCommerce solution, and see how it compares to BigCommerce. We'll compare and contrast the benefits and capabilities of a hosted ecommerce solution like BigCommerce vs the self hosted WooCommerce. They both have pros and cons, and we hope that this article will help you assess which is best for you.
WooCommerce vs. BigCommerce

WooCommerce and BigCommerce are two of the most popular e-commerce solutions. WooCommerce is a self-hosted plugin which offers a great deal of flexibility, while BigCommerce is a hosted platform that comes with everything you need to set up and operate an online store right out of the box.
WooCommerce
WooCommerce is a plugin for the WordPress content management system (CMS). What this means is that in order to get your online store up and running on WooCommerce, you'll first need to purchase hosting, install the WordPress CMS, and then install the WooCommerce plugin to your WordPress website. Since you have to purchase hosting, this is a self-hosted option.
The free WooCommerce plugin gives you all of the basic e-commerce functionality. You're in charge of building your e-commerce website, confirguring all the options and setting up all the functionality you need by installing additional plugins to your WordPress website.
For instance, if you want to offer additional payment gateways, you'll have to search for a plugin that offers the functionality you're looking for and add it to your website. Some of these plugins are available for free while others are premium offerings.
Pros
You get complete control over your online store, so you can customize it to your hearts delight.
Only have to pay for hosting and any premium themes/plugins/add-ons you add to your website. The basic WooCommerce catalog and cart plugin is free to use.
You can switch hosting providers and plans whenever you want.
Cons
You have to manage and maintain your online store by yourself or hire a developer. This is the flip side to total control…total responsibility for maintaining all your security, updates and functionality etc.
Might have to purchase CDN, SSL certificates, etc… if they don't come with your hosting plan.
BigCommerce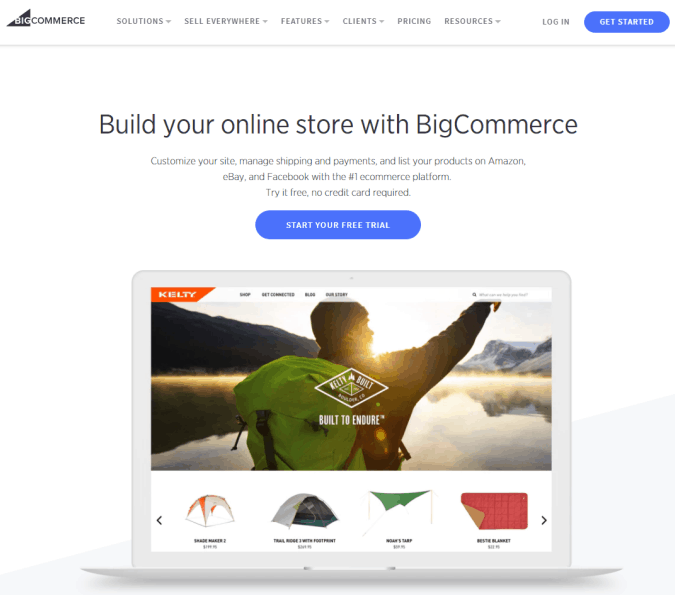 BigCommerce, on the other hand, is a hosted e-commerce platform. It takes all of the elements of an e-commerce store (such as hosting, shopping cart, design, catalog management, payment processors, etc…) and bundles it up into software that you can subscribe to. This is also called Commerce-as-a-Service.
The neat thing about BigCommerce is that it comes with everything you could need to operate your online store.
The BigCommerce App Store and Theme Store offer free and premium apps, integrations, and themes that you can add to your BigCommerce-powered online store to get access to advanced features.
Pros
Easy to get started with and maintain. You don't have to worry about complex configuration or maintenance. And any upgrades just happen automatically without you needing to do anything. For example, integrating with Amazon (or a host of other 3PL providers) for fulfillment and Facebook for a FB shop are all standard features.
You get CDN and SSL certificates included in the bundle.
Cons
Don't have access to your server.
You have to comply with BigCommerce's terms and conditions (Is this really a con?)
So, with BigCommerce, you pay the subscription fee and you get access to everything that's included in the bundle. And with WooCommerce, you have the flexibility to extend its functionality through custom code, plugins, and add-ons.
Now that we have a clear understanding of the pros and cons of using WooCommerce and BigCommerce, let's take a look at some of the key benefits of using BigCommerce specifically for WordPress.
Combine BigCommerce for eCommerce and WordPress for Content
BigCommerce is one of the industry's leading hosted e-commerce platforms for both growing and established brands.
Meanwhile the WordPress CMS powers millions of online businesses around the world (as of this writing it holds a market share of 59.8%), and offers the ultimate in flexibility for content management, SEO and marketing.
Combined WordPress and BigCommerce provide a killer combination which gives you the freedom to focus on product and marketing while BigCommerce handles the complex technical business of managing the catalog, shopping cart, payment gateways, logistics and fulfillment, and 3rd party channel integrations.
Let's take a look at some of the key benefits of using the most popular content management system with the best cloud-based e-commerce platform in tandem…
Why Use WordPress and BigCommerce together?
World Class Content Management System

There is simply no denying that WordPress is the world's favorite CMS, and for good reason. It is simple, intuitive and has a massive ecosystem of themes, plugins and developers unrivaled by any other CMS. If can think of a feature you would like on your site, it has almost certainly already been developed and is available as a plugin from a 3rd party.

WordPress has succeeded in large part because it is so easy to use, even for non-technical site owners. That said, the big ecosystem also means it is easy to find highly qualified developers to help you with your site if need be.

Headless E-Commerce Solution

BigCommerce's new headless Commerce-as-a-Service offering and integration with WordPress gives users the option to scale their e-commerce initiatives. It enables developers to combine the flexibility, customizability, and robustness of WordPress with BigCommerce's feature-rich, scalable e-commerce engine.

What this essentially means is that you can deliver e-commerce experiences to your customers through your WordPress website and manage e-commerce related tasks (such as catalog management and processing payments) through BigCommerce. Since your site's e-commerce functionality is centrally managed through BigCommerce, it improves your online store's performance and reduces back-end bloat.

Hosted E-Commerce Platform

BigCommerce is a hosted e-commerce platform which means that you don't have to worry about managing or maintaining it. What's more is that hosted e-commerce platforms are generally more secure. BigCommerce takes care of managing and maintaining your online store with Level 1 PCI-compliant hosting.

It comes with unlimited bandwidth, shared SSL certificate, and a content delivery network. Having site-wide HTTPS enabled helps build trust with customers and, as a result, increase conversion rates and search engine rankings.

That said, it's important to note that the BigCommerce for WordPress integration comes in the form of an extendible WordPress plugin. While the BigCommerce module of your online store will be hosted, you will still have to find a hosting provider for the WordPress part of your website.

Native Integrations and E-Commerce APIs

BigCommerce allows you to choose from a number of third-party applications and integrations to connect with your online store. Its apps and integrations marketplace includes:

Marketing and conversion apps.
Shipping apps.
ERP integrations.
CRM apps.
Accounting and tax apps.

Some apps are free while others charge a recurring monthly fee. You have the option to connect your store with the apps and integrations you need for your online store.

In addition to this, you're able to scale your online store by adding custom functionality to it using BigCommerce's open APIs and webhooks. It features a RESTful architecture which means you have the flexibility to code in whichever language you'd like.

Sell Everywhere

One of the best things about BigCommerce is that it lets you put your products in front of millions of people by leveraging popular social platforms (like Facebook and Instagram) and marketplaces (such as eBay and Amazon).

For instance, when you connect your site's catalog with Facebook, you can set up dynamic advertising and a mobile-friendly Facebook store that integrates seamlessly with your e-commerce store. And the Facebook Ads extension helps you create targeted ads using your product catalog so you get your products in front of the right people.

BigCommerce also gives you the option to list your products on Amazon and give you commerce features like centralized inventory, order processing, and order fulfillment through Fulfillment by Amazon (FBA).

Advanced E-Commerce Features

BigCommerce's e-commerce engine gives you commerce features right out of the box. You don't need to code or install additional third-party apps to build complex catalogs. BigCommerce offers custom order status messages, real-time shipping calculations, support for 600 SKUs per product, and label printing.

Simply put, the BigCommerce plugin for WordPress takes the heavy-lifting out of e-commerce functionality giving you the freedom to scale your online business without experiencing plugin bloat or downtime.

Easy Payment Gateways

BigCommerce offers the lowest, pre-negotiated credit card processing rates for Commerce-as-a-Solution to all of their customers. In addition to this, you also get competitive card rates with PayPal (powered by Braintree).

You can also use BigCommerce to grow mobile conversions by allowing customers to pay through digital wallets such as Apple Pay and Amazon Pay. It also gives you the option to offer your customers alternative payment options such as financing, invoicing, and installment payments.

What's more is that BigCommerce's payment options enable you to cater to a global audience by allowing customers to transact globally without unnecessary transaction fees. It comes with multiple layers of protection against fraud and shields you from chargeback fees and lost revenues.

E-Commerce Analytics and Insights

BigCommerce's Ecommerce Analytics feature lets store owners track their store's performance. It gives you access to extensive customer data which you can use to target customers, create market segments, and drive sales. The analytics report includes information about sales channels, orders, average order value, conversion rates, and much more.

And with its premium Ecommerce Insights feature, you can choose to get actionable analysis reports about your online store, products, customers, and marketing.
Conclusion
BigCommerce for WordPress is a match made in heaven.
The integration enables you to use the most flexible and easy to develop for CMS while you have one of the most powerful, enterprise-grade, hosted e-commerce engines to power your store's e-commerce capabilities. And because it is hosted you don't have to worry about platform technology, maintenance or upgrades…that's all taken care of.
We shared some of the key benefits of powering your WordPress-based website with BigCommerce's commerce engine and, hopefully, you're in a good position to take things further yourself.