Article Quick Links:
How many online memberships and subscriptions – paid and unpaid – do you think you might have? A dozen? Thirty? More than 100?
Members-only areas are becoming increasingly popular on the web, and can prove invaluable for businesses and bloggers looking to generate more income online, gather more information about their readers, or provide a more valuable experience for their existing customers.

NB: Want to create a client area rather than members area? Check out our post, Client Area Plugins for Your WordPress Website.
Why Create a Members-Only Area?
There are a number of reasons for wanting to create a members-only area on your website or blog. If you're creating a business website, you might want to offer a value-add to your existing customers and clients by keeping premium content on your website – such as video tutorials – for their eyes only in an extranet which only they can access.
If your website caters to members of a club, sporting group, alumni class or similar organisation, keeping content restricted to members maintains exclusivity. Incidentally Themerex has a great selection of extranet (and intranet) themes to choose from.
On the other hand, if you have an existing website or blog you're looking to monetise, creating a paid membership option and offering premium content and private member forums to paying subscribers is a popular means of making some serious cash from your online project.
The premium content you offer may be in the form of videos, downloads, presentations, podcasts, documents or eBooks – which you may release teaser content and snippets of as a means of encouraging unpaid members to sign up.

Of course, encouraging your readers to become members might have nothing to do with money at all. If you want to boost your subscriber list and gather more information about your users for product research or development, or for future sales leads, offering free membership is also an excellent option.
Following are the best premium and free WordPress membership plugins to add a membership component to your WordPress website…
Premium Membership Plugins
1. WishList Member
WishList Member is used by more than 50,000 online communities and membership sites around the world, and has the power to transform any existing WordPress website or blog into a powerful membership site.
Key features include:
Simple installation and member management
Unlimited membership levels and flexible membership options
Sequential content delivery, enabling you to automatically upgrade members from a free trial to the next membership option
Content control, including the ability to create modular memberships and give content access to segmented membership levels
Shopping cart integration with ecommerce systems including ClickBank, PayPal, InfusionSoft and more.
Addition features include subscription length control, partial and sneak peek content display and teasers, custom error messages, secure RSS feeds, login redirection and more.
The WishList Member WordPress membership plugin is available for a one-off payment, at a cost of $97 for a single site license, or $297 for a multi-site license.
2. MemberMouse
Member Mouse WordPress membership plugin enables you to sell products, subscriptions and memberships, set up password protected members areas, manage customers and track metrics, automate customer service, and more.
Key features include:
Payment integration with powerful ecommerce platforms including Stripe, Braintree, PayPal, Authorize.net and more
International currency integration and overdue payment handling
Email integration with MailChimp, AWeber, iContact and GetResponse
Group functionality, allowing one member to pay and secure a certain number of spots, such as for consultants and agencies
Customer account self-service, so members can update their information
Additional features include 1-click upsells to maximise revenue, trial offers and coupons, gifting functionality, time release and drip-feed content management, extensive shortcode library for dynamic site functionality without complex coding.
MemberMouse is available monthly subscription cost basis, starting from $19.95 per month for their Starter package (for up to 1000 members). There are a number of subscription plans available, right through to their Professional package for unlimited members at a cost of $599 per month.
3. Magic Members
With a focus on simplicity and intuitiveness, Magic Members WordPress membership plugin enables you to use your existing content to build a membership site.
Key features include:
Payment gateway integrations with PayPal, eWay, Stripe, and more
Pay per post access, which offers the flexibility to allow free subscriptions to purchase content on a per-post basis
AutoResponder integration with MailChimp, iContact, AWeber and more
Download manager, which protects downloads from being accessed by unauthorized users, and provides the ability to assign different permission levels to different subscribers
Sequential course delivery system, which is particularly useful if your members are being served course content on a drip-feed basis (weekly or monthly).
Category protection, allowing you to assign membership access to particular categories
Additional features include easy set up and installation, simple member management, custom post type support, coupon creation and management, subscription length control, forum integrations, custom widgets, flexible membership options, partial content display for teasers, and S3 Amazon support.
Magic Members plugin is available for a one-off payment, starting from $97 for a single user. Other options include a 3-user plan for $197, and unlimited users for $207.
4. Restrict Content Pro
Restrict Content Pro is a complete membership and premium content manager plugin for WordPress, allowing you to create an unlimited number of memberships levels, including free, trial and premium.
Key features include:
Member and subscription management
Payment tracking
The ability to offer discounts with a complete discount code system
Members-only content options
Unlimited subscription packages
Restrict Content Pro includes support for Stripe, PayPal, and Braintree, for simple integrated payment options, as well as earnings and sign up analytics.
Restrict Content Pro is available with single-site, multi-site and unlimited site access, starting from $42. Specific Restrict Content Plugins are subject to a yearly license for support and updates.

Free WordPress Membership Plugins
There are many tools available via the WordPress plugin directory to help you create restricted member access, and registration and login pages. These are five of the top free member-access / WordPress membership plugins currently available.
1. s2Member
s2Member is a WordPress membership plugin integrating with PayPal, to offer access to designated member-only content, posts and pages to paid members.
s2Member supports up to four primary membership levels, as well as custom capabilities to create membership packages. This plugin has an average user rating of 4.4/5 stars and has been downloaded more than 469,000 times.
2. Maven Member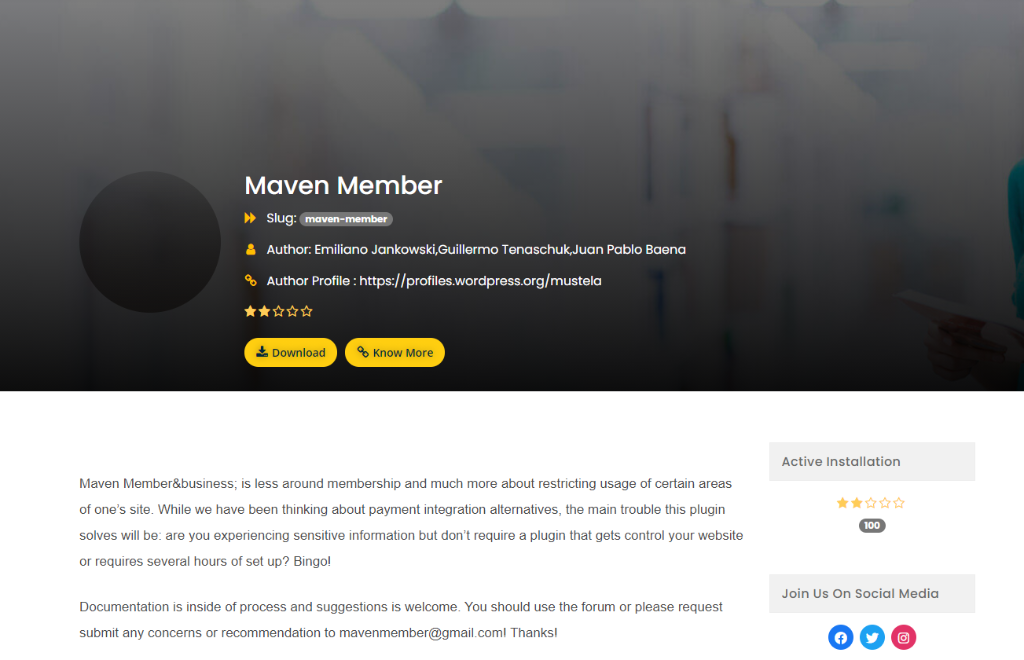 Maven Member allows you to protect and restrict access to pages, posts and categories on your WordPress website, as well as create your own custom registration form, and customise templates for login and registration.
This plugin has an average user rating of 4/5 stars and has been downloaded more than 12,000 times.
3. WP-Members
WP-Members is a powerful membership management plugin, working to restrict content access to registered users. You can also create some special pages with simple shortcodes, including a user profile page, registration page, and login page.
This plugin has an average user rating of 4.2/5 stars, and has been downloaded more than 322,000 times.
4. WordPress Access Control
WordPress Access Control allows you to restrict pages, posts, custom post types and more to members, as well as customise search pages to hide restricted posts or pages from search results to non-logged in members.
This plugin has an average user rating of 4.5/5 stars and has been downloaded more than 49,000 times.
5. Member Access
Member Access allows you to make individual posts and pages on your WordPress website accessible only to logged-in members. This WP members-only plugin has an average user rating of 4.3/5 stars, and has been downloaded more than 100,000 times.
Final Thoughts
Do you currently offer members-only pages and content on your WordPress website or blog? What WordPress membership plugin or tool do you use?