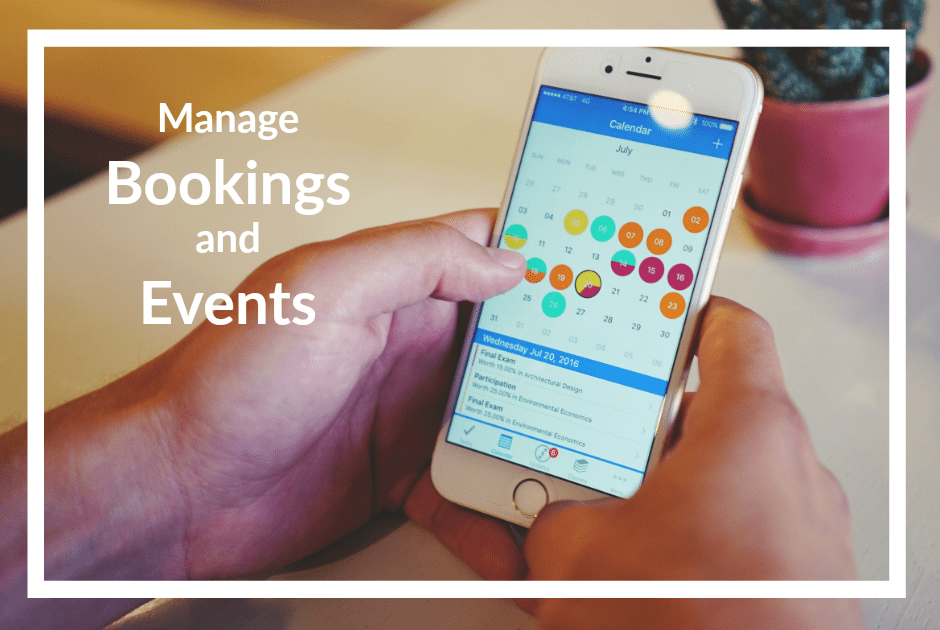 Whether you're looking to promote events, manage online reservations and bookings, or keep your business schedule organized with a shared team calendar, there are a wide range of free and premium options available.
We've compiled a handy overview of some of the highest ranking (based on popularity and user ratings) WordPress calendar plugins that are well worth adding to your shortlist.
Best Premium WordPress Calendar Plugins
These premium WordPress Calendar Plugins are some of the best selling plugins on the market.
For Events: EventOn
Listed as CodeCanyon's #1 best-selling event calendar plugin, EventOn features a sleek and sophisticated minimal design and a slew of useful features, including an interactive shortcode generator to make it super easy to customize your calendar options.
Set your events to repeat daily, weekly, monthly or yearly, add event images and expandable details, and assign your events a category to make searching even easier. This slick plugin is responsive, offers Font Awesome Integration, and even allows your users to add your events to their Google Calendar, Outlook, or iCal.
There are so many more great features and integrations included, so be sure to check it out for yourself!
EventOn has an average user rating of 4.4/5 stars and is available on a Regular License for just $24. Check out the live demo to see it in action.
For Services: Bookly Booking Plugin
Designed to make the booking process simple, smart and fast, Bookly is an automated booking and scheduling plugin complete with WooCommerce Integration and Google Calendar synchronization.
Responsive for use on mobile devices, Bookly features a user-friendly and touch-optimized design with gesture support, and offers the ability to send email and test reminders and notifications. Create your own custom fields, accept online payments, manage and edit appointments directly from your admin area, and much more.
Bookly has an average user rating of 4.6/5 stars and is available on a Regular License for $59. Head to the live preview now to see if Bookly is right for you.
For Reservations: HBook
HBook has been designed for those in the hotel and accommodation sector in mind – allowing you to easily and effectively take online reservations (and payments) via your WordPress website.
Offering PayPal and Stripe integration, you can add availability calendars, table rates and booking forms on your website in seconds – then manage your bookings straight from the WordPress admin. You can even synchronize your bookings with third party sites such as AirBnB, and offer discounts when bookings meet set criteria.
HBook has an average user rating of 4.8/5 stars and is available on a Regular License for $39. Launch one of the four live demos to discover the endless combinations of settings that makes HBook so versatile.
For Content: Strive
If you blog regularly on your site, an excellent calendar plugin to add is Strive.
The Strive Content Calendar plugin will help you plan your posts with its responsive visual calendar. You can add new posts or insert existing drafts, make small edits to your posts, and reschedule them with drag-and-drop. Unlike the Posts menu, the calendar makes it easy to see if you have posts scheduled according to your planned schedule.
Strive also includes a few other features for bloggers, such as post statuses, custom post checklists, revisions for republishing posts, and a Pipeline view for managing all unscheduled drafts.
Best FREE WordPress Calendar Plugins
These FREE WordPress Calendar Plugins are among the WordPress Plugin Directory's most highly rated and popular…
For (more) Events: The Events Calendar
Looking for an events calendar plugin packed with premium quality features without the premium price tag? The Events Calendar delivers on that – making it the WordPress Plugin Directory's most popular calendar option, boasting 500,000+ active installs.
Extensible, easy to use, and completely customizable, this plugin is packed with loads of useful features including Google Calendar and iCal exporting, Google Maps integration, multiple view options, a responsive design, and much more.
The Events Calendar is maintained regularly (last updated 1 week ago) and has an average user rating of 4.5/5 stars.
For Bookings: Booking Calendar
Booking Calendar is one of the most tried and true calendar plugins in the WordPress Plugin Directory, having been used by WP users looking to enable online bookings for services since 2009. Trusted by more than 40,000 active users, Booking Calendar features an intuitive interface and flexible functionality, and is regularly maintained (last updated 2 months ago).
Using this no-fuss calendar plugin, your users will be able to check your availabilities and then fill in a customizable booking form. You can then approve or decline their reservation in the simple to use admin booking panel, from which you can also view and manage all future bookings.
Booking Calendar is great for resource scheduling, equipment hire, client and meeting scheduling, and more, and has an average user rating of 4.5/5 stars.
For Content: Editorial Calendar
Looking for a calendar plugin that's more for internal use, to help you and your team maintain a steady flow of great content on your website or blog? Well, 50,000+ active WordPress users can't be wrong! They've chosen Editorial Calendar to keep their content flow in check, and have given this FREE option a handsome rating thanks to its simple and effective usability.
Editorial Calendar offers a drag and drop interface to move posts, edit posts right in the calendar, and manage your entire blog. Quick-edit post titles, contents, and times, manage your drafts, manage posts from multiple authors, and much more.
Available from the WordPress Plugin Directory, Editorial Calendar has a 5/5 star average user rating and was last updated 6 months ago.