In a hurry?
The best free crypto trading bot in 2023, as found in our independent testing, is Pionex!
---
Cryptocurrency is defining a new era of currency transactions.
More and more people are realizing its potential and hence willing to trade consistently.
But it's easier said than done.
Most people don't understand the ergonomics of successful trades and have little to no idea in which exchanges they should invest.
To solve this problem, free crypto trading bots have come into play.
They not only provide an organized path for beginners but also offer powerful settings for the power users.
Best Free Crypto Trading Bots in 2023
In this article, we'll discuss the best free crypto trading bots that you can use in 2023.
Let's get started.
Key Features
Automated free crypto trading bots
Pionex offers you 9 automated FREE crypto trading bots:
GRID Bot: Grid bots are great when you need to generate profits from fluctuated markets. The process is simple. You need to set a range and the bot will ensure you're buying low and selling high within the region.
Infinity Grids Bot: This bot is helpful when you miss the tending profit when there is a price pump. Although it works exactly like the GRID Bot, you're going to notice a relatively low portion of the funds.
Leveraged Grid Bot: The Leveraged Grid Bot comes with a loan feature. This means you can earn more profit from your principal. There's also some room for liquidation.
Margin Grid Bot: This bot allows you to choose LONG and SHORT with the collateral, not including the Grid Bot.
Reverse Grid Bot: By using this bot, you can increase your quote amount. It will sell your Bitcoin at higher prices and repurchase them when low.
Leveraged Reverse Grid Bot: This bot is a combination of the Reverse Grid Bot with a crypto-loan feature. You can also earn more using the leverage.
DCA Bot: The Dollar-Cost Averaging bot comes with a feature that allows you to set the period of your plan and the bot helps you to DCS.
Trailing Take Profit Bot: You can use the TTP bot for scalping when there's volatility in the market.
TWAP Bot: This bot helps you sell bags within a period.
0.05% Trading Fee
Pionex is a market maker by aggregating liquidity from Binance and Huobi exchanges.
This is the reason Pionex charges the lowest trading fee of 0.05% from its users.
Mobile Application
Pionex has a mobile application with the best UX compared to its alternatives. It works smoothly without glitches and offers constant updates to stay at the top of the game.
World-Class Security
BitUniverse team, which is an all-in-one crypto trading bot app in South Korea, Indonesia, and Taiwan, is behind the Pionex bot.
This means Pionex is extremely safe and uses high-level encryption to regulate transactions.
Also, the U.S. FinCEN's MSA Licence has granted Pionex to operate.
Key Features
Portfolio Tracking
Tracking is critical to understand your growth.
This's why Bitsgap helps its customers track their crypto portfolio.
You can track your holdings, ROI, open orders, history, and positions.
There's also an option to filter your portfolio if you're trading in more than one crypto exchange.
Back Testing
This feature optimizes the pre-configured bots for a bull and a bear market.
Here, Bitsgap utilizes machine learning to analyze historical data and takes actions to make maximum profits.
This means the risks are also reduced.
Terminal for Trading
Crypto trading depends on several factors, including liquidity.
But keeping up with all the factors is tiring. This is where Bitsgap offers you the trading terminal. It is a single interface that allows you to trade on multiple crypto exchanges.
With the terminal, you get several trading tools like take profit, shadow orders, limit market, and stop-loss to help you make the most of your market orders.
Demo Exchanges
When using a trading bot, people get confused about the functionalities of various tools that the bot offers.
Bitsgap knows this and hence offers a feature called "The Demo" where customers can use all the tools on Bitsgap.
Brilliantly Secure
Bitsgap is brilliantly secure for trading because deposits are never really made on the platform.
This means Bitsgap has no method to access the fund of its customers.
Also, customers connect their accounts using API keys of the exchanges which are secured by a 2048-bit encryption.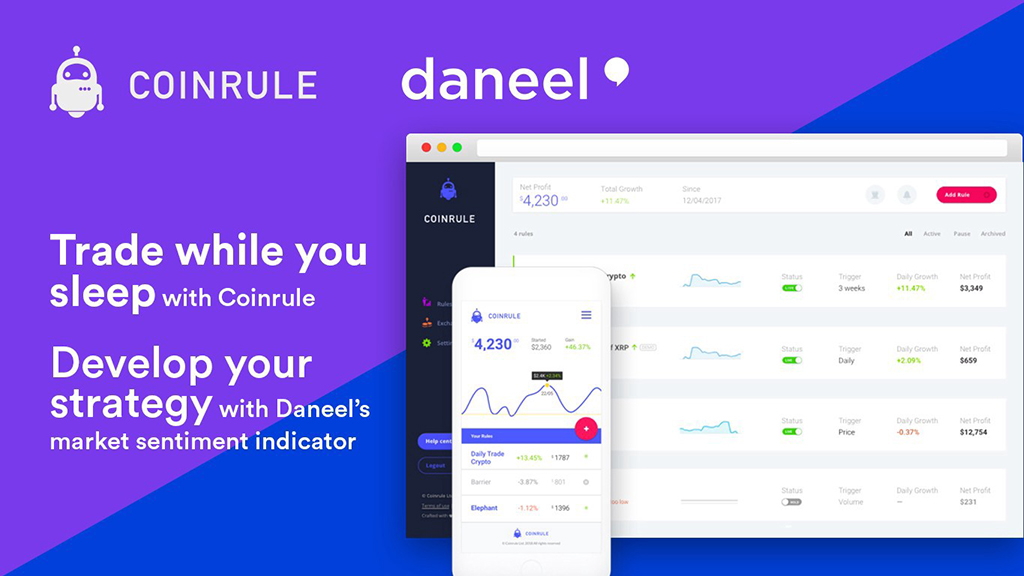 Key Features
Demo Exchange
The more you experiment, the more sure you become of the strategies you want to apply in the market.
Most people don't understand this and end up applying pre-mature strategies and complain when they fail.
Hence, before entering the market you need to test your strategies. Coinrule helps you do this with its crypto trading simulator.
You can change the rules you set in to test whether they are making you more profits. Also, all the rules in the demo platform will run in paper trading in Binance.
This means you are free to use all the coins available on Binance (10 BTC and 100 ETH).
Trading Templates
With Coinrule you get tons of several pre-built strategy templates based on the plan you have purchased.
These templates are a great way to get started with strategies and have built-in parameters for each strategy.
For example, you get templates like portfolio take profit and re-buy, buy the dips with stop loss, accumulate with a take profit, range trading, Golden Cross Trading, and RSI-based strategies.
Security
Coinrule is ultra-secure and uses TLS 1.2 or higher to encrypt all the communication between the app, database, and cache nodes.
You get a dedicated private key, and they never store passwords.
The API keys also use advanced security protocols.
Customer Support
Coinrule provides you with a Help Centre that contains guides and videos to help you use the platform.
As per customer support is concerned, Coinrule has a live chat feature. You can mail them, and they even have a YouTube channel. Finally, you can contact them via Twitter.
Key Features
Trading Bots
Quadency offers several crypto trading bots to its customers in its pro plan. These bots are simple to use and allow you to code if you have a specific requirement.
Grid trading bot: This bot uses the Grid strategy to make profits from the market's volatility. It places multiple purchases and sets limit orders on grid lines around the current price. And with the fluctuation of price within the grid, orders are automatically replaced.
Market maker bot: The Market maker bot places two simultaneous limit orders to buy low and sell high. It uses a strategy called market making to automatically place new orders when both orders are filled or stop-loss is triggered.
Portfolio re-balancer: This bot does exactly as its name indicates: It diversifies your portfolio. Here you can allocate assets which the bot liquidates and purchases. You can even sell multiple assets into a single asset.
TradingView Bot: This bot helps you execute your custom strategy by defining alert signals using Webhooks.
Smart Order: This bot helps you place smart orders with fixed stop-loss and profit target. It monitors your stop-loss using hidden orders and stops automatically when the position is closed.
MACD: With this bot, you can buy assets when the MACD line crosses above the signal line and sells it when below.
Multi-level RSI: This bot helps you accumulate assets when it dips below defined RSI levels. You can even buy more when the price drops and sell when the stop loss level is reached.
Mean Reversion: Mean Reversion buys an asset when the price is below the "oversold" RSI level and sells when above the "overbought" level.
Accumulator: The accumulator bot accumulates an asset over time at a specific price.
Own crypto trading bot
Quadency allows you to build your bots by coding in Python language.
There's an option to create event-based or cancel-based algorithms for a multi-exchange strategy.
All in One Dashboard
Quadency has an all-in-one dashboard to track your portfolio.
You can track linked exchanges, open orders, history, transfer, and allocations.
Key Features
Easy to Use
TradeSanta is super easy to use.
Its interface has a user-friendly UI where all the settings, features, and strategies are brilliantly organized.
So, if you are a beginner, TradeSanta has got you covered.
In fact, users who know basic computer functions can fly with TradeSanta.
You also get a tutorial section carefully designed to serve every segment of users.
Strategies and Settings
With TradeSanta, you get a plethora of strategies and settings to choose from.
There is a trade filter, a Volume filter and a Bollinger signal.
Extra Orders: With this strategy, you can easily purchase or sell cryptocurrency even when your market predictions fail.
You also have several pre-defined templates at your disposal that let you select from different strategies. You can even tweak them and set up indicators based on your requirements.
Long and Short Orders: These orders follow market trends and execute transactions based on preset strategies.
Again, all these features are easy to execute.
Security
TradeSanta connects with exchanges through APIs. This means you have all the control. TradeSanta can't deal with your transactions and withdrawals unless you allow them to.
They also implement two-factor authentication (2FA) to protect your account where you need to verify yourself every time you try to log in from a unique device.
Exchanges Supported
TradeSanta currently works with Binance, Bitfinex, Bittrex, and HitBTC. It also claims to add BitMEX, Huobi, and OKEX to its list in the future.
Customer Support
The customer support is reliable and works through online mode. You can be assured that they'll solve your issues without delay.
Key Features
Social Portfolio Management
With this feature, you can easily copy, discuss strategies with leading traders.
You can also automate their portfolios.
Shrimpy offers you several features like rebalancing, dollar-cost averaging, and stop-loss for portfolio automation.
This's great because even if you're just getting started, you'll learn from the experts.
All you need to do is click on "Activate" on a leader's portfolio and Shrimpy will start copying the strategies.
Suppose you don't like any portfolios. What then? In such a case, Shrimpy gives you the liberty to discuss with leaders and access their assets.
Hence, Shrimpy is beginner-friendly.
Portfolio Tracking & Automation
Shrimpy allows you to track your portfolio with its organized dashboard. Here, you can manage and track all the assets you own.
The best part of the dashboard is the ability to switch across various exchanges to sell them.
Another useful feature of the dashboard is the option to spilt your exchanges into multiple portfolios.
This's a great way to stay organized and automate your exchanges individually.
Shrimpy also maintains a History tab of the discrete events occurring on your portfolio.
These events give information about your overall strategy, rebalances, and trading events.
APIs
Shrimpy supports developer API products, which means you can build portfolio management applications, crypto trading bots, and trackers.
The best part is you don't have to write major codes to achieve this.
Exchanges Supported
Shrimpy currently supports the following exchanges: Binance, KuCoin, Bittrex, Coinbase Pro, Binance US, Bittrex Global, Kraken, Poloniex, Gemini, Bibox, BitMart, Huobi Global, HitBTC, OKEx, Bitstamp, and Bitfinex.
7. Trality
Key Features
Code Editor Aka Bot Creator
When trading with a bot, you don't want to get limited with the actions; you want the bot to perform. This is critical because the market is always changing and so should your strategies to tackle the shifts.
Hence, a bot that can suit to market you invest in becomes crucial to your success. Unlike its alternatives, Trality provides you with a code editor for bot creation.
You can code with python to write complex codes with top security. The Code Editor is also compatible with widely used libraries like NumPy, Pandas, Tulip, TAlib, etc.
Not only this, you can even use pre-defined crypto trading bot templates to get started.
Rule Builder
With Trality you get a Rule Builder, which is an interface for people who don't know how to code.
It is a Drag and Drop tool where you can create bots using Boolean logic.
To help users get started, Trality also offers several pre-defined strategies for customisation.
BackTesting
Back-testing allows you to test your bot with various strategies to help customize it for different market conditions.
Trality's Back-testing tools work smoothly and analyze tons of historical data to execute the process.
You can even store the backtest history to switch back to original settings.
24/7 Cloud-Trading
Trality has an all-in-one interface where you can create, backtest, and develop bots. This is because
8. Cryptohopper
Key Features
Technology
Automation on Cryptohopper takes place through API integrations over several cryptocurrency exchanges and works on any device connected to the internet.
Exchange Integration
A crypto trading bot must support as many exchanges as possible.
Naturally, people trade with unique exchanges and hence require their bot to support all the exchanges available in the market.
Cryptohopper currently supports nine exchanges: Binance, Bitfinex, Bittrex, Coinbase Pro, Cryptopia, Huobi, Kraken, Kucoin, and Poloniex.
MarketPlace
Cryptohopper has a remarkable dashboard that gives you access to their marketplace.
This allows you to set trading strategies for your crypto trading bots. The marketplace helps both experts and beginners.
Experts can create templates and sell them, whereas beginners can use "Plug & play" strategies created by experienced ones.
Customer Support
The customer support team of Cryptohopper is always available to help you solve your problems.
You can raise a support ticket in the support section or simply reach out to them via their official Twitter handle.
The support section also features a FAQ section to help customers find answers to general questions.
There's even a video library to help users navigate the platform.
Tools
Cryptohopper offers several amazing tools to its customers.
You have the freedom to use features like back-testing tool, configurable and saveable templates, customisable technical indicators.
You can even rely on indicators like Stock, RSI, MACD and Bollinger Bands.
9. Mudrex
Key Features
Which Bot to Invest In
Often beginners get confused about which bot to invest in.
This's might not seem an enormous problem except it is because investing in the wrong bot where risk vs reward doesn't suit your need can incur massive losses. This is where Mudrex's "Performance Score" comes into play. It is a number between 0 to 10.
The higher the performance score, the greater is the risk vs reward for a strategy.
Their bot listing page also displays crucial metrics like returns, days since live, and fees. You can even sort and filter the listed bots.
Pay when You Make a Profit
The marketplace is filled with services where you need to pay a fee, even when the crypto trading bot you invest in ends up making a loss. With Mudrex, you get a guarantee of returns when you invest.
Under this guarantee, you only need to pay when the bot makes you a profit. If there's a loss, you'll get an automated refund of your fees.
Active Community
Communities are like gold dust in trading services. Like it or not, there's a possibility you'll get stuck at some step or at least get confused about some features of the platform.
This's where Mudrex strives. It hosts an active community of traders and investors on Discord.
You can even reach out to their founding persons and the backend team for help. The founders also provide on-one demos to users, which you can avail by filling a short form.
Investor First Approach
What really makes Mudrex a solid trading service is the simplicity of the platform.
Investors face lots of issues and go through several troubles before they really get comfortable investing.
Most people are hesitant about new platforms and often fail to understand the features. Mudrex understands this and hence puts lots of effort to make its platform easy to use.
You get simple features like a variety of payment options, API key-based integrations, and no random fees.
10. 3commas
Key Features
Easy User Interface
Trading platforms if confusing can cause a lot of trouble for people who are just getting started.
This's why excellent trading platforms mainly focus on simplifying their UX for a better understanding of the platform by their customers.
3commas shines in this segment. It has one of the most friendly UI/UX in the market. You also get sliders and indicators to customize strategies without putting in much effort.
3commas also allows you to copy strategies from seasoned users and has an active community of people to help new traders.
Trading Strategies
3commas offers several useful trading strategies that are easy to use and customize.
Take Profit: This strategy is utilised when a predetermined percentage of gains has been realised. In simple words, if you purchase a cryptocurrency for a price and after some time the price has increased. Then the crypto trading bot sells it immediately to lock the profits.
Trailing Take Profit: Here the crypto trading bot will take your profit at 10% of the highest point of the trend. For instance, if the price of the cryptocurrency you purchase keeps on increasing, the position won't be liquidated until the trend reverses.
Stop Loss: With this strategy you set a loss percentage, and when the percentage is crossed, the bot sells the asset. For instance, if you buy a currency for $50,000 and with a set loss percentage of 10%. So, when the price of the currency becomes $45,000, the crypto trading bot will sell it.
Trailing Stop Loss: Here, the order trail price at a particular price (or percentage) distance. If you set a trailing price at $5000 on the current price of $50,000. Now, the price rises to $50,500, in this case the sell order will be set to $45,500.
Supported Exchanges
3commas supports the following exchanges: Bitmex, Bittrex, BitFinex, Binance, Bitstamp, KuCoin, Poloniex, HitBTC, Gate, Coinbase Pro, OKEX, Huobi, and Kraken.
11. HaasOnline
Key Features
Custom Bots and Trade Bots
HaasOnline offers 15 custom bots across several trading strategies like scalping, adjust basic settings and interchanged exchange.
You can set up a scaling bot on a sideways market on FTX.
You also get a powerful trade bot to configure technical indicators that guarantee buy and sell signals on selected crypto pairs.
With this bot, you can create your order of templates and combine technical indicators with proprietary safeties and insurances.
BackTesting
"Testing makes perfect". This phrase is critical for trading bots. There are tons of bots available, but not all of them suit every market condition you wish you enter.
This is where testing becomes important to ensure your trading bot is suitable for different market conditions.
HaasOnline allows you to choose from order book prices for testing strategies with up-to twelve months of historical data.
You can even choose from price reaches or price breached while paper trading with your wallet funds.
HaasScript
If you want to activate strategies on volume and buy signals with MACD, then HaasOnline has got you covered.
With its HaasScript, you can create complex trading algorithms for crypto exchanges.
You need not know any coding skills to execute this because HaasOnline offers a visual drag-and-drop designer.
You can even use the HaasScript to develop a hedge dollar-cost-averaging strategy.
Market Data and Exchange Integrations
HaasOnline has a dedicated cloud infrastructure where they utilise historical price data to get reliable market data from several sources.
It also maintains a high quality of product exchanges.
HaasOnline also drops support on exchanges that don't stay true to their reputation, and you get to use features like HaasLabs, an indicator scanner, external portfolio management, etc.
Privacy
Users' privacy is important to HaasOnline.
It embeds intrusive analytics tracking and uses the Trade server to ensure no one (including them) can monitor activities between you and your integrated exchanges.
Trality is cloud-based, which means you needn't install it. This also means you can use it 24/7 for trading.
12. Botcrypto
Key Features
Crypto Trading Bots
Botcrypto allows you to create crypto trading bots on the cloud. This means the bots will be available 24/7 for execution.
There's a feature called "TradingView" that shows you all the real-time actions performed by the bot. You can also use TradingView to manage the bot and create manual orders.
Botcrypto also offers you the opportunity to configure notifications on a Discord server.
Backtesting
Back-testing is Uber important to any trading strategy.
Testing helps you to confirm the effectiveness of bot actions before implementing in the running market.
With Botcrypto, you can back-test your bots using historical data.
They also have several pre-defined features to help you get started. You can configure strategy name, exchange, pair, and volume.
The test shows you metrics like trades executed, unrealized and realized profits, win rate, and average profit per trade.
Customer Support
You can reach out to them via the email: [email protected].
Botcrypto has a live chat feature and Twitter accessibility.
They also have a YouTube channel that features tutorials and a Discord server of over 500 traders. So, if you ever face issues, you have plenty of options ready to serve you.
Security
Botcrypto takes security seriously.
It uses API keys that are encrypted with state-of-the-art security-AES-256 to connect with exchanges.
They use an open-source analytics tool: Matomo to track analytics.
You also have the option to activate a two-factor authentication useful when logging in with multiple devices.
13. CryptoHero
If you are trying to find a crypto trading bot that you can use on the go on your smartphone, then you are going to want to check out CryptoHero.
This is a unique platform that can be used for a lot of applications, and we love that they have an ease of use that a lot of existing clients talk about.
They also talk about how their app is super easy for you to download, and the good news is that it isn't going to overheat your phone, or load slowly or use up too much of your memory, which is always nice.
When you sign up for a crypto trading bot like this, you can choose between their basic or paid options, and you can do this before you commence your trades.
The mobile app comes with a helpful tutorial so that you can get to know how they work and how you can use them to your advantage.
Their deals tab has been divided between 'progress' and 'completed' so that you can look at your dashboard to see if you have any active orders or realized profits. You can also see the complete number of trades that you have.
All of the information is really easy to access, and you don't have to go digging for it through an interface that is confusing.
The thing about building your own crypto bot is that it can be hard and frustrating, but CryptoHero makes it easy and affordable.
They offer a specialised experience for their clients, and they also make it super easy for you to be part of the crypto market without having to know everything about it already. Again, we don't think that it hurts that you can take them on the go.
14. Wunderbit.io
Wunderbit.io is going to impress you as far as a crypto trading bot goes.
They say that they are great for helping their clients trade Bitcoin in a manner that is safe and secure, and they are regulated in the cryptocurrency trading world, so that you don't have to worry about any risk to your finances.
We love that they let you trade socially, which means that you can register with them either as an investor, or a trader.
When you register as a trader, investors can ask you to manage their investments for them.
If you are on the investment side of things, then you can follow the traders of your choice, and copy their trading strategies so that you can benefit from ones that have worked already.
The good news is that you can do so for a commission, which is a great option if you are someone who is brand new to the world of trading.
They have a varying range of commissions and fees, and they are dependent on the kind of transaction that you want to execute.
15. Botsfolio
Botsfolio is going to help you as a powerful free crypto trading bot, and the best part is that they can make it super easy for you to trade without having any coding or trading skills.
They are a great option if you are someone who isn't not technically-minded at all, and needs someone to come and take over the bot trading side of things for you.
The first thing that you will need to do is decide what your investing goals are, and to do this they will ask you a few questions.
This way, they can know how to allocate your investment properly, and apply different crypto trading strategies to it.
Then, they can connect your exchange, and you can add the investment amount to your crypto trading exchange.
The entire process is only going to take a few minutes. As you go along, they are going to provide you with automatic updates, and you can track your trades through their dashboard.
FAQs
What is a Crypto Trading Bot?
A crypto trading bot is a bot that is otherwise known as a computer program or app that is going to help you trade cryptocurrency, based on criteria and limitations that you or they have set.
The majority of crypto apps work in a pretty simple manner, which means that you are going to authorize their bot to purchase or sell an asset if it is at a specific price.
Then, then, the bot is going to take care of everything like executing your order, so that you don't need to be on the platform all night monitoring your trades to see when you are making money from them.
Most providers will offer you a way to customize your trading bot, so that you can use a unique strategy.
The majority of crypto trading bots are going to charge you a fee for the trouble, and this is usually a monthly or an annual fee in exchange for using their services.
Factors that are going to vary across the board include which cryptocurrencies the app supports, and which account options they have.
Do Free Crypto Trading Bots Actually Work?
The good news is that there are a lot of free crypto trading bots that are very successful at what they do, but just remember that the cryptocurrency market is just like any other financial market, which means that it is going to go up and down in value.
This means that if you plan on being completely hands-off with your investments, then you might not get the same kind of results that you would if you were a bit more proactive about everything, because there is only so much that a crypto trading bot is going to be able to do for you automatically.
Can a Free Crypto Trading Bot be Profitable?

The good news is that a free crypto trading bot can help you make more educated guesses with your trades, so that you can get rid of the emotion that often comes with trading commodities, which often lead to bigger losses.
Just remember though that a crypto trading bot is, at the end of the day, just a piece of software, which means that there is no guarantee of a profit for any investor out there, no matter how dedicated you are to the cause.
This means that they might become less useful at times when the market is experiencing a lot of volatility.
Benefits of Crypto Bots
If you are one of those traders that is wanting to make market movements but your emotions get in the way a lot of the time, then you might want to capitalize on a free crypto trading bot.
Let's take a look at some of the benefits of using a free crypto trading bot:
Automated Options: There are a lot of reasons why you might choose to execute a trade that could end up losing you money.
This means that when you rely on an automatic investing bot, none of these reasons are going to get in the way.
Quicker speeds and higher efficiency: If you are doing everything on your own, it can end up taking minutes or even hours to completely scan the entirety of the cryptocurrency market to find the right opportunity.
By the time that you have found a potential opportunity, then the market could have shifted away from it already.
Crypto trading bots are great for providing a solution to this problem, because they can scan the entire marketplace a lot faster than you might be able to – within seconds, in fact.
Your crypto bot can also execute orders a lot quicker than you can enter the same orders yourself, so if you are trying to become more efficient with your trades, then you might want to make the most of a crypto trading bot.
More time in the market: Another thing to think about is that unlike other markets out there, the crypto market is running around the clock.
Of course, nobody has all day and all night to spend making trades on the market, so hiring a crypto trading bot to do it for you can make a big difference, and allow you to capitalise on opportunities that you might have otherwise slept through.
Downsides to Crypto Bots
Remember, crypto bots aren't everyone's cup of tea. Let's take a look at some of the downsides:
Prior knowledge: of course, a lot of crypto bots come with predefined templates and settings, and you will need to know how to work these settings in your favor.
This means that if this is your first time working with crypto trading bots, then you're going to be in for a loss.
Needs monitoring: The thing about trading bots is that they can't just be set and forgotten about, because the thing about the market is that it is volatile, and using a trading bot can mean that you can experience great loss in times when the market is volatile.
If you don't have the skills to professionally monitor the market, then using a free crypto trading bot isn't going to be your best bet.
When Should You Use a Cryptocurrency Trading Bot?
When you have a solid cryptocurrency trading bot on your hands, it can do many things for you, like rebalancing your portfolio, managing your portfolio, data collection, and more.
You should use a cryptocurrency trading bot if you are trying to execute repetitive tasks in the cryptocurrency industry. The thing about repetitive tasks is they take a lot of effort and time.
A cryptocurrency trading bot can help you copy and paste a specific task, so that you can repeat it over and over again, without having to be in front of your computer.
Timing is also a really important part of a cryptocurrency trading bot. The thing about investing in the cryptocurrency industry is that you've got to get the timing right.
When the market is at a certain point, you want to be able to be available, so that you can implement your trades straight away, and hopefully make a profit.
However, you aren't going to be able to do this if you hold down a day job, and unless you want to sit at your computer all day or night, it's going to be difficult to know exactly when to make those trades.
With a cryptocurrency trading bot however, this can be done automatically, so you don't even have to think about it.
Another thing about the cryptocurrency trading industry is that from time to time, it is going to be pretty complicated.
Every exchange pair when it comes to crypto currency trading needs to be determined based on trading price and quantity. There are other factors to consider, including condition of the market, and timing.
Therefore, if you choose the right cryptocurrency trading bot, you are able to automate otherwise challenging strategies really easily.
Do Trading Bots Actually Work?
The answer to this question depends on a few things. Most trading bots claim that they have a high success rate, and if this is the case, and they have positive client reviews to prove it, then you are good to go.
However, sometimes, if the market condition is unfavorable, this isn't going to be the case.
This is why it is better to create a bot that is based on your trading style and helping you with the convenience side of things.
Is a Crypto Trading Bot Legal?
You will be pleased to know that a cryptocurrency trading bot is completely legal in both the stock market, and the cryptocurrency market.
The rule of thumb is that anything that is illegal under conventional circumstances is also going to be illegal for the world of cryptocurrency.
How Do You Complete Taxes for Cryptocurrency Bot Trading?
It is relatively easy to complete taxes when it comes to using a cryptocurrency trading bot, but you might need to find cryptocurrency tax software that can help make your life a little bit easier.
You also need to be aware of the total number of trades that the bot is making for you.
It is going to be pretty difficult to do your cryptocurrency taxes accurately if you get your bot to implement hundreds of trades for you a day.
How to Create a Trading Bot?
If you are somebody who has had a lot of experience in the crypto industry, then there is always the possibility that you can come up with your own cryptocurrency trading bot.
Let's take a look at a couple of things that you need to cover if you plan on developing your own cryptocurrency trading bot.
How to Choose Trading Bot Software?
There are a number of things to think about when choosing the right trading bot software. The first thing you need to think about is how credible their team is.
If you're going to trust a bot with your portfolio, you need to make sure that the team behind the software is credible and is as qualified as possible.
You need to know the work experience level, as well as whether they have ever maintained a portfolio before or not.
You also need to make sure that they document the functionality of the bot and you need to gather information about how they are obtaining their funds.
You need to make sure that the team stays transparent about the development, and what they are doing on their end. This way, that you can keep them responsible for their actions.
You also need to make sure that you find a bot that is going to align with this strategy which means that you're going to have to look through their website and read reviews and guides that have been written by other people.
You also need to know how to configure the bot. If you aren't somebody who has had a lot of experience with this, then you'll need to find a bot that is going to be able to do it for you.
Another thing to think about when choosing the right cryptocurrency trading bot is customer support.
Because it is an ongoing service, you need to find a team and a service that is going to be able to provide you with strong support no matter what.
Price is another really important factor when it comes to a cryptocurrency trading bot.
You need to make sure that you're able to afford the cryptocurrency trading bot that you are considering using.
There's no point signing up to a cryptocurrency trading bot, if you come to realize that what they are offering is way outside of your budget.
Finally, you need to make sure that their cryptocurrency trading bot is easy to use.
Again, if you are just starting out in the world of cryptocurrency trading, and you plan on implementing your cryptocurrency strategies with a crypto bot, you need to make sure that they are going to make your life easy, by developing cryptocurrency bots that even beginners can use.
Tips for Trading Crypto
Let's take a look at a couple of tips when it comes to trading cryptocurrency.
The first is that we suggest that you limit the access of your cryptocurrency trading bot to an exchange so that it can only buy or sell orders.
You shouldn't give it API access, so that it can withdraw money. You also should be limiting your IP address, just for an added layer of security.
You need to make sure that there is enough balance in the exchanges, and there is always the chance that the platform itself could be hacked at some point.
This is why you need to only work with exchanges that have a good reputation, and that offer their clients security features that are really solid.
Also, we suggest that you find a cryptocurrency trading bot that has a mobile app as well, because at some point in your trading career, you're probably going to want to take your trades on the go, and keep in touch with your cryptocurrency trading platform, to see what's going on.
How Do I Choose the Best Cryptocurrency Trading Bot?
Free trial: There are a lot of cryptocurrency trading bots out there that are going to let you try them out for free.
We think that it is ideal that you try a free crypto trading bot initially, before you pay them any money.
Social trading: We think that it is really important to be part of a community that trades, and a good cryptocurrency trading bot is going to have a marketplace, so that you can stay in touch with the community and learn from how they are implementing their own cryptocurrency trading bots.
Backtesting: You need to make sure that you are working with a cryptocurrency trading bot that has a backtesting feature.
This is going to let you test out new trading strategies against historical data, so that you can work out whether those trading strategies are going to be effective or not.
Indices: There are a lot of cryptocurrency trading bots out there that offer portfolio cryptocurrency automation, and it is important to see how they have created their indices.
A good performing trading tool must have information like how tokens are sampled, and how they weigh out the market cap and their index.
Cloud based: The majority of cryptocurrency trading bots these days are based in the cloud, but there are some that are going to be downloaded onto computer, which means that in order for them to work for you, you will need to make sure that your computer is running all the time, which isn't going to be ideal for most people.
Tutorials and support: There are a lot of cryptocurrency traders that have developed videos, training modules, and blogs, to educate their users.
If you are somebody who is new to cryptocurrency trading, then you go through a source like this, so that you can get a good idea of how the tool works.
This is also going to end up helping you save a lot of time when it comes to actually trading your cryptocurrency.
What Are the Kinds of Cryptocurrency Trading Bots?
You might not be aware of the fact that there are a number of different types of crypto trading bots. Let's check out what these are.
Arbitrage
An arbitrage trading bot is going to help you purchase coins on one exchange, and then sell them quickly on another, to make the most of the difference in price.
This is one of the first strategies that cryptocurrency traders made the most of when the cryptocurrency market was starting to heat up, to make safe and quick profits.
Market Making

The biggest advantage to market making is helping you prevent large swings when it comes to price. This includes executing buy and sell limit orders close to the present market price.
There are a lot of market making bot traders that are associated with this trading strategy.
Momentum Trading

This type of cryptocurrency trading bot is going to ride a positive wave with assets, and then sell them when the market reverses on this.
The idea behind this theory is that the cost of your asset is going to increase above the average, and then it is going to run out of this momentum, and decrease.
Mean Reversion

This is a type of cryptocurrency trading bot where the strategy is being built on the assumption that if the price of a token is different from the average, you can revert it back to the average.
Copy Trading

This type of cryptocurrency trading bot is where you copy existing trading strategies that have been implemented by professionals in the industry.
It involves you being part of a social community when it comes to trading, and it helps you capitalize on traders that have implemented successful strategies before.
How to Create a Trading Bot?
If you are somebody who has had a lot of experience in the crypto industry, then there is always the possibility that you can come up with your own cryptocurrency trading bot.
Let's take a look at a couple of things that you need to cover if you plan on developing your own cryptocurrency trading bot.
Backtesting
As we have already talked about to a certain extent, it's pretty important that you backtest your bots with data that is historical, so that you are able to make sure that the strategies that you are implementing in the future have a good chance of doing well.
You also need to be able to collect market data that is high quality, so they aren't just looking at random data that doesn't really have anything to do with the strategies you are trying to execute.
Strategy Implementation

The Next Step when It Comes to Developing a Cryptocurrency Trading Bot Is Specifying the Calculations to Assist Your Bot with Finding out When to Trade, and What to Trade.
Once You Have Created Your Strategy, You of Course Need to Backtest It, Just See if It Works Well.
Execution
The Next Step on The List Is Finding a Cryptocurrency Exchange that You Can Start to Implement Your Trades On.
Job Scheduler
Now, It Is Time to Completely Automate Your Process, by Setting up Your Job Scheduler, so That You Can Execute Your Trading Strategies.
Conclusion
There You Have It. These Are the Best Free Crypto Trading Bots Available in 2023. Each Platform Offers Unique Features and Settings to Help Every Segment of Customers.
You Simply Can't Go Wrong with These Crypto Trading Bots.