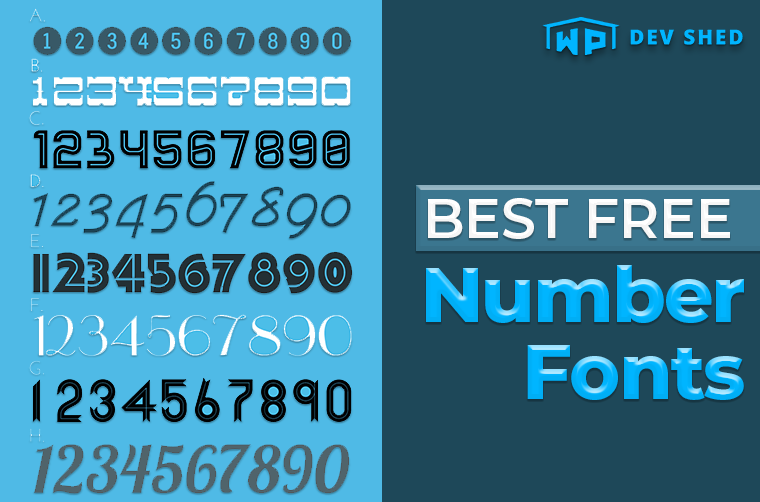 Number fonts. Hmm.
Letters are overrated a really big deal.
Without them, you couldn't read this blog right now. In fact, you couldn't read much of anything because no one could write anything down.
But what if I told you that there is something far more important than letters?
Article Quick Links
You'd probably say, "Letters make words, silly. We need them for written communication."
You're right. We do need letters (and we wrote about hand letter fonts previously), but we need something even more important than them. Know what they are?
Numbers.
Without numbers, there's no money. There's no math. There's no evolution of the human mind or comprehension of quantum physics or…
…you get the point.
Numbers are useful not only for counting but also for design. They're used in passwords and usernames online – some people even use numbers in place of letters.
1337.
Remember that? Of course you do. It's not just for us oldies on the "int3rn3ts."
Whether you're looking to use numbers for digital prints or part of your web design, you don't have to stick with those plain fonts that come bundled with your computer's operating system.
Hey Google Fonts!
Google Fonts offers a wide variety of fonts for use on the web. They're free for personal and commercial use, so you can use them to type up your blog or for designing your next product.
Number fonts are especially popular, providing unique styles for numerals in most any situation. Maybe you need cool number fonts for a racing site or a sports blog.
With Google Fonts, you can embed them on your site or download them to your computer.
Although we're talking specifically about number styles in these fonts, they also include the traditional characters from A to Z. So you're not only getting really cool numerals but also letters in the same visual style.
Ready to check out some of the best number fonts out there? Let the countdown begin.
The Most Stylish Number Fonts
Some fonts are more stylish than others. The following number fonts in this category all have a uniqueness that sets them apart from Arial and other traditional typefaces.
Josefin Sans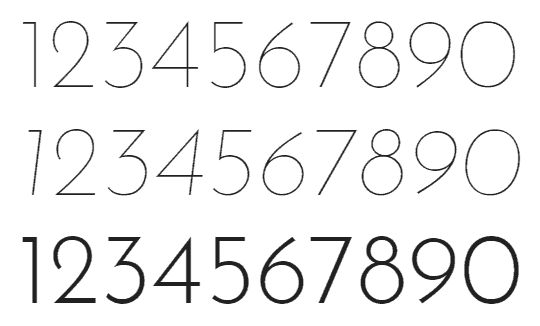 Josefin Sans has a distinctive styling and takes inspiration from sans-serif typefaces of the 1920s. It not only includes numbers and letters but also many special characters such as copyright and money signs. The numerals have nice curves and points and complement the letters very well.
Poiret One

Poiret One provides a fresh take on Art Deco and looks quite similar to the letter and number styling in Agatha Christie's "Poirot" television series. It's an ideal font for website titles, newspaper headlines and graphic design. If you're searching for a font that looks good with Caps Lock turned on, this is definitely the one.
Monoton

Monoton gets its style from the 1930's metalpress fonts. There's really nothing like it out there that compares in visual style. This font is designed for use on any web browser regardless of the system and would also look good printed on flyers, clothing and more.
Advent Pro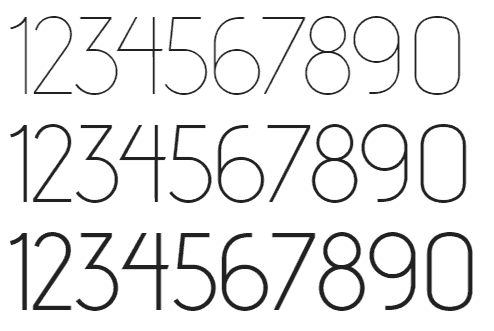 Advent Pro has an edge about it – probably because it has such abrupt strokes. It looks almost handwritten and blends sans serif with modern characteristics to create a unique typeface. The numbers are tall and slender and have a slight Art Deco quality.
Jacques Francois Shadow

Jacques Francois Shadow is inspired by the original typeface from Jacques Francois Rosart in the 1700s. It gets its name from the shadow effect on the letters and numbers, making them stand out in almost any medium. It's designed for large print sizes but also for easy readability on the web at low font sizes.
The Best Number Fonts for Tattoos
Looking for a tattoo number font for your website or graphics? Maybe you need one for your next personal tattoo. These fonts all have unique characteristics and would look good anywhere that you need large, stylish numerals for prints or tattoos.
Ewert
Ewert has a styling that's uniquely its own thanks to the ornamental legs on each character. The numerals are big, bold and decorative and would look good in tattoo prints as well as carnival designs. It also looks good at small and large font sizes on desktop and mobile platforms.
Fascinate Inline

Fascinate Inline has roots in Art Deco and features high-contrast weighting, making it look big and bold on the screen and in print. It would be the ideal font to use in titles for screenplays and on websites that are dedicated to the theater.
Ribeye Marrow

Ribeye Marrow has an almost cartoonish quality, giving it a playfulness and friendly rhythm on the screen. The numbers really stand out at various sizes, and the lack of any fill makes them pop on screen and in print.
Rye

Rye is reminiscent of the American West with its decorative shapes. It's inspired by wood type and suited for medium and large print sizes. The numbers would look great on playing cards and digital designs for parlors and more.
Sancreek

Sancreek has a very snakelike quality to it with its curves and tails. Each character is completely filled in and best used in all caps. The numerals are perfect for western designs, posters, parlor titles and other prints.
The Best Racing Number Fonts
Need cool numerals for your racing site or sports blog? These fonts are ideal for use in designs and sites that are dedicated to speed.
Gravitas One

Gravitas One demands attention whether it's printed on a poster or across the top of a website. It combines bold and thin lines and has high contrast to make it stand out immediately on a page. The numerals would not only look good on racing prints but also betting sites.
Bungee Shade

Bungee Shade is perfect for racing ads thanks to its track-style characters. The shade gives the numerals a boxy appearance and helps them stand out in various media. The letters work best for large titles or short runs of text on a site.
Faster One

Faster One has the perfect name for racing. In fact, each number and letter is slightly italicized to give them a bit of movement. The numerals also have seven horizontal lines before each character to create the effect of wind as they move from left to right.
Krona One

Krona One is a simple, clean font with easy-to-read numerals. They're as wide as they are tall and could be used to number racing cars. If you want a crisp and clean font for your racing or sporting site, Krona One is a must.
Kumar One

Kumar One is a one-of-a-kind font with exceptional styling for any racing site or numbers on the front of jerseys. The numerals have slim horizontal lines and bold, wide vertical strokes with 45-degree angles at the corners. The letters follow the same design, providing a cohesive look across a website or in print.
The Best Modern Digital Number Fonts
Digital fonts are the best choice for sites that have a futuristic look to them. You can use the fonts when developing a digital clock for your site or if you're going for a more modern, clean aesthetic with easy-to-read text and numbers that pop off the screen.
Orbitron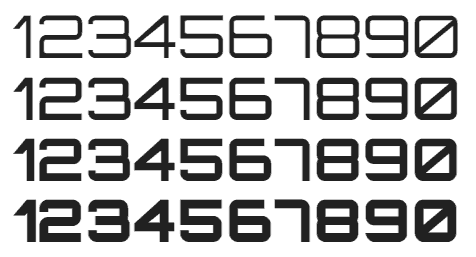 Orbitron is the perfect font to use for a futuristic site or on a sci-fi movie poster. The numbers are very geometric in design with rounded corners and thin lines. The zero is the coolest number in the bunch with a stroke that connects two opposite corners.
Geostar Fill

Geostar Fill has a signature look to it, making you feel as though the numbers and letters were carved out of a block. The numbers have a blocky shape with a mixture of thin and bold lines to give them a futuristic styling.
Exo 2
Exo 2 has an almost comic sans styling to it but without the janky strokes. The numerals are easy to read, have very rounded corners and look good at both small and large print sizes. It's an organic font that would look good in titles or long runs of text.
Geostar

Geostar is the sister font of Geostar Fill but lacks the bold fills in the verticals. The fill is taken out, leaving you with open verticals and creating a futuristic look. The letters and numbers combined would be a fantastic choice for sci-fi websites, posters and other media.
Press Start 2P

Press Start 2P is one of the coolest fonts in this entire list, especially if you're an avid gamer who loves pixel art and games. Each number and letter has that signature pixel style, making this font the perfect choice for gaming sites or creating a unique design for blogs and brands.
The Best Graffiti Number Fonts
What's a little graffiti going to hurt? It's colorful. It's bold. It's art. If you're looking for number fonts in the graffiti style, we have five that you're going to love.
Give You Glory

Give You Glory not only has an awesome name but also looks awesome, combining mix-case styling in the letters. It mimics the look of handwriting and flows easily in long runs of text. The numbers are also visually pleasing with slight slants to the left.
Rock Salt

Rock Salt was created using felt-tip markers, making it stand out from other fonts in this list. Using this font really makes it feel like you're typing with a marker. The numbers and letters are angular and purposeful, giving you something unique to add to your site or prints.
Gloria Hallelujah

Gloria Hallelujah is a great font to use for comics and other fun, engaging media. This font is based on a Korean high school student's handwriting – the letters and numbers varying in tilt either left or right. It's a clean font and looks great in all caps with its long, rounded strokes.
Permanent Marker

Permanent Marker looks like its name suggests. This font was created using a permanent marker and has thick, bold lines with jagged edges that appear as though the ink has seeped into the paper. When used sparingly on a website, it could make certain areas stand out to the reader.
Mrs. Sheppards

Mrs. Sheppards is part of the Charles Bluemlein Script Collection, mimicking the lettering from the 1930s. The numbers in this font are quite bold with thinner lines sometimes in the beginning, middle or end strokes to represent real handwriting.
The Best Cursive Number Fonts
Is cursive dying in the digital era? Nope. You just need to find the write cursive fonts to keep the style alive online. These five fonts provide what we believe to be the coolest numbers in the cursive styling.
Kaushan Script

Kaushan Script offers a natural handwritten style for prints both small and large. The letters look great whether they're used in bold titles or in long runs of text. The numbers slant to the right and have different positioning at the base to give them slight variations when used in dates and other numerical situations.
Kalam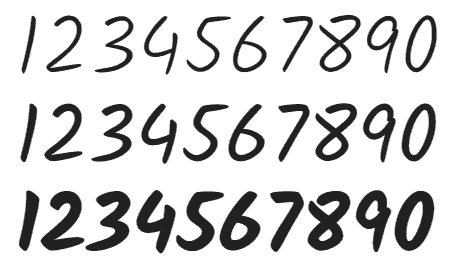 Kalam has a clean style with numbers that look effortless when used alongside text. The number 8 lacks a connector, making it appear as though it was written quickly by hand.
Dancing Script

Dancing Script is an elegant font with numbers that belong on any formal print, such as a wedding invitation. Use Dancing Script as a primary or a secondary font on a high-end website or in physical print.
Bad Script

Bad Script offers unique numbers – some are small while others are large. Some numbers position evenly at the base while others are set higher or lower. It's the perfect font for adding a little randomness to your site.
Damion

Damion is an easy-to-read font with slanted numbers that pop on the screen. They're bold, rounded and perfect for use on blogs, company landing pages and more.
Numbers Make the World Go-Round
So what do you think? These are the best free number fonts that we could find on the web. Do you have a favorite in the list?
Tell us about it.
Or let us know in the comments if you've found a font that we should check out. We'd love to see what you've found.